Ellie Torres Quotes (Page 10)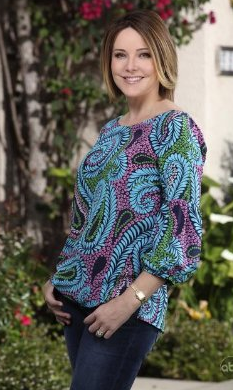 Season 2, Episode 16: "Baby's a Rock 'N' Roller"
Ellie: Having a baby in your forties is exhausting, and people will judge you if you keep a sippy cup full of wine in the stroller so you can pound grape.
• Rating: 3.0 / 5.0
Jules: Ellie is not a morning person. Or a night person. There's really only about seven minutes a day you are fun to be around.
Ellie: The best part is you never know when they're coming.
• Rating: 5.0 / 5.0
Season 2, Episode 15: "Walls"
Jules: I'm not gonna stand here and be judged by someone who doesn't even have a nineteen year old, and most of all, who thinks there's a ghost in her pickup truck.
Ellie: Then...who keeps moving my sunglasses Jules? Who?
• Rating: Unrated
Ellie: I'm gonna say it. The clingy mom act? It's not cute anymore. In fact, it's ugly on you. Just like scarves.
Jules: I look bad in scarves?
Ellie: They give you bird face.
• Rating: Unrated
Jules: I put cough syrup in his lemonade and he fell asleep in a hole.
Ellie: You know, out of context, that sounds like a horrible abduction story.
• Rating: Unrated
Ellie: Imaginary hat!
Jules: Imaginary hook hands! I don't know what we're doing.
• Rating: 5.0 / 5.0
Jules: Name one thing I've done to Travis that is "meddlesome."
Bobby: Watched him sleep.
Ellie: You scared his girlfriend away.
Laurie: You want to live in his blood.
• Rating: 5.0 / 5.0
Ellie: Jellybean! You just simultaneously uttered the dumbest and the smartest things you've ever said!
• Rating: Unrated
Kirstin: Trav stop! You're embarrassing me.
Ellie: He can't stop. He was cooked in her baby oven.
• Rating: Unrated
Season 2, Episode 14: "Cry to Me"
Ellie: All Valentine's day means to me is that it's seven weeks after Christmas.
• Rating: Unrated
Are we missing your favorite quote from "?" Submit it here and get points for adding quotes!
Total Quotes: 187