Joey Tribbiani Photos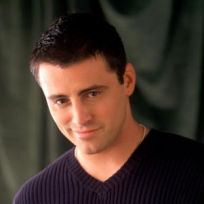 Added:
Displaying 1 photo
Around the Web
Want more Friends?
Sign up for our daily newsletter and receive the latest tv news delivered to your inbox for free!
Joey: (About Chandler's third nipple) I can't believe you. You told me it was a nubbin.
Ross: Joey, what did you think a nubbin was?
Joey: I don't know. You see something, you hear a word, I thought that's what it was. Let me see it again.
Chandler: Take off their hats!
Phoebe: Popes into a Volkswagen! (Chandler nods) Oh, I love that joke!