TV Fanatic Works Better with Prime Instant Video
40,000 other titles are available to watch now.
Joey Tribbiani Photos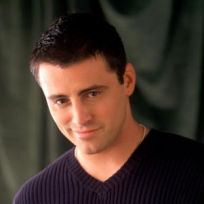 Added:
Displaying 1 photo
Around the Web
Want more Friends?
Sign up for our daily newsletter and receive the latest tv news delivered to your inbox for free!
Phoebe: Okay, Joey, your bet.
Joey: I fold like a cheap hooker who got hit in the stomach by a fat guy with sores on his face. (The girls look at him, confused.) Oh, I'm out.
Ross: Rach, you know, I can see you naked anytime I want.
Rachel: What?
Ross: All I have to do is close my eyes. See? (Ross closes his eyes) Woo-hoo!
Rachel: Ross, stop that!
Ross: I'm sorry.
Rachel: Come on! I don't want you thinking of me like that anymore.
Ross: Uh, sorry. Nothing you can do about it. It's one of my, uh, rights as the ex-boyfriend. (Ross closes his eyes again) Oh yeah!
Rachel: Stop it! Cut it out! Cut it out!
Ross: Okay, okay. I'm sorry. It will never happen-- (Closes eyes again) Uh oh. Wait a minute! Wait, wait. Now there are a hundred of you, and I'm the king!