4x13 Thread
I'm tired of people questioning why I ship Klaroline. I can still like a ship because of the characters' chemistry but not necessarily agree with their actions. I know nothing will happen between them and Caroline probably will always hate him but they are my OTP sorry not sorry.
Best part of the episode for me:
Stefan and Rebekah scenes AND Stefan admitting he wants the cure for HIMSELF not FOR the his hobo ex-girlfriend
Worst part
Damon and Elena talking about taking the cure and their feelings for the 25326531286351248th time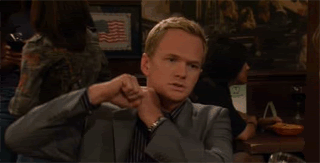 Bonus points: Klaus staking Caroline and biting her...
Sorry for the bArney Stinson overload, but just felt like it)
Btw, with regards to the cure, I read this somewhere and found it interesting, why does everyone in that search party group think that this cure is like for everyone who wants it? Like there is a whole stash of that cure and not like just a one pill for one vampire only?