Favorite couple??
1st. Puckleberry - When they had their quick little get-together, it almost seemed believable. Noah was dating Rachel because of his mom but I believe that something in their little relationship changed his way of thinking about Rachel. He did everything to get her (doing a solo, not slushie-ing her in the face[actually getting her a slushie], walking arm-in-arm in the hallways) but the relationship fell apart (so soon! ):). And Noah seemed so upset after they broke-up. Now, post-break-up, are the subtle things. Did you find them? :)
2nd. St. Berry - Oh my gosh, I had so much faith in this couple. I really liked this couple. I thought Jesse wasn't such an ass! Ugh. But let's move on to the lighter part of their relationship. :)
I really liked their chemistry. And how it almost seemed as though they really loved each other. Well, Rachel loved Jesse. The latter, I don't know.
But since the car conversation with Jesse and Shelby, I stopped believing in St. Berry. All throughout the episodes, I prayed that Jesse wasn't that much of an ass. But, Jesse saying it was an act got this couple to be my number 2.
Sorry for the long post. :P
1. St. Berry. They're too cute for words. And Lea and Jon's friendship only makes it double the pleasure to watch these two.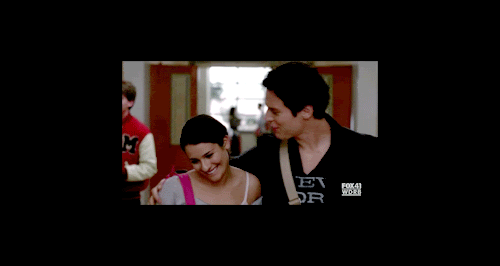 2. Probably Finnchel. LOL Ever since Jesse came on the show, I like how Finn has been  fighting for her. But I'd still take St. Berry over them any day.
3. Will and Emma are adorable together.
4. As much as I enjoyed Puckleberry, Quick was really cute in the season finale. It's a toss up in this one.