Betty Draper Forum Posts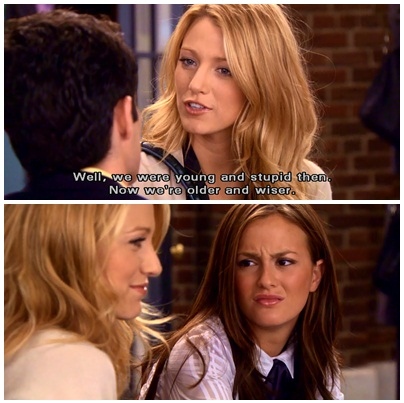 thta's all I have to say.
Well then Juliette, I'm happy we can agree on something,
Dan is part of the show, and has been a good friend to Blair and Nate, That's really the nicest thing I can say.
And please, don't touch Chuck and Nate's friendship, they survived Blair so they can survive anything together.
Chuck was just there to cause trouble and wasn't a 'real friend' to Blair or Serena and I'm fine.
He wasn't in the first 6 episodes but that's because they didn't knew he was going to be such a big character and that's when they changed his diraction. Serena was in this episode there to give him advice when Blair refused to, friends do that. And Chuck helped her with Georgina may times so yeah, that's also something a friend would do.
Blair and Chuck are what they are, they have the sexual tension so they either love or hate each other. But when Blair broke up with Nate the Victor, Victrola episode she came to Chuck to get over it not somebody else.   And honestly, I don't know why you just can't enjoy you Dair without attacking Chuck, he has been very good this season, and don't get me started on scheming since Dan sent that video which ruined Blair's weddding.
Ok, Juliette I said I didn't want to fight or discuss who the hell is a better person on this show. Chuck is the one of the most entertaining characters in this show  and NJBC has no Dan in it, love it or hate it it's true.
NO they weren't they were scheming sometimes in season 1 but that's all
When Nate didn't show up on Blair's 17th birthday party the only one really there for her was Chuck. That's kind of friendish to me.
Nate, over Serena?
Well, he did want to be with Blair again before finding out about her and Chuck.
I wanna go back these 4 to being friends, that's what I want.
I think you have to rewatch season 1. Blair and Chuck were always friends, Serena was gone for a year and then came back and reconected with everyone when she revealed her secret. Nate got over Serena very quick.
And I know you wanna replace Chuck with Dan in this picture but it will never happen, cause he is and always will be an outsider.
And this show wouldn't even live anymore without Chuck, be honest, the hate beside.
I'm sorry and I don't wanna start any fight in here, but to me Dan can never be a part of them since it represents them being friends since they were kids and going truogh really hard times together. And it's the NON_JUDGING breakfast club, and Dan has really showed off his judging skills too many times.
There's a reason Dan is not in this picture.
BUMP
awwwww Nate had this picture on his desk, one of the few light moments this season..
I miss them so much, it's all fucked up now.
They can't even come and talk to each other anyomore.
This episode really showed how things are messed up:
-Chuck can't talk with Blair about his problems
-Blair can't talk with Serena about Dan
-Nate lied to Serena and exposed Chuck's secret about the dowry
-Serena is lying to everyone about GG
I don't even care about the couples anymore, I want NJBC back!!!