Betty Draper Forum Posts
I agree with you both, I can't believe how far they went with the Bart storyline.. They put Chuck in such an awful position with that final scene in The Revengers.
What do you guys think the big twist could be? I really hope it's Dan being GG or something like that..
I just hope it's not killing somebody of NJBC cause that would really be the most stupidest thing ever!
They just can't do that to us..
I think you have some good points @just a girl
I remember when I watched S1&2 I became obsessed with the CB dynamic, they had such amazing chemistry because they were both such complex characters, both in the shadow of somebody else (Blair-Serena, Chuck-Bart) both evil at times but with a trully good heart, and it was great to see that part of their journey.
Then came s3 and Chuck completly changed. The hotel storyline was just too much for me and I really hated him because I really shipped them hard together.
With s4 Chuck got better but Blair went to worse, so much that I started to hate her in s5, she was unberable with her selfish and childish behavior.
And now I'm just confused why the hell they waited so much to get together again, I understand you have to grow up and achieve some thing as an individual but after so much that has happened to them, I don't get why they can't do that together.
in the top 5 favorite GG scenes ever!!
I wish he hadn't been turned into a guest star.
THIS!!!   it's like when they realised Chuck has the bigger fanbase they just dropped Nate. They didn't know what to do with him so they gave him 50 girlfriends, one worse then the other. Shalow and short relationships was the only thing what that was going on in his life. Eventhough he has an much more interesting family backround then for example Blair or Dan. I'm glad he finally got a job, but I would rather liked it if he stayed at Columbia and became the only one from the group with an actuall college degree just so he could show that he is more to him then a hot looking guy.  
Chuck and Blair are too similar to have a long lasting relationship. They are both on fire.
Well Chuck just to be on fire until he became this old man. I think they are a good team but their love is too forced and they seem to always run away from each other because they are affraid of the fire.
Nate on the other hand could be good for Blair, he has grown as a character and his supstance abuse lately is minimal hhahah.
I believe they were really in love once, but then came Chuck and it became Blair's obsession instead of love. Don't get me wrong I adore Chuck, I just don't think they really bring the best of each other out, I love them seperated more then as a couple and I just to ship them really hard.
But Nate deserves someone who will love him back, and I'm affraid it's not Blair.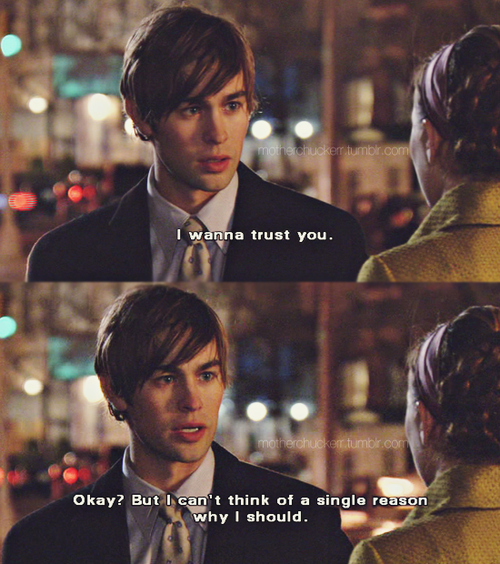 awww look at the tears in his eyes..
you guys should really read the books, they are awesome. They have no filter like in the show, they smoke, they drink, they curse.. I love the books :)
well there is no real endgame in the books, but Nate is the main male character and Chuck just has a smaller role in them..
oops, something is missing :)
No problem, I just love when Chuck bitchslaps lonely boy :D
One of my favorite parts of GG in general and specially NJBC s the way they say to each other what's on their mind, good or bad, They judge but they understand each other. Well except for Dan who just judges and shits at everyone but he's not part of the NJBC so whatever..
they deeply care for each other <3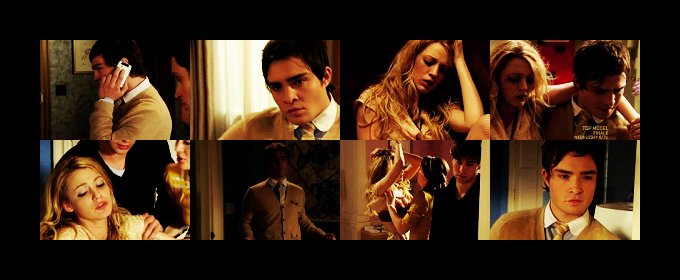 well most of the time hahaha
Nair <3 I trully miss them
I don't know why but I don't believe both Chair and Derena will be endgame since one of the predictable couples is Rufly.
So I somehow think Chuck could die and Nate could help Blair raise his son.
That's the only possible way Nair could be endgame, but it wouldn't been good one cause Blair would mourn Chuck forever.
Since there is no hope left, let's remember the most beautiful couple in GG history:
Well Chuck has his own ways to bitchslap Dan :)
Me too Elise :)))
And Nate being the one makes it even better!! You would expect it would be Chuck but finally even Nate realised that Dan is too selfish to be a good friend
I hope that Serena never goes back to Dan, she deserves so much more..
Dan can go marry Georgina or live with Jenny or something..