Will Schuester
Played by:
Matthew Morrison
Bio
Will Schuester is a young, hopeful high school teacher. He wants to take McKinley's Glee Club to the top!
Schuester is inspired by his past as a singer, focused on doing whatever it takes to make Glee great again. Will he prove his doubters wrong?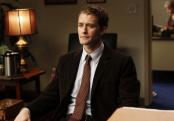 Pictures


Clips


Quotes
Will: And hey, why worry about carbs when we're all gonna die anyway?