Arizona Robbins
Played by:
Jessica Capshaw
Bio
Arizona Robbins was introduced in the fifth season of Grey's Anatomy as an attending surgeon and the new head of pediatric surgery at Seattle Grace.
Arizona has a "quirky" personality, and a costume designed to appeal to her young patients, including roller shoes and a Holly Hobbie pink scrub cap.
She became a love-interest for orthopedic resident Callie Torres, whose previous girlfriend Erica Hahn abruptly left the hospital in the same season.
Media reaction to the character was largely positive, despite the controversy seemingly inherent in her being one of the few lesbians on prime time TV.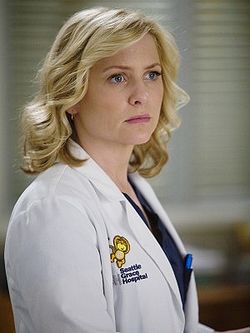 Pictures


Quotes
Arizona: What was I thinking? Heels were a pain even before I had a plastic leg.