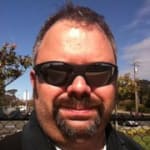 Jim Garner
I am a 40ish gamer geek with a sharp sense of humor and a dull sense of exercise! I am TVFanatic's resident artist and former Senior Staff Reviewer. 
Shows I have covered include 
 Defiance 
, 
Agents of S.H.E.I.L.D.
,
Warehouse 13, Leverage, Castle, Lie to Me, Criminal Minds, Criminal Minds: Suspect Behavior,
Burn Notice, Hawaii Five-O, Elementary, The Glades, 
and I started with 
CSI
. 
For other shows that I like that I don't cover, I enjoy BBC shows such as 
Torchwood
 and 
Primeval
 and I was a huge fan of 
King and Maxwell
 and I have a softspot for the mindless silliness that is 
Storage Wars
. 
When not watching TV I am either playing a video game or reading authors such as George R.R. Martin, Jack Campbell, and Anne McCaffrey. I am always up for discussing Sci-Fi or Fantasy.