Posts by Eric Hochberger (Page 11)
Since the dawn of time, or more likely 2007, It's Always Sunny fans have yearned for just one answer: Who would win in a fight, Green Men or Stormtroo...
There were some really amazing moments at Comic-Con, but few can compare to having the none other than Sarah Walker herself sit down less than five feet fr...
As one of the biggest Archer fans on the planet, you could imagine my excitement to be sit down with the man behind the show itself: Adam Reed. There ...
Did you miss the Chuck Comic Con panel? No problem. Series creator Chris Fedak and Devon Woodcomb himself, Ryan McPartlin, are here to re-enact the di...
After Bill Prady and Steve Molaro exited my round table at Comic-Con, they were quickly replaced by the adorable Kaley Cuoco. I was quick to ambush her on ...
If you can ignore my general awkwardness in front of a camera, along with Matt's inability to capture two subjects at once, you will love our exclusive int...
What would Comic-Con be without the founder of Nerd HQ himself, Zachary Levi? TV Fanatic's proclaimed Comic-Con MVP was joined by Joshua Gomez at the Chuck...
I have a great job. At Comic-Con today, I sat with the funniest group of actors to portray a group of nerds since, well, ever. I was fortunate enough to si...
At Comic-Con yesterday, I had the honor of sitting down with Archer's creator, Adam Reed, and his cast of amazing voice actors. Up first, as seen below? Ch...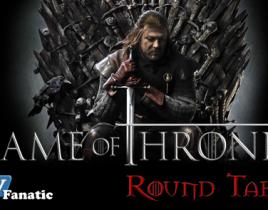 Wow. Only a show following a George R. R. Martin series like Game of Thrones could kill off its leading character slash star during not only its...