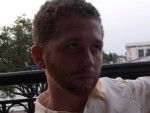 Dan Forcella
It wasn't until marathon sessions of Lost and 24 in the mid 00s that I fell in love with television, but since then it has been head over heels style.  I began making lists and ranking the top shows and characters on television at my blog,
The Quiet Pool Perspective
.  Shortly thereafter I came on as a staff writer here at TV Fanatic, suffering through scathing review after
scathing review of HBO's Hung
.  Since June of 2010 I have been lucky enough to write about all-time greats like
Justified
and
Curb Your Enthusiasm
, participate in numerous
round table conversations
, and interview stars such as
Chuck's Yvonne Strahovski
.  The late nights and early mornings continue to be worth it thanks to the fact that I am able to share my random thoughts and quasi-analysis with the many fans of each and every show I review.  Whether you praise me or bash me, there really can't be many better gigs.
Current Top Five Shows:
Breaking Bad, Justified, It's Always Sunny, Curb Your Enthusiasm, Wilfred
Retired Top Five Shows:
Lost, Seinfeld, The Wire, Las Vegas, Beverly Hills 90210   Follow me on twitter
@DanForcella