Things are heating up as we reach the end of The Good Place Season 3.
With the finale now only a week away, The Good Place Season 3 Episode 12 brings everything full circle. 
Related: The Good Place Season 3 Episode 11 Review: The Book of Dougs
It's finally time for Eleanor and the gang to head back to where it all started, and we couldn't be more excited about it.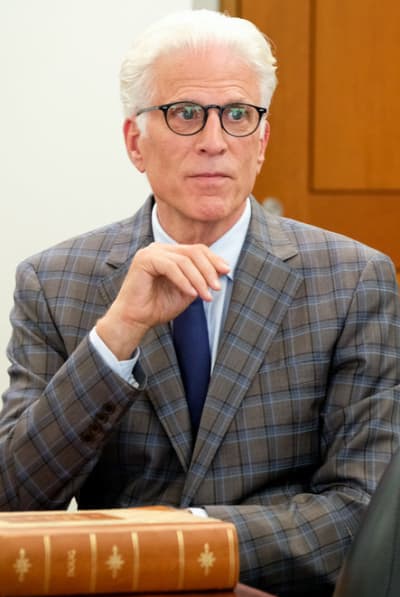 The meeting with the judge at IHOP was an extremely comical start to the episode. Not only was it funny, but it was just plain weird. 
Michael: If you eat anything at this IHOP you will literally explode.
Jason: Yeah, I know. It's IHOP.
The thing about The Good Place is that it is absolutely bonkers. Sometimes you can't even make sense of what you're watching, and you find yourself asking, "what the fork?"
No matter how out there the show may be, the well-thought-out storyline and the individuality of the characters make it impossible not to enjoy every second of the sheer ridiculousness.
In fact, it's the prime ingredient to the show's uniqueness and success. 
The judge is a comical voice that we haven't heard in a while. It was nice to bring her back into the story and to have her more or less on our side.
The judge is just as powerful an enemy as she is an ally, making her an essential piece to the puzzle. Her constant advances on Chidi were also laugh-worthy, and they provided an opportunity for Eleanor to enter protective mode. 
Can someone grab my tiny boyfriend please?!

Eleanor
Eleanor and Chidi keep getting more adorable each episode. For the first time in the show's history, we get to experience their relationship as they do.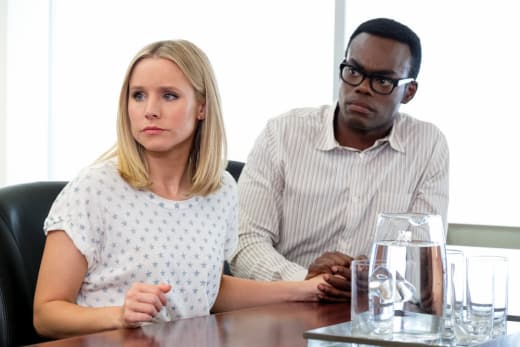 This is The Good Place we're talking about, so we do not doubt that Chidi and Eleanor are still going to have to overcome their fair share of obstacles. But as they've proven in the past, they can accomplish anything as long as they're together.
Eleanor: I mean bleh! What am I saying? This house is stupid and you're lame and I hate you.
Chidi: I love you too.
Speaking of relationships, Janet and Jason's is finally coming back to fruition. Janet's despair over her feelings for Jason the past couple seasons has been depressing, to say the least. 
Janet pining for Jason while he was blissfully unaware was not easy to watch, especially when Janet is such a bright and selfless character. But when it finally felt like things going well for them, Derek, of course, had to pop back into the picture and stir up all kinds of drama. 
Related: The Good Place: 8 Bad Place Do-Overs We Still Want to See!
From the moment he first appeared, Derek dragged down the series. While his character was supposed to be funny, he was just plain annoying. His presence made the show feel less comical and more as if it had just downgraded several notches. 
Thankfully, his time on the show was short-lived, but there's no telling how long he'll stick around this time. 
It seems like he's more of an obstacle for Jason and Janet's relationship than, a significant character, so we can only hope both their relationship and Derek's part in the story will be wrapped up after the finale. 
Overall, the plot of the show itself is going in an astute direction. While the Earth-bound storyline made us worry that Earth would become the character's permanent residence and the show's primary setting, it seems as though that's not the case.
Related: NYPD Blue Revival: Fabien Frankel Cast as Theo Sipowicz
From what we took from The Good Place Season 3 Episode 12 the character's new objective is no longer only to find a way into the Good Place, but to figure out why the Good Place is unattainable and how to find a solution.
That not only sounds like a great story to tell, but there are many different places to take it. If done right, this plot could fuel the entirety of the series without getting old.
Your big revelation...is life is complicated?

Judge
Recreating the Good Place neighborhood with Eleanor, Chidi, Jason, and Tahani now on the other side of the experiment will completely change the neighborhood dynamic.
Rather than being puppets, this time the gang will be the ones pulling the strings. And knowing Eleanor and her friends, their interference and investment in the experiment will more than likely cause problems and run the risk of affecting the results. 
With Michael in panic mode and unable to greet the first test-subject, we have a suspicion that Eleanor might be forced to step up in his place. 
Somehow, The Good Place has once again managed to reboot itself while still keeping the audience interested and the story fresh and new. It just keeps getting forking better. 
Related: Suits Spinoff (Finally!) Gets an Official Title
It's time to place your bets for the finale. The last couple episodes of The Good Place Season 3 have been building up to something major, and we can't wait to watch it all explode. 
Miss the episode? Just can't get enough? You can watch The Good Place online right here at TV Fanatic!
Rachel Foertsch is a staff writer for TV Fanatic. Follow her on Twitter.