The Rookie Season 1 Episode 5 Review: The Roundup

Christine Orlando at . Updated at .
What's the worst thing about breaking up with someone you work with? 
Having to continue to see them at work and act like everything is fine.
Nothing felt fine for John Nolan and Lucy Chen on The Rookie Season 1 Episode 5.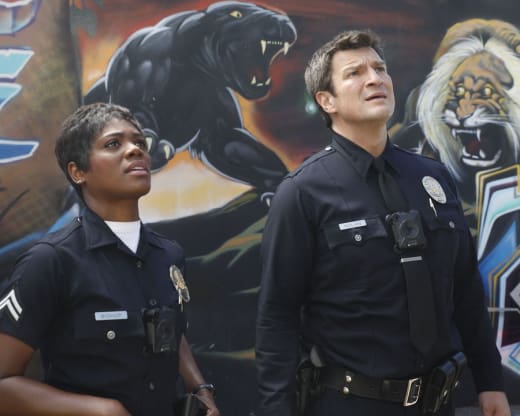 I love John and Lucy. I want to hug both of them because they're hurting and yet I wonder if they really need to be.
Did this breakup happen because of Bishop's meddling or because the timing wasn't right for them as a couple?
Lucy explained precisely what I had been thinking about Nolan all along...
Look, you're on the rebound from a 20-year marriage. This was never going to be long-term, so let's just move on.

Chen
Nolan's landlord and old friend, played by Currie Graham (which made me all kinds of happy, as I'm a fan) pointed out that John's never really been on his own. 
Nolan's recently divorced after getting married in college and even had a long-term high school girlfriend. Then he jumped into a relationship with Lucy when he got to LA. The man has never been alone, and it's about time he found out who he is when he's just him and not a part of a couple. 
Related: 2018 Fall Pick-up and Cancelation Scorecard
Of course, even on his own, Nolan's not completely alone now. He's got his good friend to talk to and that should help him, as well as us, get inside John Nolan's head a bit more.
I was elated to see John and Lucy come to some sort of an understanding because feeling jealous and awkward around someone with whom you work closely makes life miserable, and the last thing I enjoy is watching characters be miserable long-term. 
Chen: I didn't break up with you so I could date somebody else, I did it so I could focus on being a cop.
Nolan: I'm an idiot.
Chen: Yeah.
Nolan: And I'm sorry.
Chen: Me too.

I expected all of the teams to be scrambling to win the roundup competition, but Bishop didn't play, and it made me respect her all the more. This job isn't a game and she won't treat it that way.
What I love about The Rookie Season 1 so far is that it doesn't just play these cop calls for drama or laughs or high-speed chases. I actually feel something for the people the police go to either help or arrest.
That vandal had gotten a raw deal in the past and it must be infuriating to do five years in prison for possession of marijuana and now see it advertised on billboards!  But he certainly wasn't helping himself by assaulting a police officer.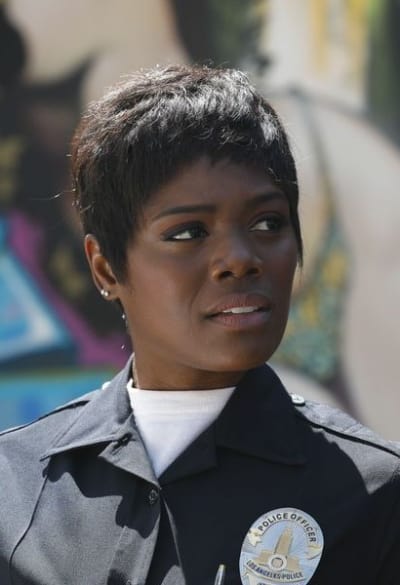 And Bishop was right to call out Nolan for climbing up on that scaffolding and putting himself in harm's way after she had told him to stay put. He was running off of pure emotion after being compared to someone's dad and having to stand by and watch a much younger guy hit on his ex.
The mother and child who couldn't find a bed in any of the homeless shelters in LA both broke my heart and made me mad. How big are the cracks in the system when even two dedicated cops calling every shelter can't help you find someplace to keep your child safe?
Bishop: We're not robots, Officer Nolan. We all have bad days but our bad days pale in comparison to the people we meet. They need us at our best.
Nolan: You ever struggle with that?
Bishop: Every day, I just don't show it.

I'm certain Talia Bishop has quite a backstory, and although I can't wait to hear it, I'm happy to let it play out at its own pace. The wait will be worth it. 
I was proud of Nolan when he spoke up and told Bishop he thought something was off about that home alarm call. On The Rookie Season 1 Episode 1, Nolan kept his mouth shut about his instincts and the husband at the domestic abuse call ended up dead. 
Related: Get True Crime Files by ID via Prime Video Channels for Over 1,000 Real-life Mystery & Suspense Shows!
When Mr. Askari's lawyer showed up at the precinct, and he looked scared instead of relieved, Nolan knew something was off. Add in the Russian mob connection, and it wasn't a stretch to think that something bad might be happening to Mr. Askari. 
But how oddly badass was it that the police used non-lethal means to take out the assailants? Bishop taking out the female assassin using bean bag rounds was far cooler than I ever would have expected. 
But the roundup made everyone question whether they were making the arrests because of the contest or because it was the right thing to do -- everyone but Bradford. 
He may have been obsessed with winning, but I don't doubt that he would have pulled the blood from that injured drunk driver whether or not it was a competition.
Not long ago a toddler was killed by a drunk driver near where I live. I'm with Bradford, just because that driver injured himself severely with his recklessness doesn't earn him a pass.
When they got to the end of the competition, I was actually hoping Bradford would win because it seemed to mean so much to him and Bishop and Lopez understood that and played along.
Their friend and colleague was hurting and if winning this silly contest helped, then they were happy to let him have the win. It speaks to how close this group is and how well they know one another.
But my favorite The Rookie quote came from a different kind of competition at the block party.
Nolan: With all due respect, Sir, they have a fire engine. To a six-year-old, that's crack.
Sgt. Grey: I am not going to be shown up by some department that publishes shirtless calendars.
And as much as I loved Jackson's comment about having a guy at Kinko's to get those snazzy LAPD buttons made, I'm sad to say that Kinko's was bought out years ago and no longer exists.  
Related: The Rookie Scores Full Season Order at ABC!
So tell me TV Fanatics, should Nolan figure out who he is on his own before moving on with anyone else?
Will we see any type of resolution for Bradford and his wife, and will it be hopeful or tragic?
And are you looking forward to Bishop's backstory as much as I am?
Check back in for my review of The Rookie Season 1 Episode 6, and until then you can watch The Rookie online here at TV Fanatic.
C. Orlando is a TV Fanatic Staff Writer. Follow her on Twitter.