Counter Play Season 1 Episode 6 Review: A Gala To Remember

Celester Mejia at .
Pop the champagne and begin bidding.
On Counter Play Season 1 Episode 6, Lord and Lady Morgan's annual Arts Gala is an event not to be missed. However, the artwork isn't the only thing that will be revealed! Jess Haynesworth is arrested for the murder of Aaron Robertson; a mysterious woman re-enters South Point and the resurrection of Mason answers and creates more questions.
It was an episode the felt like a lot of firsts have happened.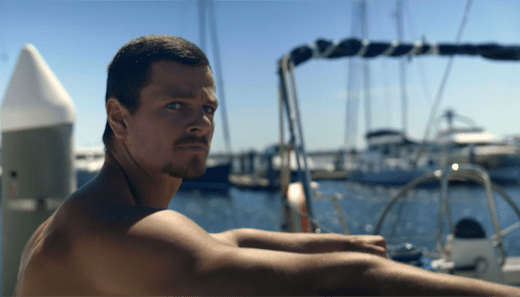 For the first time on the show, an event actually feels like an event. But the Arts Gala wasn't the focus of this installment but the entangled lives of our adored South Point residents.
"Play or be played," as the show's tagline says. This is the first time that the tagline felt true to its promise.
Related: Enjoy UNLIMITED access to thousands of Movies and TV shows with Amazon Prime Video
And, it doesn't happen usually that I feel for Jess Haynesworth. The moment that he was arrested, he said that line that melted my heart.
Logan: Jess Haynesworth, you're under arrest for the murder of Aaron Robertson. Please come to the station.
Chelsea: What are you doing? Leave him alone! He hasn't done anything! Jess, dad… someone!
Jess: Don't worry about me, sis. You're the only one who believes in me.
That line broke my heart the way he said it. He didn't utter those words to look for pity. The manner of his speaking, he believed it.
For him, nobody had faith in him. No one would think he was innocent. It was one of those moments wherein you didn't need to hear an explanation. It was all in the manner of saying it. It was everything.
Of course, as a parent, it was hard for the patriarch of the Haynesworths to let his son rot in jail. He probably might not be the best dad in the world, but he would do everything for his cub… no matter how small you think of your child as a person.
I know my son's a fool, but even he's not able to plan a murder.

Mr. Haynesworth
On the other hand, Easton Saunders had proven to me that no one's that virtuous on television.
It wasn't too long before Easton showed his true motif. He wasn't just a random guy who got hitched with the beloved Emily Loui. He was talking to someone named Mason over the phone, and it felt like they are both bigger forces to be reckoned with than Jake Spector.
I knew he was too good to be true.
Related: Counter Play Season 1 Episode 5 Review: The Old And The New
Also, it was implied that Logan and Easton had a thing in the past.
What is Emily's beau's real relationship with Logan other than a possible fling? It's surprising to see a connection between these two characters, but why are they really in South Point?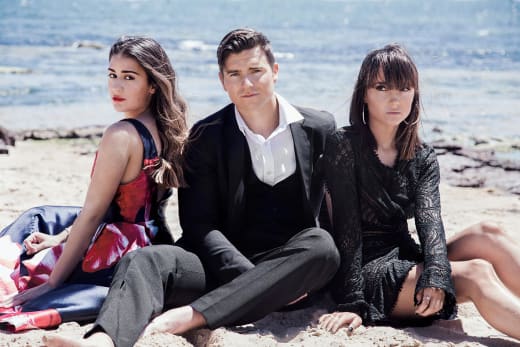 Logan: I am no one's side dish, Easton Saunders.
Easton: Touché.

Another first? Seeing Jake Spector really get angry at Jess' arrest.
It was nice to feel that anger from him. Whenever we see of Jake Spector, he was always planning something for his grander plan, but his anger really didn't feel executed seamlessly. It always felt like the rage wasn't enough, until this time.
Does Jake really think that it was Jess who planned to murder him? Abandoning a friend is one thing but them planning your murder is another.
How can I make Jess suffer if he's locked up in a jail? He deserves the punishment I had planned for him.

Jake
Moreover, Faith has had enough. She wanted to know who the guy she was planning to marry really was. It was a good chance to redeem the character because Faith had been taking all in without questions until the previous installment and it was nice that it had extended to this episode.
Honestly, it wasn't exactly a question that needed to be asked. However, with the kind of relationship she has with Jake, she wanted to give the benefit of the doubt. So, instead of speculating and assuming, she asked straight to the source about the hospital note talking about Aaron Robertson's plastic surgery.
While it wasn't the most brilliant idea, it was reasonable. She wanted to make it work between the two of them, but she wanted to hear it straight from the horse's mouth. That's how much she wanted to trust him.
Related: Counter Play Season 1 Episode 4 Review: Someone's Gotta Pay!
That said, if I was Faith, once she learned the truth, I would call everything off between the two of us.
Jake blatantly lied on her face instead of trusting her. And he was so sleek about the lying as well that it would be scary to even think of building a future with him.
Traumatizing events would change anyone as a human being, but it didn't change Aaron Robertson for the better.
It was just a great thing Faith knew how to lie. She wasn't all that sweet and kind, after all. She kept the hospital letter with her. Basing on her actions, it wouldn't be far into the future that we'd see her learn the truth.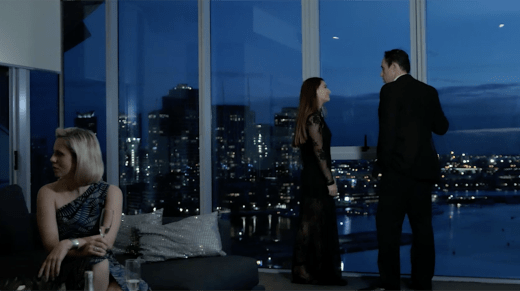 Overall, the installment was a success. It was a great way to end the first season. It leaves you hanging but it leaves you wanting.
The production team didn't hide the truth that it is an independent production, and the honesty's appreciated. Anyway, it would be hard to hide that for a fact.
But, with the news breaking out that the second season will have a commercial release, contrasting this season's, it would be a great change as the production itself would be benefiting if it has a bigger budget.
The show has a grand promise to it, but the budget had proven a restriction to achieve a certain vision. Being commercial rather than independent, the parties would feel bigger. The glamorous lives would feel even more dazzling. The overall vibe to the show would improve.
Here's hoping for a better second season!
Counter Play is available for streaming at Amazon Prime.