Carissa's Corner: The Night The Emmys, Roseanne Conner & Julie Chen's Career Died

Carissa Pavlica at . Updated at .
Fall television is coming back, and kicking off the season was the 70th Annual Emmy Awards.
If you watched, you might have enjoyed some of the winners, but throughout three leaden hours, there was little in the way of entertainment.
We will know the awards are rigged if the presentation is nominated for an Emmy Award for 2019. The show was a beast from start to finish with very few moments to save it.
If you read the 2018 Emmy Award winners post, you know the gist of it.
The show was produced by Saturday Night Live's Lorne Michaels, and the series won, believe it or not, eight awards during the night. Considering part of the problem was Michaels' production and the dual hosts of Colin Jost and Michael Che, it is a bit ironic they were lauded.
Related: 2018 Emmy Awards: The Marvelous Mrs. Maisel, Barry, The Americans & More Winners!!
The opening number about the end of diversity in Hollywood was as horrifying as every bit that followed through the night. Jost and Che, I expect, have some chemistry on SNL if they man the news desk, but they didn't seem to recognize each other on the Emmys stage.
There were some exciting shows and performers up for awards, but the way the competitors and the winners were announced left all the proceedings feeling very flat. There was no time for the presenters to warm up to one another and acceptance speeches were at the bare minimum.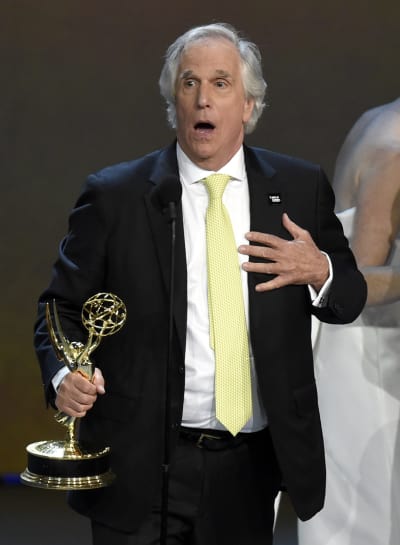 There were exceptions, including Henry Winkler winning his first Emmy after 42 years. His excitement was infectious but didn't bleed over to other winners. Jeff Daniels talked a lot about his horse with his win, and it was charming.
All of The Marvelous Mrs. Maisel wins came with gleeful acceptances, but the most humanizing moment of the night came from the director of The Oscars accepting his win, recognizing his mother's recent death, her love of his girlfriend and his acknowledgment he'd rather call her his wife. 
A proposal by the directors of the Oscars on The Emmys being the biggest moment? More irony.
A lot of my picks for winners were announced making me a happy girl, but I would have been even happier with a sweep by The Americans for its sixth and final season.
Claire Foy winning over Keri Russell and Game of Thrones winning over The Americans in the drama categories was maddening, even if they're both deserving. Awards are hard, you guys.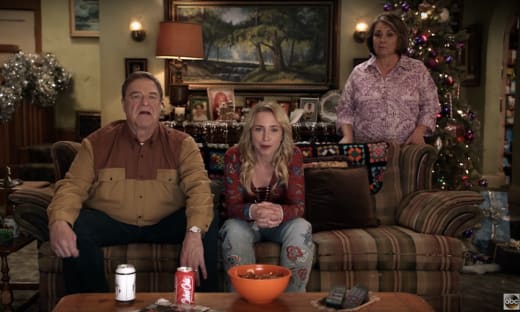 There was also news about The Conners and the fate of matriarch Roseanne Conner, who we've already discovered will be killed off the spinoff thanks to John Goodman's comment that Dan would be "mopey" because his wife died.
Roseanne visited with Brandon Straka on his YouTube show Walk Away over the weekend to share how Roseanne Conner will die, admitting she even set it up.
"Oh ya, they killed her," she said. "They have her die of an opioid overdose."
Related: The Conners Photos: What Happened to Roseanne?!
Barr said she wasn't pleased with the way the show decided to end her character, calling it "cynical and horrible."
"It wasn't enough to [fire me], they had to so cruelly insult the people who loved that family and that show," she said.
Roseanne started a story arc with her character in which she was addicted to opioids since the pain in her knee was so fierce, and she was afraid of the money it would cost to get surgery. The show left off with Dan fighting like hell to get the money necessary for surgery.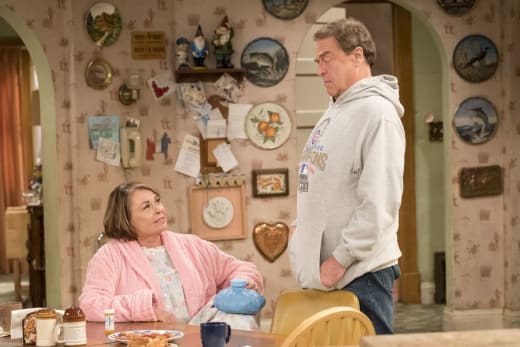 While I'm sure they'll do their best to do justice to the addiction death, that's not the story I was hoping Roseanne was going to tell on the show, so I'm disappointed in the route chosen. 
It was a show I personally watched for Roseanne. We'll see how it all plays out. What do you think about how it's looking at this point if Roseanne Barr is right about the way her character is heading out?
The other news that hit during the Emmys also involves a cast member of The Conners, so it all ties together nicely. 
It seems controversy follows Sara Gilbert, as her costar on The Talk, Julie Chen, found herself mired in it when her husband, former CBS chief Les Moonves, was called out for harassment and left the network.
It was certainly an odd position for Chen to be in considering her two very visible roles at the net on The Talk and Big Brother, but other than earlier professing to stand by her man, Chen's only statement was adding a name to her Big Brother signoff, This is Julie Chen Moonves, a move that sparked outrage.
Word is she is not returning to The Talk and will say goodbye to viewers via a video message on today's episode. Will resigning from Big Brother be next? The story is developing, but considering reactions to her decisions and the home network, it seems likely this will be her last season.
Chen is devoted to clearing her husband's name of the decades-old allegations and caring for her son.
Related: Julie Chen Returns to CBS, Pays Tribute to Les Moonves
And speaking of outrageous, let's keep talking about it.
Our world has gone crazy and where there was once due process, shades of gray, and nuances to our everyday life, black and white now prevail. It might seem advantageous from the outside, but someday the issues could change and what is harmless today will not be tomorrow.
I will never hold against another person their relationship integrity. The twitter pounce, the career ejection, the elimination of bodies of work all for things that occurred years past without due process and determination are bad enough, but to expect friends and loved ones to turn on one another is frightening.
I assume I know my friends and loved ones as those who stand by the accused know theirs. I don't turn my back in times of trouble, but stand by their side and help them through the tough times.
That's not something I consider fireable offense, a quality to be shunned or to chase away, but one to covet. 
Who wouldn't want someone to stand beside them during their worst of times, and what if you were virtually imprisoned without any evidence painting you as guilty? 
Related: Get HBO via Prime Video Channels for Addictive Dramas, Stunning Documentaries & Hit Movies!
Before I sign off, I'll leave you with this. For the first time, Soon-Yi Previn, wife of Woody Allen, tells her story about her adoptive mother, Mia Farrow, her father, Andre Previn, their family and life before and after Allen.
If you've ever wondered about that family, it's a great read. Since Ronan and Dylan Farrow keep the family in the news, the unknown side to the story and a reminder of facts in the Dylan Farrow molestation case were very interesting and most unexpected. 
Up next will be thoughts on MANY shows ... in the next few days!! 
Carissa Pavlica is the managing editor and a staff writer and critic for TV Fanatic. She's a member of the Critic's Choice Association, enjoys mentoring writers, cats, and passionately discussing the nuances of television and film. Follow her on Twitter and email her here at TV Fanatic.