Cable Ratings: American Horror Story Plunges, Mayans M.C. Stabilizes
Paul Dailly at .
American Horror Story: Apocalypse did not get off to the best of starts last week, and the ratings dipped even further this week. 
American Horror Story Season 8 Episode 2 slumped over 25 percent week-to-week, averaging 2.2 million viewers and a 1.1 rating among adults 18-49. 
While the erosion is apparent, the show still managed to emerge as the highest-rated show in the 10/9c slot in the demo.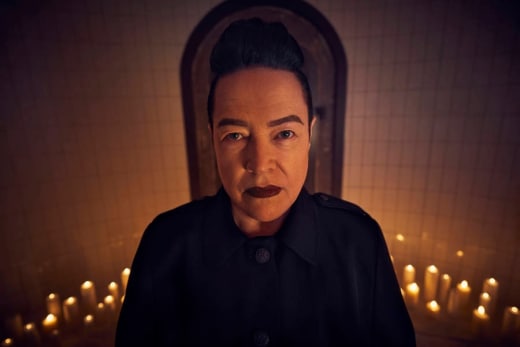 But with premiere week just a few days away, it's difficult to imagine the ratings holding up against stiffer competition. 
The good news is that the show still plays well on the DVR front. According to FX, American Horror Story Season 8 Episode 1's numbers ballooned to 5.7 million total viewers. 
Related: American Horror Story: Wait... Does Madison Destroy the Murder House?
3.5 million of which were in the advertiser-craved 18-49 demo. What's more, it was cable's second-most-watched program of the year in both the demo and total viewers. 
Only The Walking Dead beat it. There is still an audience for the show, but the ratings overall are most definitely on the downside. 
American Horror Story: Apocalypse has been billed as a crossover between American Horror Story: Murder House and American Horror Story: Coven. 
Through two episodes, it's been light on characters from either iteration of the franchise, and fans have voiced their displeasure via social media. 
Many feel cheated because the promotional material has featured the witches from Coven, but we are yet to see any of them in the flesh. 
Elsewhere on FX, Sons of Anarchy spin-off, Mayans M.C. stabilized in week three. It had 2.1 million total viewers and a 0.8 in the demo, even with the previous week. 
While the show doesn't pack the punch the original series did all those years ago, these numbers are solid for a new show. 
USA Network's, The Purge is also turning in solid ratings. The Purge Season 1 Episode 3, arguably the best of the season, had 1.1 million viewers and a 0.4 rating. 
In live ratings, The Purge is beating out Queen of the South, Suits and The Sinner to rank as USA Network's number one show in the demo. 
What are your thoughts on these ratings, TV Fanatics?
Are you surprised?
Hit the comments below. 
Paul Dailly is the Associate Editor for TV Fanatic. Follow him on Twitter.