Wynonna Earp Season 3 Episode 6 Review: If We Make It Through December
Olivia Popp at . Updated at .
On Wynonna Earp Season 3 Episode 6, Purgatory gets a hearty dose of holiday cheer, but it's quickly ruined when a kid goes missing in the town.
However, the team is there to save the day, along with an extremely hearty dose of brilliant comedy -- some of the season's (and maybe series' best). Tis the season, after all, in more ways than one.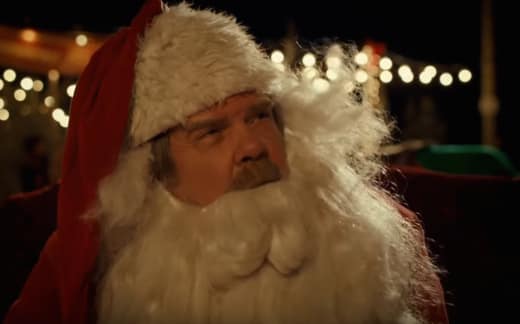 Season 3 finally finds its footing in both content and genre in this episode. Wynonna spews her weekly dose of witty one-liners, but there's such fantastic timing that it's hard to one-up this episode.
It's no longer about the humor anymore as well -- the comedy becomes engrained in the culture of the show (from Wynonna's line about Jay-Z's birthday to her crude humor, she's a true badass in so many ways).
Wynoonna: Merry Christmas, ya filthy animals! Ho-ho-hold my calls while I kick some honeycomb ass!
Charlie: Who are you talking to?

Wynonna: I'm not sure!
Wynonna gets petty with Kate's lamp and sassy with Charlie, reminding us all of her true charm. In many ways, she acts as both the dramatic emphasis and the comic relief, and it works.
It's difficult to reconcile Wynonna and Doc's separation with her new interest in Charlie, but with Dolls gone, it's up to the show to add in many more complicated love triangles -- because who doesn't love a good love triangle?
Doc: Then why didn't you tell me?
Kate: I did! Many times! Doc, I'm a vampire! Doc, I drink blood! Doc, let me bite you!
Doc: Yeah! I thought that was roleplay!
Wynonna Earp has begun to open up avenues for cable television to be lighthearted and still create quality TV without falling into the bounds of prestige television.
The show has developed its signature form of "campiness" -- even if the word does hold a bit of stigma. What's wrong with a bit of campiness? It's well-written and entertaining, and comedy shouldn't just limited to straight comedies.
The show has also carved out its one place as a show that indulges in its less-than-realistic sense of humor, so what's not to love?
Being able to find the show's place in all of this has been difficult, but if the rest of the season can keep up the insanity in both its narrative and its humor, it'll do just fine.
As an aside, this episode also turns more Canadian than ever -- first nanaimo bars in Jolene, and now Boxing Day? They're small but joyful inclusions that celebrate this show as truly Canadian.
Although Bulshar doesn't get that much airtime (even though his festive appearance cements Wynonna Earp as a show that enjoys making fun of itself and should really indulge in this), he also gets a hearty dose of development.
I'll call up my blood splatter analyst, my behavioral profiler and Helen Mirren to see what's up.

Jeremy
Bulshar is no longer just a demon, but he has a whole army working for him and is able to carry out his plans in a rather human-like fashion. Rather than relying on supernatural abilities, he uses chemicals and other things rooted in reality.
That's what truly makes him scary and a great villain -- but that's also what the team can use to defeat him. It's a great move on the part of the Wynonna Earp writers that grounds him in reality rather than pulling supernatural concepts out of thin air.
The flashbacks in the episode end up somewhat peculiar, but the episode does get the exposition out rather quickly, which is nice. Not everything is revealed as well, which makes the flashbacks more forgivable.
Wynonna: Did you just go out and slaughter a wild turkey?

Michelle: Like I'm going to feed my girls store-bought.
Although Mama Earp does take a backseat, it's understandable considering all of the other storylines flying around. She gives us a solid serving of Christmas food and Wynonna-level sass to pull us through this episode.
Michelle is undoubtedly here to bring in Julian and allow Waverly's backstory to blossom (although there feels like there should be more of Nicole's as well beyond the Cult of Bulshar!).
Waverly: I'm vegan.
Michelle: You're already a lesbian.
In addition, the episode reintroduces Jeremy and Robin's storyline, culminating in a very satisfying kiss. Not much is known yet about Robin, which still makes him slightly suspicious, but sacrificing himself for the boy is a very good first impression.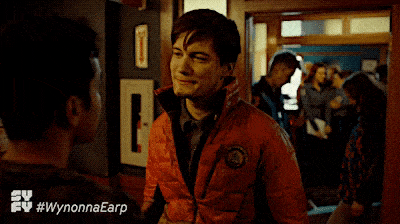 It's great to finally see Jeremy get a love interest (and as a queer character of color), and they're sure to rival WayHaught's relationship soon.
Wait, wait, Robin's family too! He mentioned it, that his dad would never leave town because they've been here forever. That means I wasn't ghosted, my date was just kidnapped by Bulshar, maybe! Huzzah!

Jeremy
Special shoutouts must also be given to Waverly's "menstruangel," the WayHaught sex noises (a priceless cold open!), and Waverly's follow-up to her cheerleading routine.
The dance scene continues to subvert the male gaze by including a certain element of consent and reassurance from both parties (and also makes the scene absolutely adorable).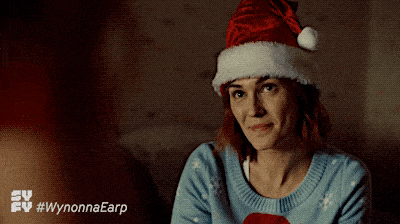 It's great to see Nicole succeed as sheriff, although Nedley's retirement seemed off, in a way. He's grown increasingly tired, but last season he was determined to pull through. Is there something on his mind?
Furthermore, it's possible that this change will bring some instability to WayHaught's relationship and change their dynamic. Nicole will have much more responsibility, and she already takes her job seriously and takes mistakes very hard.
It's what she's wanted, so it's also possible that this will strengthen their relationship. Nevertheless, a growth in power and a change seems more likely to lead to some shake-ups.
From the rather terrifying wide shot of the slaughterhouse with Bulshar's minions at work to the kids running through the Christmas trees, the episode also takes great advantage of the wide-angle and fish-eye lenses to distort reality in the visuals
This gives already intense scenes an even more demented look that juxtaposes the horror elements with the humor
Make sure to watch Wynonna Earp online and get your share of Christmas in July (more like August!).
Do you think Wynonna and Doc will make up? Is there hope for Wynonna and Charlie? Let us know in the comments below!
Olivia Popp was a staff writer for TV Fanatic. She left the site in September 2018.