Everybody makes mistakes, but not everyone can survive them.
Unfortunately, Kelly Anne's misstep on Queen of the South Season 3 Episode 11 was so monstrously huge that there was no coming back from it.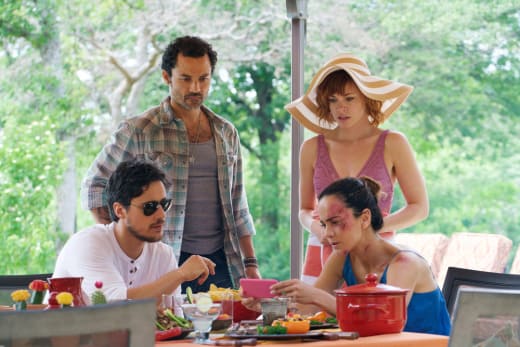 I was quick to write off Kelly Anne from my list of possible suspects during my review of Queen of the South Season 3 Episode 10, but it appears my logic was flawed.
I had assumed that because Kelly Anne knew nothing about El Santo's locations that it couldn't be her.
Little did I know that Devon Finch had found the cocaine factory all on his own and only needed help tracking down El Santo.
Related: Get True Crime Files by ID via Prime Video Channels for Over 1,000 Real-life Mystery & Suspense Shows!
Watching the flashbacks was heartbreaking because it was so obvious what Kelly Anne should have done. The moment she got accosted by Finch, she should have high-tailed it back to Teresa and told her everything Devon had said.
Teresa, Pote, and James could have come up with a plan, and they could have kept Kelly Anne safe.
Instead, Kelly Anne made the fatal blunder of believing what Finch was selling.
You know, El Santo, is on a whole other level of criminal. When he's done with Teresa he will not only kill her he will throw her into a 55 gallon barrel of oil, light it, and watch her sear to death. You could help save Teresa's life.

Devon
I'm not disputing his description of El Santo, it's spot on, but turning rat on a deranged drug lord and his associates doesn't usually end with lengthening one's life expectancy.
This entire state of affairs was demoralizing on several levels.
I trusted you. I don't trust anyone.

Teresa
I believed in Kelly Anne up until the moment she searched out Teresa to ask if she wanted to talk about James and said, yet again, that she thought of her as a sister. She was just a tad too pushy, and I didn't believe that Teresa would have given any sign that she was concerned about James.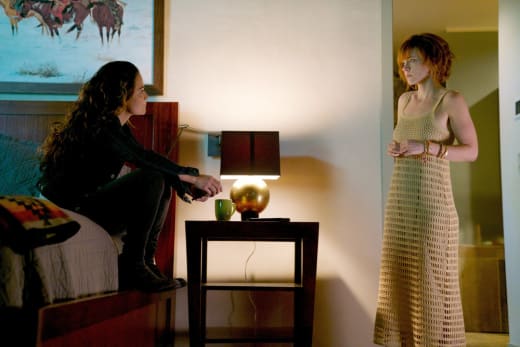 The exchange set me on edge. It was the moment where the feeling in the pit of my stomach said something was very off with Kelly Anne, and that feeling was right.
All of the facts pointed to James, and I can't fault Pote or Teresa for suspecting him.
Teresa: I thought you liked James.
Pote: I do.
Teresa: Then?
Pote: You and I come from the same place, Teresita. We follow the same rules. James is different. Understand? And if it wasn't him then who the hell it was?

As Pote pointed out, James had planted that tracker in Tony's Gameboy when he worked for Camila. It didn't seem much of a stretch to think that he could have been playing the same game here.
James ended up having to trap the mole himself, and he was understandably hurt when he realized that Teresa didn't trust him enough to come to him.
But in this business can anyone really trust anyone else?
It was also great to see Little T back and looking healed, and I couldn't agree more with her Queen of the South quote:
Hallelujah! Life's not worth living without tacos.

Little T
After the crushing debacle with Kelly Anne, I understood why Teresa sent Little T packing. She wanted to give the young woman a chance at a life that didn't involve putting a bullet in her best friend's head.
But Teresa should have explained things to Little T because the way she left it, I wouldn't be surprised if her loyal soldier felt abandoned enough to eventually turn into an enemy.
The most distressing moment was when Pote couldn't pull the trigger on Kelly Anne. 
Related: Enjoy UNLIMITED access to thousands of Movies and TV shows with Amazon Prime Video. WATCH ANYWHERE. CANCEL ANYTIME!
I don't blame Teresa for making the decision she did. Kelly Anne knew too much about the operation and proved without question that she couldn't be trusted even as he sobbed about how sorry he was.
But watching Pote near tears was heartbreaking, and I was grateful when James stepped in to finish the job and give the big guy the break he needed.
The mole may be dead, but nothing will ever be the same for Teresa and her crew.
And we haven't even discussed Camila yet!
The flashbacks proved one thing I've always suspected, that Epifanio loved Camila more than she did him right from the beginning of their relationship.
I was surprised that Camila was able to fight off that soldier. I'd imagine the other woman had had hand-to-hand combat training and, although desperate, Camila doesn't come across as much of a street fighter.
I was relieved that she didn't kill the women as she begged on the lives of her children, but I'm not certain if that's because Camila has a heart or if she's never killed before and couldn't bring herself to do it.
Related: Get Great Selection of New & Classic Movies with the Lifetime Movie Club via Prime Video Channels!
Sure, she's ordered hits on people but pulling the trigger yourself is something else entirely.
Camila's phone call to James left us with even more questions. Is she still trying to get her revenge on Teresa, or is she looking to team up to take down General Cortez?
Anything is possible when it comes to war between drug lords.
Check back in next week for my review of Queen of the South Season 3 Episode 12, and until then, you can watch Queen of the South online here at TV Fanatic.
C. Orlando is a TV Fanatic Staff Writer. Follow her on Twitter.