Insecure Season 3 Episode 2 Review: Familiar-Like
Olivia Popp at .
On Insecure Season 3 Episode 2, Issa's personal and work lives begin to coalesce when her credit score isn't high enough to secure rent for a new apartment, and she doesn't have enough money to live on her own.
Molly isn't in the episode at all, but Kelli is back, and rightfully so — her humor is much appreciated (also, watch for Natasha Rothwell in Wonder Woman: 1984!).
It's not a particularly insightful or intriguing episode but holds steady in its delivery of dramatic as well as comedic content (although we're still waiting for an Issa rap).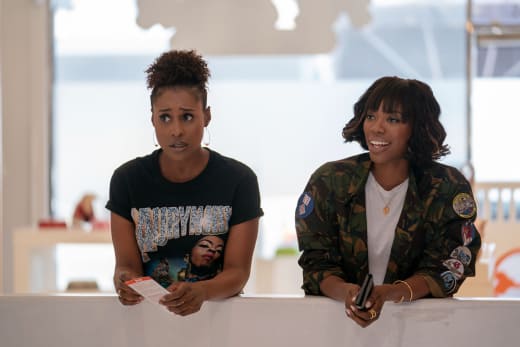 The We Got Y'all moments simply continue to illustrate the narrow-mindedness of the staff, who has become a bit of a gag given that all of them provide very one-sided and even disrespectful suggestions.
Related: Insecure Season 3 Episode 1 Review: Better-Like
Hopefully, there's more out there than simply recycling Issa's place as the undervalued and token Black employee — here's hoping that her property manager job pans out.
Oh, so now y'all wanna be woke when a bitch been an alarm clock since Day 1? Well, beep beep, motherfuckers! BEEEEEP! BEEEEEP!

Issa
Viewers got a unique side of the We Got Y'all story last season after Issa unwisely decides to ignore the racism of Principal Gaines, which was a learning experience for her. Now, she's back to being the member of the team who's clearly much more sociopolitically in-tune to everything.
Last season's storyline with Frieda was also unique and a fresh take on Issa's workplace, as it enabled the characters and their dynamic to be fully developed rather than one-shot looks at flawed characters that act as foils for Issa in the workplace.
Now, the show has the potential to fall into those latter traps by placing an emphasis on smaller conversations unless it follows a specific issue or specific set of We Got Y'all characters.
I've always thought that it's a little insulting that we're servicing black and brown kids and our name is We Got Y'all. That's grammatically incorrect. How about "Let us help you in your community in really positive ways, and go for happiness!"

Sarah
Also who's that other We Got Y'all staff member who suggests everyone should listen to Issa? Is there a chance for an extended storyline with her?
Related: Sharp Objects Season 1 Episode 7 Review: Falling
The episode also takes a risk and dips its toes into the idea of a shooting at a club when Issa and Daniel hear gunshots after a fight breaks out, but the way it's handled frames the shooting in such a unique way.
Kelli: Don't look a gift horse in the dick.
Issa: That's not a saying.
Kelli: It is. My grandmother said it to me.
It doesn't quite seem to shake up Daniel and Issa's relationship as much as one might expect. It's depicted as almost an expected occurrence, something that gently shakes up Daniel and Issa but doesn't force them to reconsider their entire lives.
It's an interesting story possibility if it pops up in later episodes, but its present infusion feels out of place.
However, Issa's personal value and why we, as viewers, should empathize with her is affirmed when she gently guides Daniel to overcome his feeling of superiority and frustration in order to gain connections and further his career.
The basic credit tiers are Excellent, Good, Poor, Bad. It's Issa all the way at the bottom.

Kelli
It depicts Issa's intelligence and shows that she's got the mark of a true friend despite the past, and maybe even gives a glimpse into a potential future with Daniel. He's been nothing but courteous this season and clearly has feelings for Issa, which are mutual.
However, it's understandable that they realize it could end up a disaster, even if they start from a new place. With Lawrence gone, it's up to the writers to craft enough will they/won't they possibilities for Daniel and Issa to last all eight episodes.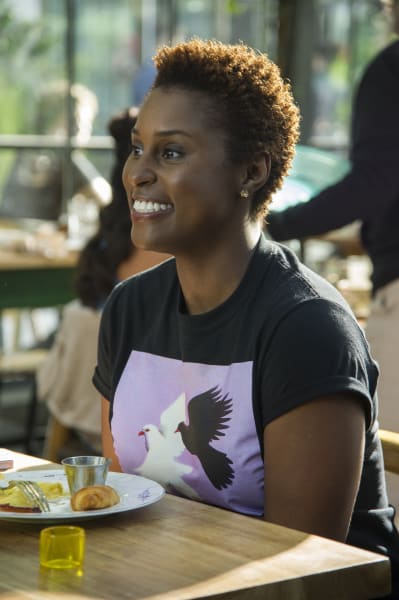 The last few moments when Daniel and Issa talk are so carefully done that it's hard not to ship them together, as they respect each other's boundaries in such a unique and supportive way.
Related: Get HBO via Prime Video Channels for Addictive Dramas, Hilarious Comedies & Hit Movies!
There's clearly still chemistry between them, but they both recognize how that might quickly devolve into something more toxic — or will it? To a certain extent, Daniel and Issa are simply a ticking time bomb.
Do you think Daniel and Issa will develop a romantic relationship?
Will Issa stay at We Got Y'all?
Let us know in the comments below!
Olivia Popp was a staff writer for TV Fanatic. She left the site in September 2018.