Quantico Season 3 Episode 11 Review: The Art of War

Allison Nichols at . Updated at .
Time to brush up on The Art of War.
On Quantico Season 3 Episode 11, Conor Devlin continued his attack on our team. With each passing episode, Devlin is proving how formidable of a foe he truly is.
He can do intimidation. He can get his hands dirty, and he can play some mind tricks on people. It's safe to say he's mastered the art of war.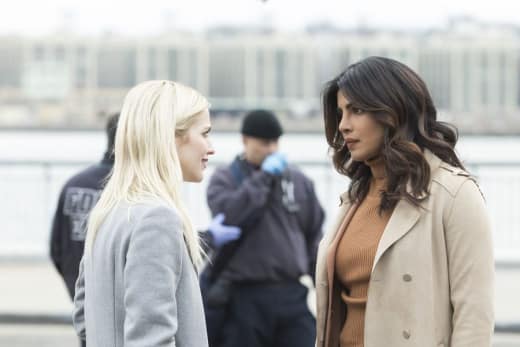 It's great that Devlin isn't a one trick pony. He's constantly proving how much we should fear him. He may not be plotting an end of the world level event, but he's not one to be underestimated.
The fact that he's able to play Owen and company and Garret King is impressive. Devlin knew what buttons to push, even with Alex, someone he had never met.
Would it be weird to give him a round of applause? Because Devlin did well.
Related: Get Starz via Prime Video Channels for Captivating Original Series & Hit Movies!
It seems like everything King did; he did under Devlin's instructions.
Kidnapping Maisie was Devlin following through on the promise made on Quantico Season 3 Episode 9, and it tied into his human trafficking scheme that he was pinning on King. 
Devlin admitted to Owen's face that he wanted Owen dead, so the shootout at the loft was once again King following orders.
A hospital for spies. Are you serious?

Deep
Did anyone else find it weird that Jocelyn was basically ignored during this firefight? Yes, she wasn't the target, but she's still an FBI agent, who eventually grabbed a gun and started firing back. Sloppy work, King. 
Quantico enjoys putting characters in near-death situations, so the fact that Owen's badly hurt isn't all that surprising. It's a weird sensation when you're watching Quantico, and something like this happens.
You're not worried about the person dying, so your emotions are removed from the situation. You're not too shocked either, at least I wasn't. Were you surprised that Owen was badly hit?
Related: Get HBO via Prime Video Channels for Addictive Dramas, Hilarious Comedies & Hit Movies!
Also, poor loft. We hadn't been in it long, but it was still home.
As nice as it was to see Maisie again, it would have been better under non-life threatening circumstances.
We got to know Maisie pretty well on Quantico Season 3 Episode 10, so we're invested in her and upset when she gets taken.
Quantico laid the groundwork and took the time to let us fall in love with Harry and Maisie. This makes spending time with Maisie, alone, entertaining and suspenseful. It also makes our hearts ache for Harry.
Deep: I left because I was afraid of losing myself. You want revenge, don't you?
Alex: No I don't. I just.
Deep: Yes you do. Don't let that come between you and everyone you care about.
It also made the fake-out where it looked like Harry was rescuing Maisie heartbreaking. Did anyone else think that Maisie would be rescued by the end of "The Art of War"?
Before the kidnapping, it was nice that we saw how the events of Quantico Season 3 Episode 10 were still affecting Maisie. She's not like Harry or the rest of the team. She's not used to being in danger.
It made sense for her to be paranoid, and this paranoia and familiarity with how Harry and the team operate led her to think about leaving her bracelet behind as a clue.
Related: Enjoy UNLIMITED access to thousands of Movies and TV shows with Amazon Prime Video. WATCH ANYWHERE. CANCEL ANYTIME!
As personal as this case was for Harry, Alex was the one falling apart.
We rarely see Alex not on top of her game. She was a mess. We haven't seen this side of Alex before.
It makes sense that Alex would be so fixated, to use her word, on King. He took her child from her. That's not an easy thing to forgive and forget.
Alex's pregnancy, and then losing the baby, has allowed us to see different sides of Alex. It helped that she spent three years in Italy, falling in love and becoming part of a family.
Rule number one, all warfare is based on deception.

Ryan
Alex had started to think of life after the CIA and FBI, and she enjoyed it. The baby brought all those feelings back, but Alex never fully understood how much she was looking forward to a family until she lost her child.
We're used to Alex being perfect and skilled at everything, and seeing her falter and be vulnerable and hurt makes her human. She's more relatable, even though she still has ridiculously perfect hair.
Stray thoughts:
Why did the team not bring back up when they raided the boat? If there was a time for SWAT, this was it.
 
Mike and Alex fighting and yelling at each other was annoying. Everyone's emotional. We get it.
 
The team putting things together based on the witness statements was some awesome detective work.
 
It was nice to see Deep again.
What did you think of the episode? Leave your thoughts in the comments below!
Remember you can watch Quantico online anytime via TV Fanatic.