Code Black Season 3 Episode 10 Review: Change of Heart

Elizabeth Harlow at . Updated at .
White lies can help people, but they can also snowball and cause real damage. 
The doctors struggled with telling the truth on Code Black Season 3 Episode 10. They weren't trying to sell alternate facts, thank god, just struggling to protect those under their care. 
But where do you draw that line? Is it more ethical to betray a confidence than tell a white lie? In the aftermath of a fight with his father, Ethan's struggle with these questions has everybody weighing in.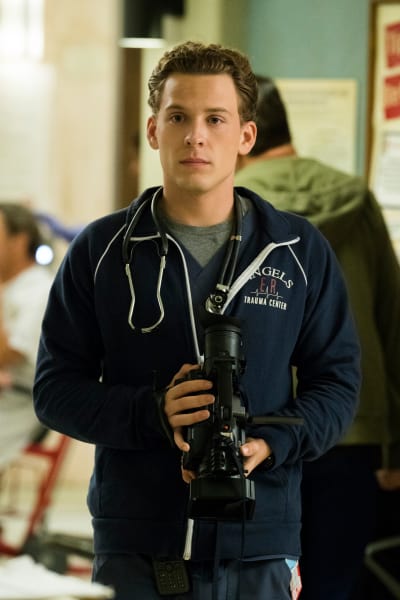 Before we dive into the serious stuff, let's talk about Angus! It's a crazy day when a surprise baby (toddler) is the light part of a show. 
As much as he protested that he's not ready to be a daddy, I can actually see Angus taking to parenthood like a duck to water. He was naturally good with the kid, and maybe little Dominic is just what he needs to get his attitude back on track. 
I did take some exception to his claim that finding out he's a parent would blow up his life. It would be tough, sure, but it's not like he would be the primary caregiver. Hell, he's already missed the physically draining parts of childrearing. 
Related: Enjoy UNLIMITED access to thousands of Movies & TV Shows with Amazon Prime Video!
Weirdly, the thing that makes me most suspicious that Mario is right and Yvonne is pulling a con is the fact that she remembers Angus' name.
Granted, Angus isn't exactly a name you hear every day unless you're living in Glasgow or Edinburgh. But I can't remember the name of the guy I dated for three months in spring 2015. Will? John? Steve? Who knows? A one night stand? You're kidding, right? 
Angus[arriving]: Who's this little guy?
Yvonne: Dominic. He's been sick. I was hoping his father could help. It's kinda my last resort.
Angus: Oh, when's he get here?
Yvonne: He just did.
Good news, bad news: Elliot's lawsuit is over, but now we might have to like Diego. Gag me. 
Watching Guthrie finally call the entitled little schmuck on his bad behavior was absolutely glorious. The moment we've all been waiting for minus one thing. The missing link was somebody smashing his overpriced camera. 
But then the smarmy little turd had to go and do something altruistic, something that put an abrupt end to the never-ending, never-developing storyline from hell. 
The only downside to the lawsuit getting resolved is that it may mean we see less of Noah Gray-Cabey. I'd love to see him step up and have another arc, but there are only three more installments in the season. 
Unless Michael Seitzman and the team can convince Netflix or another outlet to pick up the show, this may have been Dr. Dixon's last big moment. 
Related: Get CBS All Access via Prime Video Channels for Hit Shows, Exclusive Originals, & Live TV!
Ethan and Rox's story, however, is far from over. You had to know it wasn't going to be smooth sailing though, right, even if the end game has been as obvious as the nose on Rob Lowe's oppressively handsome face. 
I'm sure I wasn't the only one more than a little frustrated with Ethan's douchy behavior. Just because it's integral to the basic three-part narrative structure doesn't mean we have to like it. 
I did find it hilariously ironic that Rox was condemning Ethan for using patients as a proxy to work out his own issues. That's the basis for every single case on every single medical drama ever. 
Rox: Why are you acting like this? I'm just trying to be your friend. You're in pain and I care --
Ethan: I'm not in pain. And nobody asked you to care.
Other Thoughts:
Emily Alyn Lind yet again showed us why there should be a Best Young Actor/Actress category at all awards shows. And kudos to the writing team for giving this character depth instead of just making her a hot mess. 
 
A story about a closeted action hero was a crappy way to close out Pride Month. Drake needs to go watch Sens8 and learn how to come out like a real hero.
 
Still no Piper/Pepper. Maybe she had a delayed reaction to the fentanyl? Is she an addict now?
Related: Code Black Canceled After Three Seasons At CBS!
So what was your take on "Change of Heart"? We're dying to hear, so join the conversation in the comments section below!
Is Angus really Dominic's father? Do you still hate Diego, or has he redeemed himself? 
Taking into account recent ratings, do you think the show can be saved by another network? 
You can watch Code Black online with us anytime!
Elizabeth Harlow was a staff writer for TV Fanatic. She left the organization in October 2018.