It's time for some big changes on Queen Sugar Season 3 Episode 2, but none of them are going to be easy.
I wasn't really surprised when Nova wanted to take the time to consider the book deal she was being offered. If she didn't jump at the offer to do further television appearances with Robert, then it's obvious that fame isn't high on Nova's list of priorities. 
She's more interested in the type of change she can attain with her platform, and suddenly her newspaper articles were being gutted and her influence limited.
Steve: Nova, look, you're being labeled a black identity extremist.
Nova: That's a bullshit formulation made up by this administration to criminalize activists.
Steve: The truth is ads have taken a hit since your last article went viral. The critics loved it but we're seeing the effect on the paper's bottom line.

Let's face it, the bottom line is what drives a business and a newspaper is a business.  
Nova could have taken a back seat and waited for things to calm down before diving in again, but she might have ended up in the same place she was now...sidelined. 
Taking the book deal was the inevitable move. Yes, there is risk. There's always the possibility that the book may not be well received, but there's always the possibility that Nova could have taken the safe route and stuck with the newspaper, only to lose her job in the end. 
RELATED: 45 New and Returning Shows You Want to Watch This Summer
Nova Bordelon doesn't make decisions from a place of fear, and this appears to be her time to shine. 
Hopefully, it's not just hers, but Violet's too. 
As the family walked together through that grocery store, I knew that something was about to go wrong, and Vi's Queen Sugar quote was painful in its honesty...
I know it's a little thing, but it's my little thing. Almost 60 years old and I will not be sidelined, sidetracked or side stepped, or put in a damned corner and told to wait my turn. Not another day. It's my time. It's my time.


Violet
Vi went through so much to make those darn pies, from losing her job at the High Yellow to having to give the ladies of St. Agnes 10% of her profits, that when she saw all of her hard work stacked over to the side, it crushed her. 
I loved the way the family took action and began moving her product center stage. It's what was promised, and they made it happen.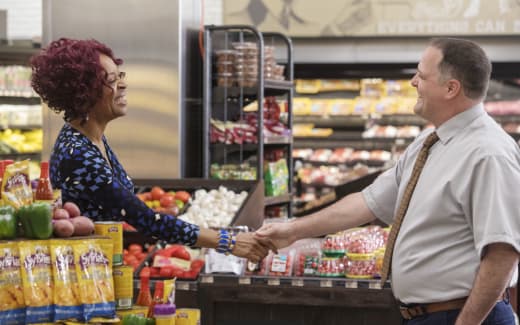 Now I hope Vi lets Hollywood buy her a new double oven so she can bake her own pies. 
Elsewhere Charley played one tricky game of chess with the Landrys, Boudreauxs, and the entire community who apparently still believes she owns the Queen Sugar Mill.
Remy: So this is you now? Tricking your own people into giving you their business so that you can turn around and give it to the Landrys.
Charley: Or they could just give it to them directly, at a higher percentage. It doesn't matter who really owns the mill as long as the farmers get the break they need.
Remy: I guess it depends on what you're giving up to get it.
Charley: Hey, I'm the good guy here.
Remy: Yet your hands are getting dirty.
Charley: Well if they are that's because that's what happens to people who are actually trying to change things instead of, I don't know, live on the sidelines.
Remy and Charley are farther apart than they've ever been, and I don't see that changing any time soon. 
The funny thing is, they both want to see the local farmers get ahead, but Remy believes that can be done through honest, hard work, and Charley knows it's going to take more than that.
RELATED: Get Hallmark Movies Now via Prime Video Channels for Stories with Heart, Captivating Movies & More!
If the Landrys are going to play dirty, she'll beat them at their own game. How the Landrys extensive debt plays into this remains to be seen, but I'm sure the puzzle pieces will fit together as the season continues. 
Jacob Boudreaux is the person that continues to make me wonder. 
Now that you've managed to pull off that 1%, it brings you into the family, and we're all about family.

Jacob
Is he trying to play Charley for his own benefit against Sam Landry, or in conjunction with Landry...or does he just think he's all that and a bag of chips and that Charley could really be interested in him?
I'm so glad that Charley is able to share all of this with Ralph Angel. She needs someone who can know her plan and someone to which she can vent, and it's also nice to see this brother and sister so close. 
As I predicted after Queen Sugar Season 3 Episode 1, Micah was looking to make a change, and that was leaving his fancy private school for St. Josephine public high school. 
RELATED: Queen Sugar Season 3 Trailer: The Bordelons Are Back
I appreciated Davis' throughout this discussion. First he helped Micah figure out the best way to approach his mother, and then he reminded Charley to keep Micah in mind when she was looking to get justice against Officer Orson.
Hearing Davis make his son a priority shows how far he's come since Queen Sugar season 1. 
In the end, it wasn't logic that won Charley over, but Micah speaking from his heart and his own perscpective...
For the first time in my life I feel like I didn't have to justify my presence. Okay, you're black but you're the son of a celebrity so it's okay. You're black but you have money so…I feel like I belong.

Micah
I'm certain that Micah will experience a whole new set of challenges in being the son of a rich, celebrity going to a public school, and I look forward to seeing how he deals with that. 
Ralph Angel finally got some good news as his parole officer stopped by to say he is up for early release. I hope this happens for him as Ralph Angel could certainly use something to go his way. 
Blue continued to act out, and Ralph Angel's confidence as a father was shaken with the new realization that he wasn't Blue's biological father. 
Ralph Angel: Am I good for that boy?
Charley: You are the best thing that ever happened to that little boy.

There's no doubt that what Charley said is true, and yet I worry that Darla will stroll back into Blue's life and try to take him away from Ralph Angel. 
I hope I'm wrong, for everyone's sake, but I don't have a good feeling about it. 
Check back in next week for my review of Queen Sugar Season 3 Episode 3, and until then, you can watch Queen Sugar online here at TV Fanatic. 
C. Orlando is a TV Fanatic Staff Writer. Follow her on Twitter.