Dancing With the Stars: Athletes Season 26 Episode 2 Review: Did Your Fave Go Home?

Christine Orlando at . Updated at .
Is anyone else trying to catch their breath from the breakneck pace of this blink and you'll miss it Dancing With the Stars: Athletes Season 26 Episode 2?
I didn't realize how brutal a shortened four week season would be until it got started, and now some of my favorites are getting bounced while I'm still enjoying them.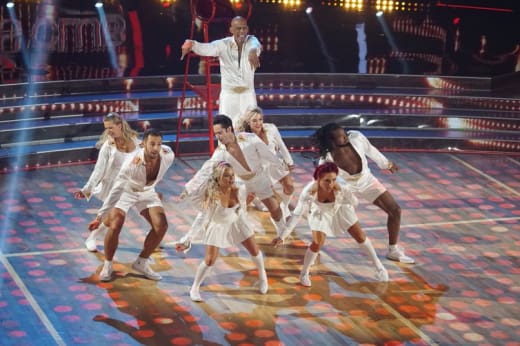 Even the athletes look a bit ragged around the edges and it's only week two! 
But only the strong, the graceful, and the witty survive the ballroom, so let's get to recapping the night. 
Josh Norman and Sharna Burgess danced the Paso Doblé to "The Plaza of Execution" by James Horner. Where last week's routine was smoking hot, this one was more lukewarm. Maybe it was Josh having to do double duty with football training, or perhaps the whole ensemble dancing with them was a bit distracting.
Related: Grey's Anatomy Renewed for Season 15!!
As for the judges, Len was still in love, Bruno called it total domination but admitted that Josh's power had him throwing his hands and not maintaining his lines.
Carrie Ann's issue with Josh's form, and guest judge and former Mirrorball champion Rashad Jennings sympathized with Josh's schedule. Total score = 30 out of 40.
Jennie Finch Daigle and Keo Motsepe took on the Cha Cha to "Do It Like This" by Daphne Willis. As much as I have complete respect for Jennie standing up for herself and saying the original song made her uncomfortable, I can't be the only one who was dying to know what song it was!
And was it just me, or did Keo looked a little miffed at having to rework their entire routine in only three days?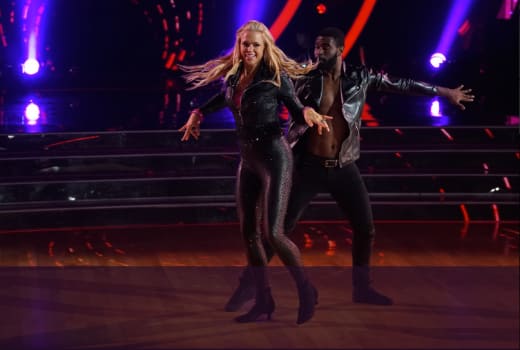 Bruno loved the head to toe leather, and it definitely looked good on Jennie, but she got chastised for her hands once again. Len called it a competent performance while Carrie and Rashad had nothing but kind words and encouragement.
But to me, this pair feels at odds with one another and that is bound to be their undoing. Total score = 26 out of 40. 
Kareem Abdul-Jabbar and Lindsay Arnold danced a salsa to "La Malanga" by Eddie Palmieri. I already loved Kareem last week, but that only grew when he began talking about his father's love of music and dance.
I'm dedicating this effort to my dad. I hope wherever he is that he's looking down and smiling and glad that I'm competing.

Kareem Abdul-Jabar
Now I know that Kareem's moves were a bit lacking, but Lindsay's choreography was such fun it didn't matter. Instead of trying to ignore the height difference they went all in with it. And kudos to Hayley who was dancing blind while carrying Lindsay on her shoulders!
Bruno called the dance cleverly constructed, Carrie Ann liked Kareem's shimmy, Rashad just gushed over the NBA legend, and Len pointed out that Kareem brought the party to the dance floor. Total score = 26 out of 40. 
Chris Mazdzer and Witney Carson Viennese waltzed their way to "Next To Me" by Imagine Dragons. Chris shared his ADHD diagnosis, which can make focusing on the minutia of a dance routine even more difficult, but you wouldn't know it by watching him waltz. This pair was beautiful on the dance floor.
Related: ABC Sets Finale Dates for Once Upon a Time, Grey's Anatomy & More!
Carrie Ann and Rashad were all praise, Bruno called Chris a waltzing heartthrob, while Len got a little critical about the swings but liked his sway. Was it a swing? Was it a sway? Does anyone care? Total score = 33 out of 40. 
Tonya Harding and Sasha Farber Quickstepped their way through "Red Neck Woman" by Gretchen Wilson, and this might have been the perfect song for Tonya. Where last week she made me cry, this week she made me laugh.
This routine was fast, but she nailed it, and you could tell she was having fun. My only complaint, that bear overstayed his welcome.
Len was spot on when he said this routine had that feel good factor. Bruno was impressed that Tonya never lost the timing. Carrie Ann called her strong, powerful, and poignant, and Rashad used Tonya's new chapter in life to plug his new book, "The IF in Life." Total score = 33 out of 40. 
Mirai Nagasu and Alan Bersten danced a Foxtrot to "It's a Small World" by The O'Neill Brothers Group ("We Love Disney").
Mirai was the picture perfect princess and you could tell she loved the Disney theme, although I thought they could have picked something a little spunkier than "It's a Small World." And the light up dress was equal parts lovely and distracting.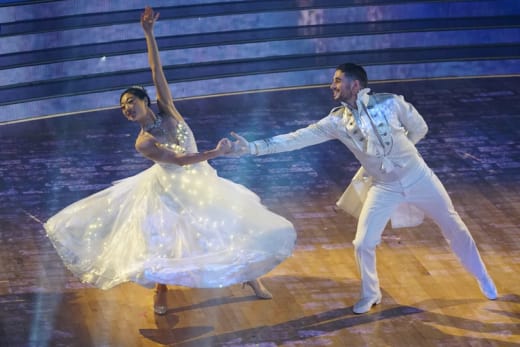 Len declared it the best dance so far. Bruno said it was literally radiant. Carrie Ann told Mirai it was gorgeous and Rashad said it was the epitome of Disney. He also handed out the first 10 of the competition. Total score = 37 out of 40. 
Arike Ogunbowale and Gleb Savchenko took on the foxtrot to "What About Us" by P!nk. I feel as though Arike is one of the competitors getting short-changed by this super short season.
She showed so much growth in just one week, and she looked beautiful in that dress and heels. Their Foxtrot felt a little slow, but overall I just wanted to see more of what she could do.
Related: The Good Doctor Shocker: Who's Out?
The judges seemed to agree. Len praised her fantastic footwork. Carrie thanked her for putting on the heels and playing full out. Total score = 33 out of 40. 
Adam Rippon and Jenna Johnson danced the Quickstep to "Make Way" by Aloe Blacc. I love Adam, and as much as I thought the red looked wonderful, I was completely distracted by the thought that if it would have been green he would have looked just like The Riddler from Batman.
I didn't like this routine as much as last week's but Adam and Jenna are so damn close to perfect that it's hard to complain.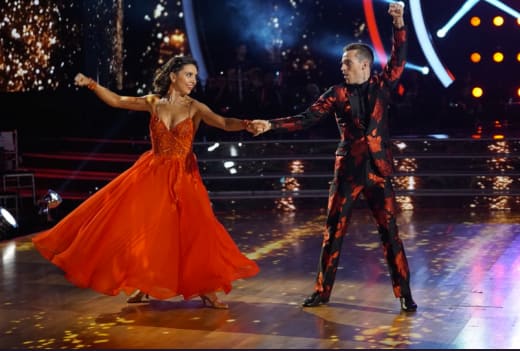 Carrie Ann was thrilled to see Adam a little off balance because it meant there was room for growth, but Bruno was right. Adam and Jenna's timing was impeccable and their footwork was outstanding. Total score = 37 out of 40.
But wait, there's more!
Tonight we had the team dances...
Team 1950s Tennis danced to "... Baby One More Time" by The Baseballs.  Chris Mazdzer and Witney Carson, Josh Norman and Sharna Burgess, Kareem Abdul-Jabbar and Lindsay Arnold, and Tonya Harding and Sasha Farber.
Related: Roseanne: Renewed for Season 11 at ABC!
This was actually my favorite team dance of the night. As Len said, it was tight, it was together, and everyone did their part.
And I couldn't help but have flashbacks to the 1994 skating scandal the moment Tonya twisted her ankle, but you've got to love her grit and determination in this Dancing With the Stars quote...
Unless that ankle's broken, we're dancing.

Tonya Harding
Total Team Score = 33.
Team 1970s Football danced to "Instant Replay" by Dan Hartman. Adam Rippon and Jenna Johnson, Arike Ogunbowale and Gleb Savchenko, Jennie Finch Daigle and Keo Motsepe, and Mirai Nagasu and Alan Bersten.
Maybe it was the sparkly footballs or the '70s theme, but this dance didn't wow me.
Or maybe it was the fact that none of these dancers were even alive in the 1970s! 
Related: Enjoy UNLIMITED access to thousands of Movies and TV shows with Amazon Prime Video.
Bruno got a little too high on the '70s groove, and Carrie Ann fell off her chair.
Total Team Score = 37 out of 40.
Now for the tough part. Letting one dance team go would have been hard enough, but having to oust two teams at only week two was just brutal. 
COUPLES IN JEOPARDY
Kareem Abdul-Jabbar and Lindsay Arnold
Chris Mazdzer and Witney Carson
Arike Ogunbowale and Gleb Savchenko
In the end, it was Arike Ogunbowale and Kareem Abdul-Jabbar going home. 
Kareem has been a joy to watch, but with his limited dance skills and mobility, this wasn't a surprise, but he will be missed. And as I said earlier, Arike had a lot of potential and it's a shame we won't get to see her live up to it. 
So you tell me TV Fanatics, did the right dancers go home? And who do you think should win the Mirrorball trophy for Dancing With the Stars Season 26?
If you missed a sparkling minute, you can watch Dancing With the Stars: Athletes online here at TV Fanatic.
C. Orlando is a TV Fanatic Staff Writer. Follow her on Twitter.