It's always important to look for the silver lining. I'm sure Jesse or Guthrie would put it more eloquently, but that doesn't make it any less true.
After the devastating news about cancellation, we loyal viewers were rewarded with a double serving of medical drama goodness. The only downside to getting Code Black Season 3 Episode 5 and Code Black Season 3 Episode 6 at once?
We're that much closer to the end. 
As we march ever closer to the finale, I find myself more and more pissed that it took so long to introduce Ariel and make her a regular. 
This girl is sassy and sensitive and smart, not to mention that Leanne as instant (single) mom to a teenage girl is much, much more interesting than OG Tragic Leanne. 
I can't help but wonder: If the writers and producers had stumbled upon this missing ingredient sooner, would they be facing cancelation now?
Related: Enjoy UNLIMITED access to thousands of Movies & TV Shows with Amazon Prime Video!
What I really loved about Ariel's arc over these two episodes was that although Max was mentioned, it was really all about her personal growth and her maturity. Just us experiencing her as a whole, three dimensional person.
She's not just some prop for Leanne's recovery. She's not a convenient layman for the docs to explain medicine to so that the audience also understands. She has her own motivations and her own perspective. 
Maybe if she'd been introduced earlier, a broader audience could have been found. 
Mario: Do you know what a defibrillator is?
Ariel: Yes. I'm fourteen, I'm not an idiot.
As much as I love Ariel's consistent presence, it does highlight one pet peeve of mine. Why are so many of the doctors randomly not included in any given episode?
I know I gripe about realism with some frequency, and yes, not all doctors are on the same shifts all the time. But it's really disconcerting that certain characters are gone more than they're there in what is supposedly an ensemble show. 
Especially when they have a season long arc like Elliot's. 
Leanne: Dr. Dixon, a word. I no longer know if I can trust you with patients.
Elliot: Good, because I don't know if I can trust me either.
I want to be more invested in Elliot's lawsuit. I love Noah Gray-Cabey, and he really deserves more screen time. But not only is this story taking forever to develop, but it's so inconsistently brought up that I just don't care all that much. 
How were Elliot's reactions during "Hell's Heart" any different than those during Code Black Season 3 Episode 4? He's not even spiraling out of control, he's just stuck in neutral. 
Related: Get CBS All Access via Prime Video Channels for Hit Shows, Exclusive Originals, & Live TV!
And speaking of erratc stories, we didn't even hear about the accidental OD intern.
I have no problem with circulating characters ina nd out when they're not really given any backstory or story arc, but you need to have enough stringers to cycle through so that there's someone there.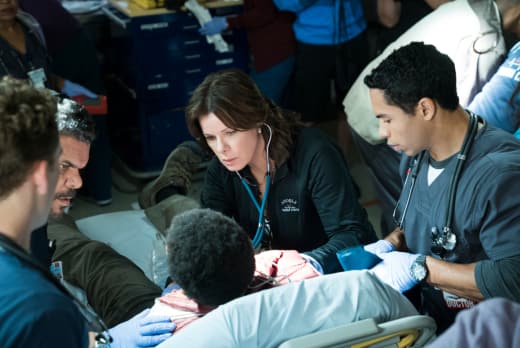 You know what story is making progress that I still don't really care about? Rox and Ethan's inevitable courtship. 
Sure, the hiding together in the fire shelter thing was sort of romantic, and they proved that they've got that non-verbal communication thing down with the guy that took them hostage, but I'm just not that into it.
Even less so since we learned that this will be the final season.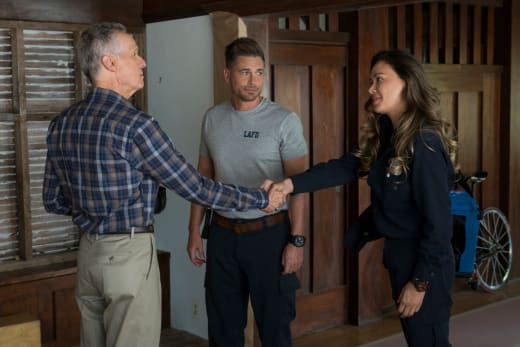 They have good chemistry and are funny together, but inevitable (and predictable) romance is not how I want to spend our remaining time at Angels. 
The prospect of their relationship feels like a Hail Mary for ratings, which is pointless now. Besides, I showed up for gruesome fasciotomies first and foremost, slow burn romances are a distant second. 
Related: Code Black Canceled After Three Seasons At CBS!
Was anybody else really upset by the hiccup in the Mangus bromance? And confused?
Mario's behavior made absolutely no sense in "Hell's Heart." Was his sudden attitude because Noa was off for the day? That's literally the only explanation I could come up with, and it's not even a good one. 
I know there's only ten episodes this year, but I needed that frustration from him to grow slowly, not just pop up over night like a teenager's first pimple. 
Mario: It's not that I don't like having Ariel around, she's actually pretty cool, but--
Leanne: You're here to be a doctor. But aren't we more than that? If we're a family, and Iike to think that's what we are, shouldn't we be able to ask more of each other? I'm struggling. You can see it. I just need a little bit more.
Other Thoughts:
Ariel knew what a defibrillator was, but not a DNR? Really? And she didn't Google it? 
Whatever happened to the hunter they found burnt to a crisp? There's a case I wanted to follow. The chainsaw injury? Not so much. 
The racist patient was handled so very well, and I wish it hadn't been overshadowed by the blockbuster moments of a kid alone on a plane and the hostage situation. 
The ladies will be in the spotlight on Code Black Season 3 Episode 7 ("Step Up"). Rox's high school step coach pays a visit to the ER, giving our favorite paramedic a chance to reconcile with her. 
And Noa hasn't disappeared forever! She'll be fighting for her patient, a young teen facing a hysterectomy. I'm curious to see what the argument for the procedure is. 
Teen heartthrob and Tiger Beat cover boy Max will be back on the scene as well, so that teenage romance will be heating up again. I wonder where he and Ariel will head for their second date? There's not many options in the hospital.
The minute I feel the need to justify my worth to *any* man, I've surrendered it. Now, you saved that man's life today. Own. That. Power. Because if you don't, there's always going to be someone who will take it from you.

Will [to Angus]
So what did you think of "Cabin Pressure" and "Hell's Heart?" Were you thrilled with the two-for-one special or would you rather have dragged the season out for as long as possible? Which stories are grabbing you and which do you wish would be axed?
We want to hear your opinions, so chime in to the comments section below!
And remember, you can watch Code Black online with us anytime, anywhere!
Elizabeth Harlow was a staff writer for TV Fanatic. She left the organization in October 2018.