Code Black Season 3 Episode 4 Review: The Same as Air

Elizabeth Harlow at . Updated at .
Okay, who has a good kimchi recipe that they're willing to share? Thinking about Aunt Jae's truck is making me hungry.
Rox's aunt may be my favorite new character, but she wasn't the only good thing going on Code Black Season 3 Episode 4.
While Ethan and Leanne helped a family break free from a tyrant, Mario learned a valuable lesson and became a better doctor for it, and Angus had to figure out how to navigate a sticky situation.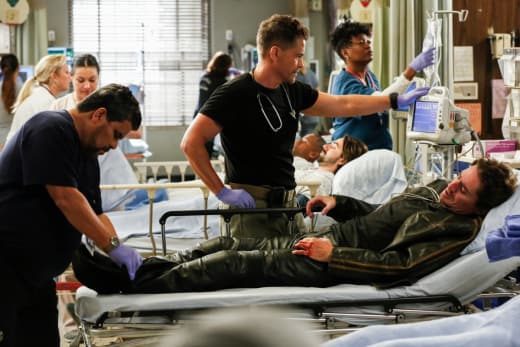 Mario and Noa's drug-seeking patient and the resulting examination of the role of doctors in the current opioid epidemic was bound to crop up at some point this season. 
The writers managed to be overly cliche about the issue though. Instead of excessive exposition about the topic, we were reminded about Mario's troubled past and used his history as a lens through which to see the problem.
I actually really liked that Mario, a recovering addict, had some of the same preconceptions about his patient as the other doctors. 
Related: Enjoy UNLIMITED access to thousands of Movies & TV Shows with Amazon Prime Video.
Viewing addiction as a disease rather as a moral failure is still a new idea in our society, and I imagine it's not as easy a view to accept if you're working on the front lines. 
It was a little far-fetched that Mario was the one to write the script that had this patient falling off the wagon, but it did serve to reinforce the realizations that Savetti was having. 
The only thing that could have made this case better would have been Angus' involvement. His addiction was a little different than Mario and the patients, but I would have liked to have seen him talking the case through with his friend. 
There's something about addiction. When it's about the people we care about, we call it an illness. When it's about someone we don't know, we just look at them like criminals. I'm supposed to know it's always the former. We...have a disease.

Mario
I'm sure Angus would have rather been talking about the ethics of prescribing opiates and the role of doctors in the current epidemic than getting caught in the middle of Campbell's spat with his ex. 
This plot was the weakest part of "The Same As Air" for me. Yes, it's amusing to have Angus in such an uncomfortable position, but what was the point? 
I'm hoping that Angus' goodness and faith in humanity will rub off on Will. I totally understand his reluctance to have his daughter visit with his ex, but it's probably something he should think on some a little longer.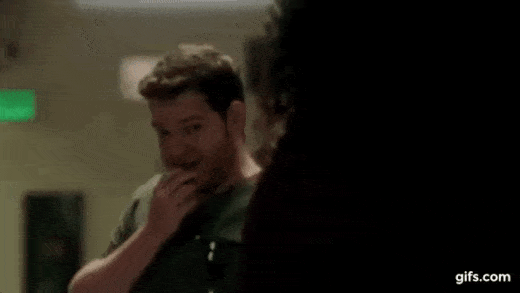 Felicia's reaction to their daughter's illness may not be palatable to audiences, but I get it ... kind of. I get the leaving anyway. What I don't get is the not showing up until now. 
But regardless of how you or I or Will feels about her actions, shouldn't it be up to Emily if she sees her mother? At fourteen, she's old enough to at least have a say in that decision. 
Related: Get CBS All Access via Prime Video Channels for Hit Shows, Exclusive Originals, & Live TV!
I'm actually hoping that all the talk about Emily means that she'll be making an appearance this season. With Ariel around constantly, it'd be a nice parallel to have Campbell's daughter show up too. 
Maybe Will and Leanne could share some parenting tips. 
Nancy: What the hell is a meme anyway?
Leanne: If pop culture were a communicable disease, a meme is the common cold.
One story that was disappointing was Elliot's. Not that he's getting sued, or even that he began to doubt himself. Those all serve to further the overall story and his character development.
But where was his win? Maybe that will come in a later episode, but if that's the case I needed him to be more downtrodden. If he's expected to get back up on the proverbial horse, then he needed a case that proved his abilities to himself. And to us. 
Instead of this being an opportunity for Elliot to become more real to the audience, it ended up being the "Avila is an asshole even when he's trying to be nice" show. 
Guthrie: You know, there's a sense of entitlement about you, Dr. Avila. But you should know it's not gonna fly here.
Avila: Save the Yoda speech, alright?
Guthrie: Son, I can teach you how to be a better doctor. I'm good at that. But I can't teach you respect. So, if you want the former, you're gonna have to learn the latter.
I can't have been the only one that did a little happy dance when Guthrie called out the obnoxious first-year resident. 
Is this a step towards Avila's redemption? It's either that or just one episode closer to him being booted altogether. 
I have to admire Guthrie for being willing to try. I miss his relationship with Angus', and this won't be a replacement simply because of Avila's total douchiness. Still, I look forward to more of his wisdom being imparted, even if it is on deaf ears. 
You always think you're gonna be able to say you're sorry. Say what you feel when you feel it. While you can.

Melanie

Other Thoughts
Can we get more Noa/Elliot scenes? Angus and Mario have such a solid relationship, and it was really nice to see that echoed in their younger counterparts. So much of Noa's story has been about her relationship with Mario, but I want more of her with her coworkers to balance that. 
 
So obviously Rox and Ethan are going to get together. Am I the only one ambivalent about that? Maybe it's that because it's a foregone conclusion, I just don't care how it happens. 
Kids, I get that eating ice cream out of the container is fun, but there's no way you're going to finish an industrial size container. Stop germ-ing up the whole batch and grab a bowl!
 
Campbell's attempt to teach Angus how to deal with the stress of the job was a good idea, but boxing is a terrible hobby for a surgeon. It's hard to operate with a broken metacarpal. 
Related: New Amsterdam Trailer: Ryan Eggold Returns To TV!
So what was your take on "The Same As Air"? Should Campbell make amends with his ex-wife? Can Guthrie teach Avila how to act like a decent human being or is that a lost cause? Are you all in for Rox and Ethan's romance? 
Join the conversation in the comments section below to let your voice be heard! You can watch Code Black online with us anytime!
Elizabeth Harlow was a staff writer for TV Fanatic. She left the organization in October 2018.