Chicago Med Season 3 Episode 18 Review: This is Now

Elizabeth Harlow at . Updated at .
Gaffney finally faced a real emergency though you might not have known it by watching the sedate pace of Chicago Med Season 3 Episode 18. 
To be fair, things did move at a brisker pace than usual.
But there was no adrenaline pumping through the veins of the ED team while they deal with this tragedy.
I may not over been impressed much by "This Is Now," but that doesn't mean that there's not a lot to unpack.
It's sadly impossible for a show, particularly a medical drama or police procedural, not to tackle mass shootings. This isn't even the first such incident on Med. 
Remember the movie theater shooting on Chicago Med Season 1 Episode 4? This time, there wasn't even an attempt to discuss the "good guy with a gun" idea, or the second amendment, or background checks.
Related: Enjoy UNLIMITED access to thousands of Movies & TV Shows with Amazon Prime Video!
The lack of discussion about shootings as an epidemic really struck me. Granted, the middle of a triage situation isn't the best time to be discussing how to resolve one of the biggest public health issues facing our country.
But after Parkland, it's also nuts that the answer to these tragedies from the show was basically "What can we do?"
It was about as tone deaf as The Simpsons (severely belated) response to the Apu controversy. 
Maggie: Since the first victim rolled in, it's only been two hours.
Sharon: Feels like two weeks.
Maggie: It's the world we live in, huh?
Sharon: Yeah. Unfortunately.
But there were callbacks to actual mass shootings. The pickup truck full of victims in the ambulance bay was a direct reference to Vegas, for instance. 
Honestly, there have been so many mass shootings in my lifetime; I can't remember them all to catch other references that were dropped. Who can possibly keep them all straight -- even those from this year? 
Hell, NBC has apparently given up trying to be sensitive to victims of recent shootings by delaying airing. To be fair, waiting for there to be a week without a shooting would mean shelving this episode forever. 
One thing that I'm really curious about is how the other properties in Dick Wolf's Chicago franchise will address this shooting. It would be insane for them to ignore it, right? 
Yes, there have been other shootings in the #OneChicago world that haven't gotten cross covered, but this was shown to be an event on par with the largest shootings we've seen to date.
You can't ignore roughly 75 people being shot in the heart of the country's third-largest city and pretend to have any kind of continuity.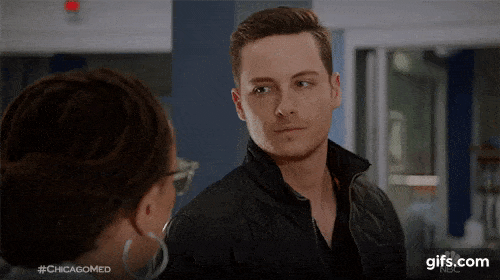 My ambivalence about the low-key way the shooting was handled in the ED aside, there were some very poignant moments. 
April carrying the little boy to the EMT lounge was the emotional touchstone moment for me. It was handled very sensitively and was a lovely, quiet moment away from the excessive amounts of blood in the ED. 
Related: Shades of Blue: Ending After Season 3!
I'm also really hoping that the authority she got during triage will jumpstart her ambitions again. I've said it before, and I'll say it again, I want April to go back to school. She'd make an excellent nurse practitioner who would add value to the show.
There's so much blood. I can still smell the iron in the air.

April
Connor and Latham's work in the lounge was great. I mean, yes, it's impossible to believe that this relatively new ED doesn't have someplace more appropriate, but I can suspend my disbelief and go with it.
It was a nice reminder about Latham's Asperger's and the friendship between the two men, even if Connor was getting a little snippy with his tone. 
I wish they'd been a little more patient with Noah though. Sure, he can be annoying AF, but it's still a teaching hospital. 
Dr. Latham, this is damage control! Stop the bleeding, stop the spillage, move on to the next patient.

Connor
The shooting victims may all be cleared from the ED, but that doesn't mean the drama is over. There's going to be fallout from Sharon unlocking the drug lockers on Chicago Med Season 3 Episode 19 ("Crisis of Confidence").
And that fallout could have some serious consequences beyond Sharon not getting all the upgrades she was demanding from Peter. 
April is going to lose faith in Emily and suspect her of being the drug thief. My question: has Ethan's confidence in his sister been restored enough that this will cause problems for the golden couple?
Related: NBC Cheat Sheet: What Will Be Renewed?
We want to know what you thought of "This Is Now." Should Nat finally forgive Will after he helped find Owen? Will Noah be inspired to make a move to surgery? Did the break from ethics cases and relationship drama work for you?
Share your thoughts in the comments section below! And remember, you can watch Chicago Med online with us anytime if you need a refresher!
Elizabeth Harlow was a staff writer for TV Fanatic. She left the organization in October 2018.