Siren Season 1 Episode 5 Review: Curse of the Starving Class

Yana Grebenyuk at . Updated at .
There are more of them and it looks like their time on land is just getting started. 
But nothing was as shocking as Helen's reveal to Ryn's sister, although I would argue we could have seen it coming for a while now.
During Siren Season 1 Episode 5, Ben digs more into his family business and Maddie has a chaotic couple of days. Meanwhile, Ryn returns, but it isn't exactly smooth sailing for her and her sister, especially when they can't return back into the ocean for a while so that they could stay safe.
This all doesn't even touch on the fact that Helen told Donna that she is one of them, meaning the secret she has been hiding was her potential identity?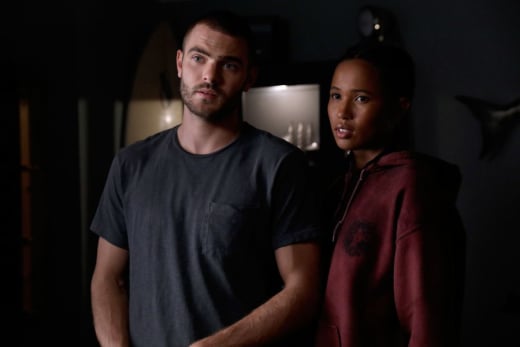 Helen being a mermaid made so much sense, and yet at the same time was nothing that I thought I saw coming.
That explains her condition and the reason why she wanted Ryn to go back to the water so badly.
In fact, it could explain her situation, she didn't manage to get back in time and yet somehow ended up alive on the shore. But why couldn't Ryn sense that Helen was one of her own?
Related: Watch Real Lives, Real Stories, & Real Celebrities on Reelz Channel via Prime Video Channels!
And why hasn't Helen shared that with Ryn or the rest of the group yet?
The truth is though that I am most worried about her plans with Donna considering they don't line up with what everyone else had in mind.
Her wanting them to go back to their home might not be the best idea, but Donna and she can't grasp that fully which has to be something that creates chaos later. 
You can trust me because I am one of you.

Helen
Maddie has had a lot going on in her life, but the biggest change had to be her kiss with Ryn.
I refuse to believe that their relationship isn't heading somewhere - with or without Ben, although it was evident that without Ryn something was missing for them.
Ben and Maddie just came off as if they lost a spark in their relationship, one that was traced back to the absence of Ryn. 
With her coming back it was like a switch was flipped and suddenly their interactions were different, and it felt like they found the purpose they were looking for without even realizing it.
Related: Enjoy UNLIMITED access to thousands of Movies and TV shows with Prime Video. WATCH ANYWHERE. CANCEL
This can't figure itself out though, which is the real problem.
There is a considerable lack of communication when it comes to everyone in that little possible group relationship, especially since Maddie kissed Ryn and didn't tell Ben about it.
It is a recurring theme that keeps happening, moments that keep appearing, and they have no conversations about those moments. For everyone's sake, those two need to have a good long talk before they both run away with Ryn without telling the other. 
Not safe on land. Not safe in water.

Ryn
Ryn was always going to come back; there simply isn't a mermaid show without its mermaid.
Her relationship with Donna, though, is severely strained and it is fascinating to explore her loyalty still being to her sister but now including the others as well.
Going forward, I would love to see their relationship explored more because there is a lot to unpack there since they are stuck on the shore without any plans to go back yet.
Related: Get Hallmark Movies Now via Prime Video Channels for Stories with Heart, Captivating Movies & More!
Donna and Ryn are close, but they are also always one second away from having an issue, and it's fascinating.
Was it always like that in the ocean? How will being in unknown territory continue to affect their relationship, and can it be fixed at all at this point?
And by the way, I'm not a rescue.

Maddie
Ben trying to figure out how involved his family is in Ryn and Donna not having access to food was a turn for sure.
It was pretty clear that his family is shady in general and aren't looking to help anyone right now, but this was a great way to show the lengths that Ben himself would go to to protect others. 
There must be even more than his family is hiding and if I were Ben I would start with his mom, there is just something about her that doesn't add up for me.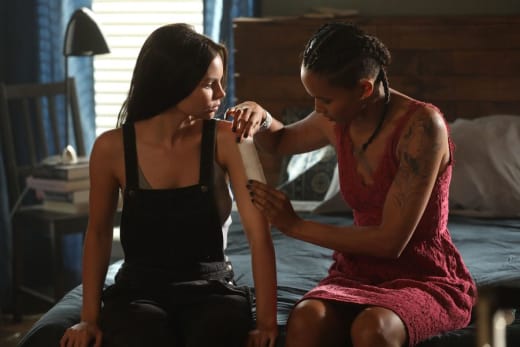 The real question now though is where will he go from here? Should he continue to play up his interest in the family business?
Personally, to me, it seems like Ben doesn't interact much with his father and brother for a reason, so getting information is important, but it shouldn't become something that then weighs too much on him also. 
Maybe it is some big cover up, but I am done running.

Chris
What did you think of the episode and the big reveal? Is Helen's secret something you caught onto before too? What did you think of Ryn reappearing again but on bad terms with her sister? 
Where do Ben and Maddie and Ryn fit in together now that they are all reunited again? What did you like the most and what did you like the least? Let us know below.
And don't forget that you can watch Siren online right here at TV Fanatic!
Yana Grebenyuk is a staff writer for TV Fanatic. Follow her on Twitter.