Frank is a lot more than a dick swab.
The look of disgust on Eve's face as the swab got up to give Bill's eulogy on Killing Eve Season 1 Episode 4 was well-suited for the occasion, especially given what they learn about the man later.
Frank has been canoodling with the Russians for a very, very long time.
Of course, he is the bad guy at the center of everything because he's a namby-pamby baby without the balls to do anything but accept money from the real villains in the picture. 
He couldn't possibly capture any, nor would he ever have the guts to get down and dirty with the best of them.
That's why he was being chased by the best on both sides of the spectrum in what I HOPE were the last minutes of his life.
It was brilliant how everyone ended up in Bletchem at the same time considering the ambiguous beginning.
Eve was, rightfully, maudlin at what had happened. To make matters worse, the lies about how Bill died were taunting her. They didn't make things easy at home, either, as she made quite a big deal on Killing Eve Season 1 Episode 3 telling Niko the job was harmless.
The way Eve spat out at Niko that she sometimes believed his great love for her was all he had in life was painful. Those moments in life are the ones you can't take back, and no apology will ever erase because when you're in that kind of pain, you tend to be the most truthful.
All Eve can hope is that Niko's love for her is stronger than her disdain for it. Her love for the job, at the moment, at least, beats out anything she feels for Niko, and he knows it.
Related: Stream your favorite British shows anytime, anywhere, commercial free with Acorn via Prime Video Channels!
While Eve was contemplating killing Villanelle, Villanelle was contemplating taking out anyone who would consider taking her off of her job, too. The women mirror each other in the worst ways.
Every childish or seemingly caring thing Villanelle does has an ulterior motive. Just like her elaborate kills, she goes to great lengths to make points in her personal life, too.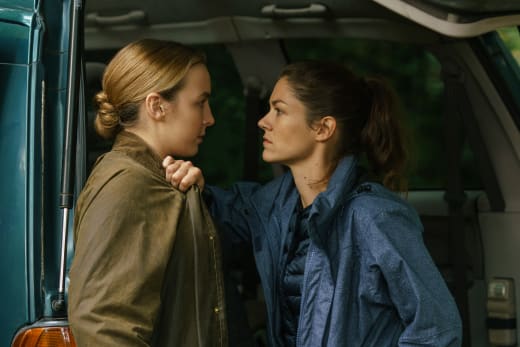 Not only did she throw Konstantin a birthday party so she could pad any bad news he delivered about killing Bill and using Eve's name, but to let him know if he doesn't protect her as he should, she can make his life miserable.
She's ingenious. It's hard to imagine what she might be doing if she wasn't an assassin.
Related: Killing Eve Season 1 Episode 3 Review: Don't I Know You?
Similarly, Eve wanted to grab Frank and haul him in for questioning after discovering a connection between the bad guys' bank accounts and Frank. At the time, she thought she had the most to lose, just receiving the suitcase full of gifts from Villanelle.
She still doesn't understand even though Villanelle will eventually want to kill her, now she's in the amorous stage of their relationship.
That's what we're going to call this asshole from now on. Villanelle.

Eve
Why would she give her name (only Eve would have gotten it as it was intended) and a suitcase full of clothing if she intended to mow her down? 
That's why I'm not worried for Eve who was looking Villanelle straight in the eyes as V shot the bullet at the car as the credits rolled. Villanelle just got sent to kill a member of British Intelligence. Things are getting exciting.
She never cared about her missions before, but I'm willing to guess she's about to care going forward, and that's going to get her into even more trouble with Konstantin and his bosses.
Related: Get Britbox via Prime Video Channels for the biggest streaming collection of TV from BBC & ITV...ever.
If Villanelle didn't have Eve, she might have been willing to take back poor Nadia. Their relationship was never thoroughly explained other than they were former lovers and Villanelle walked out of her life. Maybe to someone new, or maybe she just got bored.
It's going to be hard to trust me again, but I will prove myself to you. I promise.

Villanelle
But how fun was it hearing Nadia's little cries as she got crushed under the car? Villanelle couldn't even keep her promise for 30 seconds before breaking it.
It was equally as fun watching Villanelle walking after a bumbling Frank like she was the Terminator. Could Frank run any slower? His life was on the line! Sure, he's walking from the fire into the frying pan, but the dick swab didn't know that yet.
Related: Killing Eve Season 1 Episode 2 Review: I'll Deal with Him Later
Bill's death gave Elena a chance to get into the field, and I look forward to seeing what the smaller team can accomplish together. So far, they've moved mountains. It seems unlikely they're going to stop anytime soon.
Knowing one of their own was as culpable as Villanelle herself, though, should give them a lot more to consider as they move those mountains. Who else can't be trusted? No wonder Frank had no desire to listen to Eve's theories. Her intelligence and persistence were a lethal combination to his survival.
They still are.
Go right ahead and watch Killing Eve online. If you've seen them all once, watching again will only make them more enjoyable. I'm on my third viewing altogether. This one's ripe for repeat viewing!
What do you think is coming up between the cunning women? Drop me a line! You better be watching the best new show of 2018, you guys. Everyone I recruit to watch has agreed with me. Have you drafted your friends and family, too?
Carissa Pavlica is the managing editor and a staff writer for TV Fanatic. She's a member of the Critic's Choice Association, enjoys mentoring writers, cats, and passionately discussing the nuances of television and film. Follow her on Twitter and email her here at TV Fanatic.