iZombie Round Table: Will Isobel be the Key to the Brain Shortage?!

Jasmine Blu at . Updated at .
Isobel's zombie immunity is a game-changer. 
The final moments of iZombie Season 4 Episode 8 may drastically impact the rest of the season. We couldn't be happier about that.
Unfortunately, there is trouble in paradise for one of the 'ships, and it may be time for them to call it quits. Also, the always lovable Major has become less so over the course of the season, and our roundtable is none too pleased about it.
Join TV Fanatics Lizzy Buczak, Stacy Glanzman, and Jasmine Blu as they discuss that shocking cliffhanger and much more!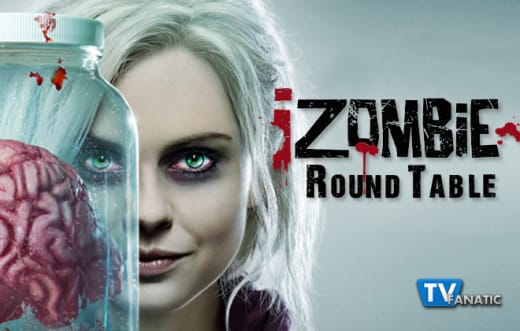 Isobel is immune to the zombie scratch. What do you think that means, and how will it affect the remainder of the season?
Lizzy: Well, it's an unexpected but intriguing development in the story. It not only affects Liv's smuggling operation but all the new and existing zombies in New Seattle.
It means there's a chance Ravi will be able to develop some kind of cure or vaccine that can turn zombies back into humans. That would save Chase Graves plenty of headaches considering the impending brain shortage.
Related: iZombie Season 4 Episode 8 Review: Chivalry is Dead
This could also be a segway to another storyline -- the jacking up of prices on necessary medicine so that only the rich would be able to afford it. I can see Liv's operation flourishing as she creates new zombies and helps the underprivileged get their hands on vaccines.
Stacy: I'm very intrigued by this development. One, I'm sad for her, because Liv wasn't able to save her. But, more than that, if they can figure out what makes her immune and replicate it, they could develop a vaccine.
It would certainly help the zombie overpopulation problem by preventing the accidental turning of people into zombies, but there are still those out there like Isobel who want to be turned. They'll probably want to protect Isobel by keeping her a secret from Fillmore Graves, but I could see Liv bringing Ravi into the operation.
Related: iZombie Promo: Bish Betta Have My Shmoney
Jasmine: I also was intrigued by this development. If they can figure out what it is about Isobel that causes immunity, they can curve their zombie overpopulation issue and maybe find another way of making a cure for the masses.
Does it strike you as odd that we haven't seen Ravi nor any Fillmore Graves scientists working on a cure, vaccination, or brain alternative?
Lizzy: Yes! We only saw Ravi taking notes during his "time of the month," but why isn't he actively working to find a cure that works full-time? Given the brain shortage crisis looming over them, you'd think Chase would be a bit more pro-active.
Stacy: Well, Ravi was working on one, hence his whole "time of the month" situation, but yeah it does seem odd we haven't seen it recently.
It would make sense if Fillmore Graves had a whole department of people working on it, and for all we know they do, but it is weird we haven't seen it. That might change now that Isobel's immunity has been introduced.
Related: Get Britbox via Prime Video Channels for the biggest streaming collection of TV from BBC & ITV...ever.
Jasmine: Yes. They've barely touched on any of Ravi's part in working on something since the premiere. I'm sure he is working on it, but we don't see it. Also, it's possible that they haven't shown FG scientists yet, but if it's all hands on deck in an attempt to fix the brain shortage, we should have seen something by now.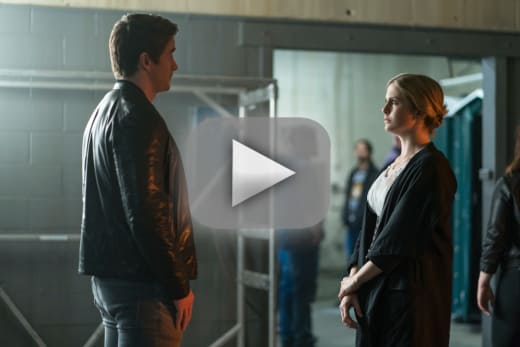 Peyton joined Liv in the human smuggling business, and she may be on Mr. Boss' radar after stealing that money. Any thoughts?
Lizzy: Their paths are intertwining again, and it is intriguing. Since Boss teamed up with Blaine who ate Casper's brain, it's only a matter of time before he gets a vision and sees Peyton's conversation with him. But will he sell her out? He obviously still cares about her.
It's a clever way to bring back these exes just as she was moving on with Ravi. It also threatens Liv's operation since they'll realize what she's up to in no time.
Stacy: I love that Peyton joined Liv's operation.
She wanted to help before but was limited by how much she could do. Now she has a chance to take risks and make a difference, which also makes her more interesting. When Liv made that comment about being low on funds, she was underestimating how far Peyton would take it. They make a great team.
Related: Dynasty Season 1 Episode 20 Review: Blow the Whistle
Jasmine: I love that Peyton has joined Liv because it ties her into the main plot, and as Stacy said, it makes her more interesting. I was pleasantly surprised by this development. And yeah, I fully anticipate some Blaine and Peyton action because he will find out about her involvement. There's no getting around that.
How do you feel about Major's arc so far this season?
Lizzy: It's pretty bland. He is supposed to be playing Russell, but part of me thinks he's enjoying it. And he's being put in danger since Russell is catching on.
It was teased that he was supposed to be struggling with his morality and the choices Fillmore Graves is asking him to make, but he's just mindlessly following along.
Related: Supergirl Season 3 Episode 15 Review: In Search of Lost Time
Stacy: I don't like it. I feel like he's on the wrong side, and it's not really true to his character. He's changed a lot from the guy who was protecting at-risk kids on the street and refusing to kill zombies he was sent to kill. I'm not a fan of this Major.
Jasmine: Yup. I completely agree with the others. I'm not a fan of the Major that we have been seeing. He's playing along with Russell, but it does appear as though he likes it.
He has strayed away from the Major that we know. Even when I understand some of his reasoning and motives, I have still been put off with Major for most of the season.
Do you find Clive and Dale's relationship woes interesting? Should they just break up?
Lizzy: When it was first introduced, the storyline had the potential to really showcase how the virus was affecting zombie and human relations. But it seems the writers have hit a wall, and there's not much progress besides rehashing the same situation over and over.
It's pointless, and for their own sake, they either need to let go or accept the situation. Personally, I'm indifferent about their relationship since I don't feel any passion between them and think he deserves to experience real love.
Related: Get CBS All Access via Prime Video Channels for Hit Shows, Exclusive Originals & Live TV!
Stacy: Not really. I'm not invested in their relationship, and it wouldn't bother me at all if they broke up. It probably would be for the best.
Jasmine: Gee, Lizzy! Tell us how you really feel. I wanted to root for these two so badly, and I was looking forward to a thorough storyline about the human-zombie relationship obstacles. Instead, it's been a neverending loop that has yet to reach its full potential.
I'm not a fan of the emotionally manipulative way Dale has handled Clive and their open-relationship, and at this point, they probably should call it quits. Clive is too precious of a character to not be happy in his love life.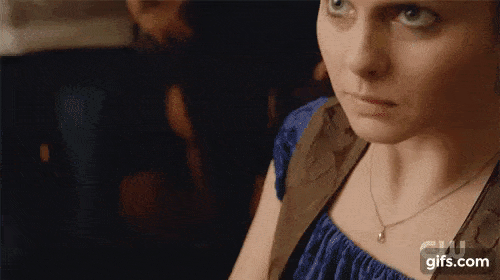 What's your favorite quote or scene from the hour?
Lizzy: Ravi's pure joy at watching Liv on the Brain of the Week especially her victory over the closet rodent.
Stacy: The reveal of Isobel being immune was the highlight for me. It's a game-changer. Also, it was funny when she asked Liv if all zombies talk like that.
Jasmine: The Isobel reveal made the entire episode. I loved it.
Do you agree with our iZombie roundtable? Hit the comments below and let us know! 
Don't forget, you can watch iZombie online right here via TV Fanatic anytime!
Jasmine Blu is a senior staff writer for TV Fanatic. Follow her on Twitter.