The Fosters Season 5 Episode 17 Review: Makeover

Jasmine Blu at . Updated at .
The series is heading towards the finish line, and it's starting to show. 
The Fosters Season 5 Episode 17 was another solid hour of television, but there was the sense that they were trying to answer "Whatever happened to XYZ?" far too often.
It was apparent it would be one of those types of installments when the "previously on" recap addressed characters and situations we haven't thought about in eons.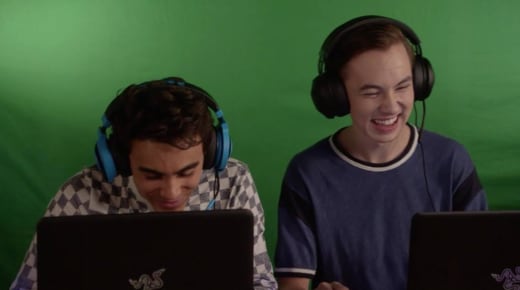 Whatever happened to Detective Grey?
Oh, he's still around being shady AF and threatening to destroy Stef's career. He supposedly has dirt on her that could cost her the job. Did you forget about that? I did.
Whatever happened to Callie's foster brother, Kyle, and that Malloy case?
Oh yeah! Kyle is paying the cost of being an informant. Sheila assumed it was just paranoia or that he was having a difficult time adjusting to life after being in prison.
Related: The Fosters Season 5 Episode 16 Review: Giving Up the Ghost
On another show, or with another character, that would have been an interesting storyline to explore. This young kid who was put in a prison with adults for something he didn't do, now having to adjust to a life outside of steel bars.
Unfortunately, Kyle wasn't a significant character. He was a plot device for Callie, and there was too much on The Fosters' plate to explore it, and now there is no time.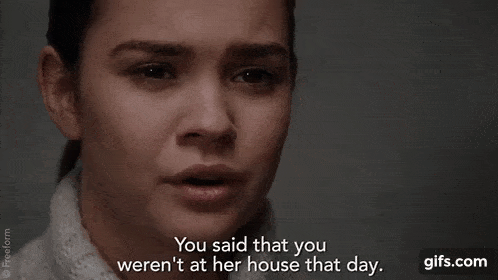 Kyle barely leaves his home, but that means he's around to notice dead rats being left on his doorstep as a message. I don't know what's to come of this or why it had to be revisited at all.
As for the Patrick Molloy case, Stef is all prepared to kiss her job goodbye. She filed a warrant for him even though there was no evidence to support it. This isn't a good sign.
Stef has gone through hell. She's having a tough time at home, but she's had a trying time on the job as well. She had to claw her way to this promotion, and more than once, she's been reminded of how it's a "Good Ole Boy's Club."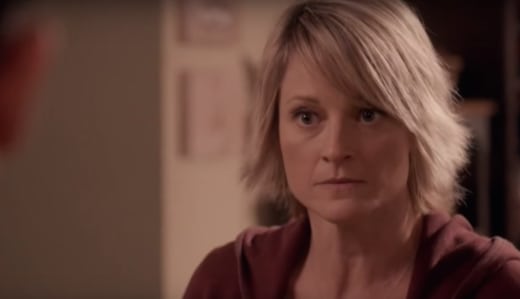 Stef's vendetta against Patrick Molloy may be the very thing that costs her the job. Can you imagine Stef not working in law enforcement? What would she do?
It would be an organic shift for her character. It would be something that has been building throughout the series, so if it does come to fruition, it wouldn't feel like it came out of nowhere.
Whatever happened to Brandon being blacklisted from colleges?
Brandon spends more time outside of school than he does in it. He spends a significant amount of time playing the heroic, romantic male lead in his girlfriend of the moment's tragedy to triumph story.
His music often falls by the wayside. Like Callie, he has been lost for a long while, but unlike Callie, he's not proactive in putting himself first and attempting to figure it out.
Now that I'm getting better, and graduation is coming up, what are your plans for the future?

Grace
For so long it has come across like he's currently in a gap year rather than heading into one imposed on him after that SAT fiasco.
Now that Grace is on the mend, she wants to know what her high schooler boyfriend plans on doing when he graduates.
Related: The Fosters Season 5 Episode 15 Review: Mother's Day  
Brandon was understandably defensive, but it was a fair inquiry, and no one else is giving the guy a kick in the pants.
I get it. Brandon is the musical prodigy who bounced back after his hand injury only to fall on his face again.
He's passionate about music, but there has to be something more than singing folksy songs at coffee shops.
He's talented, and he could have used his talent for music therapy. He could be a music teacher. There are so many ways he could use his talent.
Brandon's future in some ways has exceeded Callie in being a big old question mark. We all had a general idea of what direction Callie would go in. She had a few options.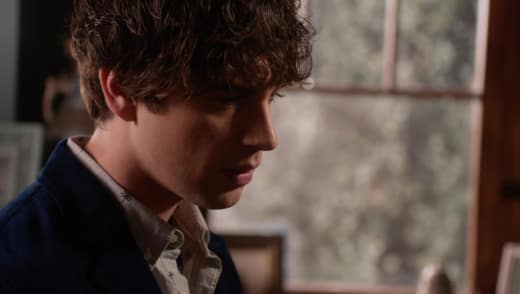 So Brandon taking on Callie's immigration assignment was a success for Brandon. There's clarity for the guy now. Brandon potentially pursuing a career in film scoring is an unexpected delight.
He's no longer aimless. It's finally a concrete decision, and it's for him. Does he still have to wait a year to enter the program in LA or what?
Brandon has a plan, a fairly decent girlfriend, and tickets for Coachella. Brandon is finally winning.
Whatever happened to Wyatt's tragic backstory?
Oh, it's still tragic. Wyatt popping back into the picture this season was bittersweet. His long locks were gone, and he had a brief personality change that left a lot to be desired.
Old Wyatt is back though, and while his pursuit of Mariana is still a whole lot of cringe, he's back to being familiar and lovable.
Mariana: Doesn't she worry about you living on your own alone?
Wyatt: I've pretty much been on my own since my dad died. My mother never really got over that.
Mariana: How old were you?
Wyatt: 13.
The show revisited his past and updated us on all the offscreen character development. Wyatt's mother never got her life together since she abandoned him.
Wyatt slept in his car for a while. Then he left the state for a bit. Then he lived with Daphne for a while (hey, remember Daphne?). Now, he settled in with his own apartment.
Related: The Fosters Season 5 Episode 12 Review: #IWasMadeinAmerica  
A kid who has been taking care of himself since he was 13 finally has some stability and kickass culinary skills.
Two things came about with Wyatt and Mariana's date night at his apartment. For one, I remembered why Wyatt was such a beloved character. As I said, old Wyatt is back.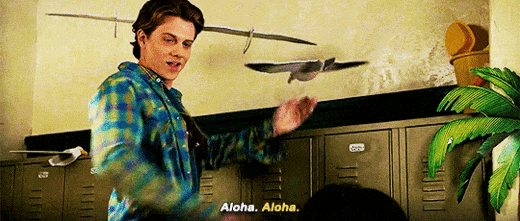 But also, it confirmed why the Wyatt and Mariana relationship doesn't work, outside of the fact that he used to date Callie, of course. Despite Wyatt being goofy and occasionally high, he's an old soul who has experienced a lot in his short life. He's mature in a way that Mariana lacks.
Mariana is continuing to date and lead on two different guys. They know she's dating more than one of them, but their hearts are in it. It has surpassed casual dating.
Mariana is barely mature enough to figure out school/social life balance. She signed up to compete against Emma for a scholarship on the whim, and she's not taking it seriously. It's a slap in the face to Emma and others who have been working on it for months.
It's kind of hard to concentrate when Cupid keeps slinging arrows my way.


Mariana
Then, to make it worse, Mariana stole Emma's idea from Jesus because she was too busy being wooed by boys to do her work. She presented the idea as her own, and now the teacher knows something is up. Mariana should have never pursued this.
Whatever happened to Aaron's new girlfriend?
Related: Get Great Selection of New & Classic Movies with the Lifetime Movie Club via Amazon Channels!
She's still around, and she's super nice. Aaron and Callie's simmering sexual tension every time they're together made it easy to forget that Aaron has a girlfriend now.
Amanda is intelligent and friendly. She heaped praise onto Callie during the panel, and two girls praising each other without being catty because of a shared man is a breath of fresh air.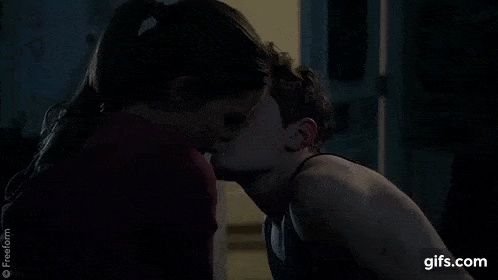 Callie was exceptional during that panel. She impressed everyone with how well she knew case law. Hell, I didn't expect her to know it so well either.
She effectively argued her point and challenged the archaic arguments that come with relying solely on laws that were implemented a century ago.
It was confirmation that she would be fantastic in a law program. Up until now, Callie could have pursued many things within the fields of social work, law enforcement, or politics, but she's zeroing in on the law while not abandoning her art.
Callie: I didn't get into the art school.
Professor Kim: I'm sorry to hear that.
Callie: I'm going to appeal, but I want to change my major, to law.
Whatever happened to that Callie and Ximena kiss?
Well, Callie has been going to bat for Ximena and her family. Sadly, it was unsuccessful.
The immigration arc has been long and emotional. It couldn't have had a more realistic ending.
All of Callie's work was all for naught because Ximena's parents are still getting deported. The judge was generous enough to grant them a bond to get out and a 30 day stay to get everything in order, including custody arrangements for Poppy, before deporting them.
This blow was the final point that pushed Callie over the edge. She's firmly in for pursuing law and fighting the good fight.
It has also led to Ximena falling in love with Callie. She can't hide it. She has developed feelings for her, and sparks are flying there. Who knows if anything will come of it though?
Perhaps it's something that will be explored on the spinoff. Callie never had the type of sexuality arc that Jude and Stef had, but pansexual Callie is a given, right?
Whatever happened with Jude and Noah?
They're OK, I guess. We haven't seen much of Noah for a bit. Unfortunately, we've been stuck with Declan.
Declan is awful. He has been awful since his introduction and continues to be awful.
Related: The Fosters Season 5 Episode 6 Review: Welcome to the Jungler  
Jude didn't need a makeover. If he wanted it for himself, that would be one thing, but he wanted to impress his fanbase and Declan.
Declan is a terrible influence. Stef would agree. Although, I disagreed with how she handled the situation.
Jude: You can't just take it away, it's a job. I'm making money.
Stef: Yeah, so are the girls that I pull off the streets every day.
Lena: Stef.
Jude: I'm doing nothing like that!
Stef: You settle down!
Jude: You settle down!
Stef: Watch your tone, young man!
Lena: Let us all settle down. Please.
She can't bring her work home with her the way that she does. Jude shouldn't have been taking his clothes off on the live stream, and some of his flirting with Declan is extreme, I agree.
But they're still teenagers. Do you know how easy it is to make sexual euphemisms, especially when playing video games?
Plus, there are people who get off on watching someone eat cake -- anything can be perceived as an invitation when a pedophile or depraved person gets their hands on it.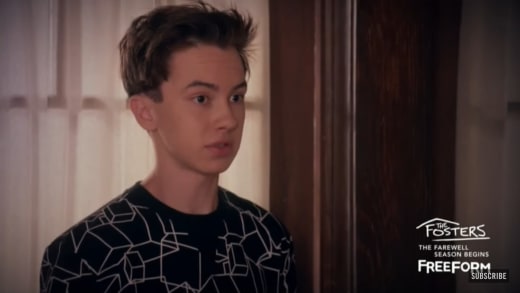 Jude should be allowed to continue his live steam. Of course, he planned on doing it anyhow. Rebellious Jude strikes again.
How do we feel about this one, Foster fanatics? Are you pleased that Callie and Brendan have found direction in their lives? Will Stef be fired? Hit the comments!
It will be difficult to say goodbye to this show. The two-hour season finale airs March 13, and the show will return in the summer for a three-part series sendoff. Fret not; you can always watch The Fosters online here via TV Fanatic. 
Jasmine Blu is a senior staff writer for TV Fanatic. Follow her on Twitter.