The Arrangement Season 2 Episode 1 Review: The Long Game

Lisa Babick at . Updated at .
If I were ever to get married again, I'd have to steal Megan's wedding dress because -- WOW -- it was amazing!! She's going to make a beautiful bride, but I still have to wonder if she's going to go through with it in the end.
On The Arrangement Season 2 Episode 1, Megan seems to be on a seesaw -- not quite sure of what she wants to do.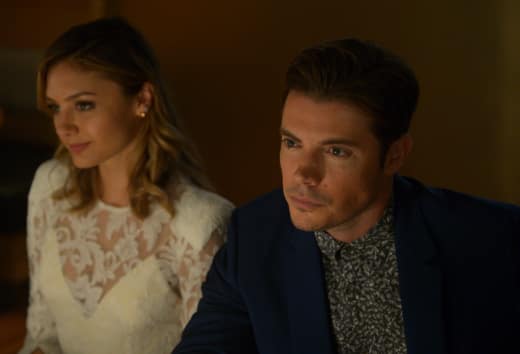 At first, I thought maybe the Institute had wiped her memory because of those spurts of flashbacks she was having during her engagement party, but Megan knows exactly what she's doing. She's just torn about doing it.
If she brings Terence and the Institute down, then she brings Kyle down, too. There's no avoiding it no matter which way she looks at it.
Kyle is the face of the Institute of the Higher Mind. Destroy the Institute of the Higher Mind, and she destroys Kyle. 
Related: The Arrangement Season 1 Episode 10 Review: The New Narrative
I'm still not convinced she's actually in love with him. She certainly likes everything associated with being in love with Kyle West, but it's still a scripted relationship, and no matter how much she tries, she's not having much fun.
She's not going to have much of a life when she can't even plan her wedding. I'll guarantee you that Kyle is going to have the Institute of the Higher Mind somehow incorporate her idea of mason jar candles during their ceremony -- if it gets that far.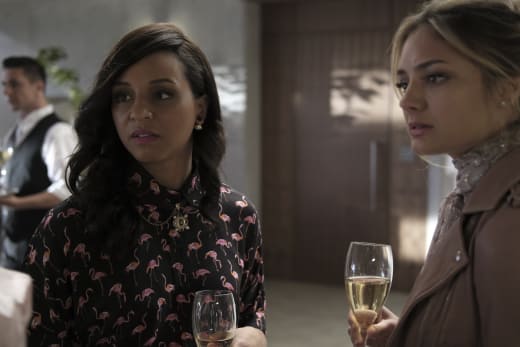 He is so desperate for their relationship to work, he's willing to do anything. He wants her to be honest with him and for their relationship to be real, but he's too blind to see how his involvement with the Institute of the Higher Mind is like a mountain in the middle of it. 
Kyle knows something is going on with Megan, but he has turned a blind eye to what he knows. He doesn't want to face the truth because he's never known success without Terence by his side -- at least that's what Terence has convinced him. 
We all want to realize the greatest version of ourself. That's when you can accomplish unimaginable things. It's what makes the desire to be great so powerful.

Kyle
Megan is dreaming whether she can convince Kyle otherwise. And this is where I question whether she truly loves him and even if he truly loves her.
Where does the script end and reality begin?
Megan is playing games. Megan fired Leslie either because Megan wanted to do this on her own without collateral damage or because Megan decided that Kyle is more important. After all, Kyle stood up to the movie executives and did what Megan wanted him to do.
If Kyle is willing to do anything for her, what does Megan need Leslie to do? She can reach fame without Leslie by her side, but I think Megan realized she put Leslie in danger. She fired her to protect her.
Related: The Arrangement Season 1 Episode 1 Review: Pilot
It was clear that Terence didn't want Leslie around anymore after that initial meeting. She was too much of a loose cannon, and Megan had to apologize afterward something she did mostly to appease Terence and keep up appearances.
We know it wouldn't have been long before Terence did something to eliminate Leslie.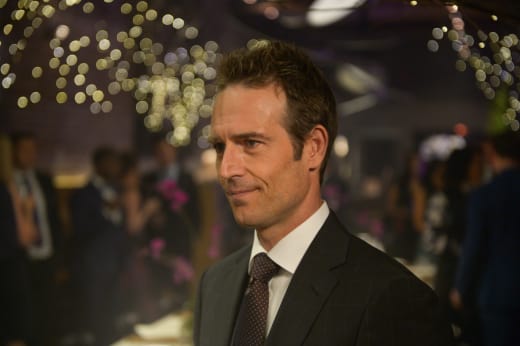 I still don't trust Shaun. Terence is paying her big bucks, and who's to say she hasn't drunk all the Kool-aid yet? It wouldn't surprise me if she is reporting everything to Terence because he knows something is up with Megan. I bet he's just playing along right now.
He can't afford to lose Kyle and right now Kyle is too invested in Megan. And Hollywood and the world are too invested in Kygan. He doesn't want it to be destroyed. If Kyle has another failed relationship, it will make the Institute look bad.
Not only that, Kyle probably cannot mentally handle another serious breakup, so Terence is going to do all he can to keep everything in check.
Whether he'll be able to stop Megan before she does some real damage is unclear. Her meeting with Lisbeth is going to spell big-time trouble for the Institute. Of course, that could all be a trick too. 
Related: The Arrangement Season 1 Episode 8 Review: Betrayal
Lisbeth had to have worked out some type of agreement with the Institute otherwise she'd be dead or missing. If I were Megan, I wouldn't trust her, either.
But Megan isn't the only person Terence needs to be worried about. Deann seems to be getting pretty fed up with Terence's indiscretions. Their relationship is one of convenience, but how much will Deann tolerate?
I'd love to see Deann and Megan work together to bring the Institute down. Deann doesn't strike me as being completely brainwashed. She knows it's a load of crap.
I bet she'd love to punish Terence and the best way to do that is by bringing down his baby.
Over to you guys!
What did you think of the premiere? Did you love Megan's wedding dress as much as I did?
Is Megan going to give up her dream of bringing down the Institute to spare Kyle? Will Terence stop her before she does?
What will Deann do?
Hit the comments and share your thoughts!
If you need to catch up, you can watch The Arrangement online right here via TV Fanatic!
Lisa Babick is a staff writer for TV Fanatic. Follow her on Twitter.