The Handmaid's Tale Season 2: FIRST LOOK!
Paul Dailly at .
The Handmaid's Tale Season 2 debuts this April, and Hulu has dropped a string of new images from the award-winning series. 
Praised be!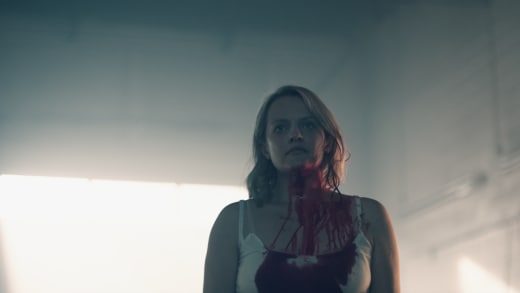 The first of which shows Offred with blood all over her, but it does not offer a glimpse into what happened to her after the events of The Handmaid's Tale Season 1. 
As you will likely recall, a pregnant Offred was taken away from the Waterford house. On her way out the door, she was told by Nick that everything would be okay. 
On a show that's filled with dread, it would be fair to assume that her ordeal was far from over. We've been waiting in suspense for months now. 
The second picture of the trio looks to show The Colonies, which would make sense considering it has already been revealed we will be venturing to other territories teased in the first batch of episodes. 
But which characters will we follow to these places? Will they be new? 
We have no idea, but off the bat, the below picture sure has a similar look to HBO's Westworld. 
The final picture focuses on a gathering that is sure to have a bunch of shockers for the characters. 
Aunt Lydia still needs to get some revenge on the girls for their stand of solidarity when it came to what happened with Janine. 
It turns out, there's no solidarity on this show, and the handmaids will likely feel the wrath of Ann Dowd's creepy alter ego.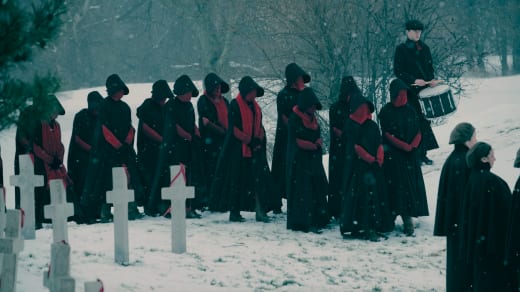 The official description for The Handmaid's Tale Season 2 reads, "The Emmy-winning drama series returns with a second season shaped by Offred's pregnancy and her ongoing fight to free her future child from the dystopian horrors of Gilead. "Gilead is within you" is a favorite saying of Aunt Lydia. In Season Two, Offred and all our characters will fight against – or succumb to – this dark truth."
Okay, The Handmaid's Tale Fanatics!
What do you think of the first stills?
Hit the comments below!
Paul Dailly is the Associate Editor for TV Fanatic. Follow him on Twitter.