What did we just watch?
It's honestly hard to tell if we're supposed to take 9-1-1 Season 1 Episode 1 seriously, or if it was meant to be a parody. It felt like all of the Chicago shows wrapped up in one, but with even more unrealistic situations. 
But that doesn't necessarily mean it wasn't entertaining.  
First of all, I can't fault the acting. Connie Britton and Angela Bassett are fantastic, and Aisha Hinds really made an impression as Hen. But is that enough to overcome atrocious writing? 
If anything needs a first responder to save it, it's the dialogue we just had to endure. I'll just go ahead and leave a couple of the gems we were treated to right here: 
Come on, Bobby, see the fire, put out the fire, the rest is blah-blah.

Buck
Athena Grant called me, wanted to tell me what an asset you are. I told her she was half right.

Bobby
Then, of course, there was Buck begging for his job back with "I'm a punk who understands what he lost." It was just cheesy enough to work, which we all knew it would, because what's more cliche than having a character get fired and re-hired before the end of his shift? 
Well, it's a drama, so that means every major character has to have some personal crisis in their lives. Abby's mom has Alzheimer's, as well as an incompetent nurse.
Bobby's a former alcoholic, which means we'll most likely see him struggle with his sobriety at some point in the near future, and Athena's husband has just announced to the family that he's gay. 
It felt like too much tragic backstory crammed into one hour, but the personal drama tends to be the bread and butter of shows like this. Procedural or not, we have to care about the characters more than the cases of the week. 
We can't forget Buck, the potential sex addict who likes to take the truck out for a spin to pick up women, and who unquestionably deserved to be fired. Sure he gets a second chance, but seriously, who does that?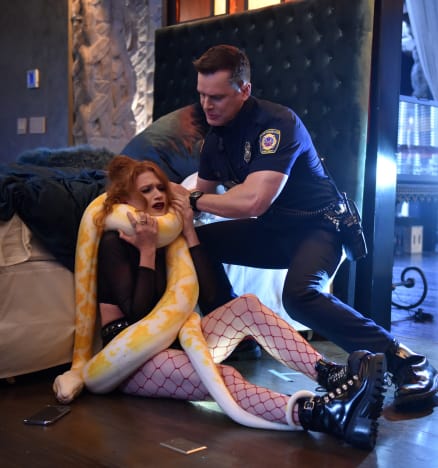 Now let's talk about some of those "cases of the week." 
Unrealistic doesn't even begin to scrape the surface of what these characters experienced. 
I would love to know the statistics of how many 9-1-1 operators have ever received a phone call alerting them to the fact that someone flushed a baby down a toilet. That's probably not one that happens every day. 
Then, what are the chances that very same operator gets another call from a girl who literally has a giant snake wrapped around her throat and is squeezing the life out of her?
If that's a typical day for Abby, she must have some fascinating dinner party conversations considering the stories she could tell.
Speaking of the snake situation, Buck seriously thought that was a good time to flirt? And the girl went for it! Personally, I'd be so traumatized by nearly being choked to death by my snake that the last thing I'd want to do is make out with my rescuer moments after regaining the ability to breathe.
Then we had a child who not only forgot her address but her mom also conveniently left her phone at home. Lucky for her, these are some quick thinking first responders.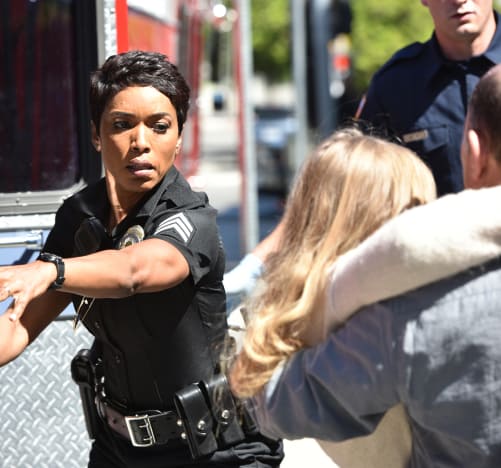 With all of that craziness and those over-the-top situations, it makes you wonder where they go from here. How can they top this every week? 
The good news is, it's entertaining, I'll give it that. The action sequences are intense, and the stakes are high even if they're unrealistic. If the writing improves and the dialogue becomes less groan-worthy, there is potential here. 
The acting alone might be enough for people to give it a fair shot, but it's probably not going to be enough to sustain viewership over an entire season. 
For that to happen, character development is key, and the good news is these characters have plenty of room to grow. 
One drawback though is whether Abby's job will keep her from ever interacting with any of the other major players. If we only ever see her on the phone, it might not pack the same emotional punch as the in-person moments such as those we saw between Athena and Buck. 
Athena: Hey, you do not get to choose who lives and who dies.
Buck: Really, because I was under the impression that kind of was my job.
As long as they're borrowing from the Chicago franchise, why not have a bar for first responders, similar to Molly's? Free Connie Britton from the call center and find a way to get her out on the streets!
Honestly, as crazy as that sounds, based on what we just saw it's probably only a matter of time until she throws off her headset and rushes to some victim's aid. Still, that can probably only happen once (maybe twice). 
Where do you guys stand on 9-1-1? Was the acting enough to bring you back for more, or did the dialogue make your eyes roll too far back in your head? 
Hit the comments and let us know! 
Stacy Glanzman was a staff writer for TV Fanatic. She retired in March, 2019.