Lethal Weapon Season 2 Episode 10 Review: Wreck the Halls

Lisa Babick at . Updated at .
How come Riggs never gets a happy ending?
The holidays were a mess for Riggs and Murtaugh on Lethal Weapon Season 2 Episode 10 but while the Murtaughs' Christmas ended up being quite merry, Riggs' holiday ended with a horrible twist.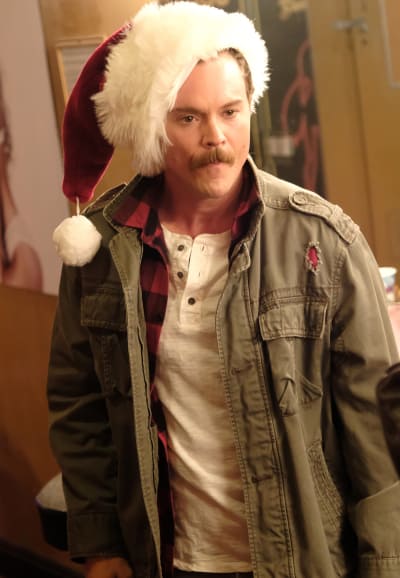 Riggs deserved better. I was expecting "Wreck the Halls" to end with Molly and Riggs sharing a kiss under the mistletoe. It would have been the perfect ending to an installment that had more action and intensity than I could handle.
But instead of a kiss, Riggs received a phone call, and it wasn't a very merry one.
I can't believe his dad is alive! ALIVE! I always thought that Riggs' dad was shot and killed by Jake. Didn't you guys get that impression, or was it only me?
As soon as the caller ID came up that the call was from Texas, it was clear it wasn't a phone call Riggs wanted to take. I thought it was going to be Jake because there was so much talk about the guy, it seemed like that would be the case.
Never did I expect dear old dad to be calling, but isn't that how it always is? There's always one jackass family member who messes up the good feels of a great holiday.
I get that there needed to be some sort of cliffhanger, but why did it have to be on Riggs? Why couldn't Murtaugh have something ruin his holiday? It's not that I would ever wish anything bad on the Murtaughs, but there are never any real issues with them. They're all surface issues that are quickly resolved.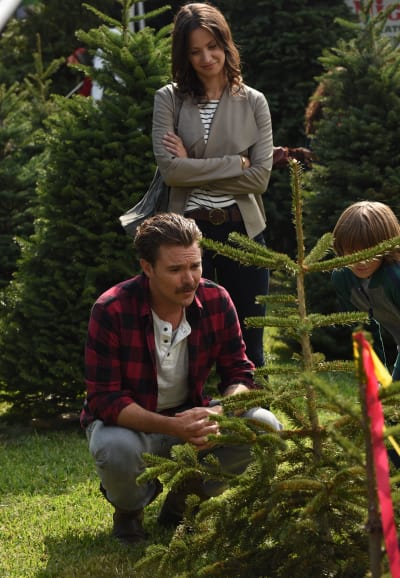 It's not fair.
The picture of Molly, Ben, and Riggs was incredibly sweet. Riggs was uncomfortable when it was taken, but he was finally part of a family of his own. He'll always be part of Murtaugh's family, but Molly and Ben were his! 
The three of them looked perfect together, and Riggs was happy!
Molly and Ben gave Riggs a reason to live. He didn't feel the need to jump off the building to chase after Jasper because he didn't want to risk his life for foolish reasons. Even Murtaugh was surprised by his choice.
Since he's been with Molly, Riggs has had a major change in personality. Not only is he happy, but he's starting to open up.
I almost fell off my chair when he told Roger about his dad. Had he not been with Molly and in that happy holiday frame of mind, he never would have shared anything with Roger.
I would love for Riggs and Molly to stay together. I know that's not how it's going to turn out and that it would ruin Riggs' character, but wouldn't it be nice? Why can't he still be Riggs and have a family too?
Aside from all the family drama, there was plenty of action to keep us on our toes. 
The bad guys coming after Riggs and Murtaugh were scary!
It's not that I ever thought either of them wouldn't survive, but the possibility that one of them might be seriously injured certainly crossed my mind.
Riggs was in a tough spot when stuck in his truck with bad guys surrounding him. The worst part was when they first attacked because he wasn't expecting it. But, those guys were taking an awfully long time when there was only one guy with one gun.
They could've taken him in no time, so it was a little hokey. Still, calling Molly when he thought he was going to die said plenty.
Roger wasn't any better off with another group of bad guys bearing down on him while he was trapped in his house, but his situation wasn't nearly as intense as intense as Riggs'.
Roger, at least, had some room to move. Still, the situation was dire. Those guys meant business, but Roger's quick thinking saved the day (and MacNeilie too!).
Did MacNeilie ever answer why he went into Roger's house? It's completely irrelevant, but I thought it was a little creepy. 
Over to you! What did you think of "Wreck the Halls"? Were you at the edge of your seat with all the gun battles?
Did you think maybe Roger or Riggs might get seriously injured or not survive?
Do you think Riggs deserves happiness? What was your reaction to Riggs' dad still being alive?
Hit the comments and share your thoughts!
If you need to catch up, you can watch Lethal Weapon online right here via TV Fanatic!