The members of the Reagan family attempted to lend a hand to those they felt were in need on Blue Bloods Season 8 Episode 10, but did they all make the right decisions?
The ones who got it right were Jamie and Eddie, with an assist from Erin.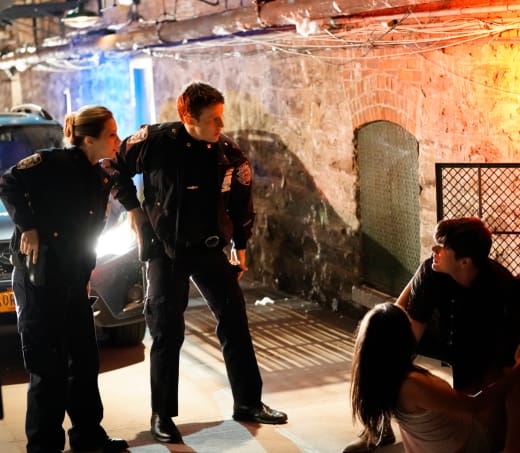 It was hard not to feel for Parker Mack. He helped save a woman from a predator holding her hostage and inadvertently also saved two more women being held in that basement. 
My big complaint about this story was that they never specified why the man was holding these woman in the first place.
Was it sex trafficking? Was he a serial killer? Or just some violent psychopath who woke up one day and decided to abduct women and hold them in his basement?
They never really explained, as though we're supposed to think that it's New York City and these things are just to be expected on occasion. 
But back to Parker. It appeared he was a decent guy who hung out with the wrong crowd in college and ended up with a warrant for stealing a car. Lucky for him, Eddie had a soft spot for him.
Eddie: I know you, and I know you can come up with something.
Jamie: I'm not some kind of criminal justice magical genie.
The scene where Jamie dropped his request on Erin and then ran so she couldn't say no was adorable. We usually don't get that kind of playfulness between the siblings, especially not during business hours. 
When Erin said that the DA in Bucks County wouldn't budge on the charges because it was an election year, it only made sense that Jamie would find a way to get the story to the press. I'm sure the local papers were thrilled to cover a story with that much drama.
Speaking of drama, Danny was pretty hard on Alonzo. I understand that the justice system can't do very much if witnesses aren't willing to come forward, but the truth was that Alonzo didn't see their faces. 
I don't blame him. A pack of animals like that knows where I live I wouldn't be talking either.


Baez
It felt natural for Danny to criticize, but this guy was on crutches and had no way of protecting himself or his family from Lugo and his gang of thugs. 
The story did leave me with a few questions, such as: would the precinct have really let in the donut guy? And is it smart to eat food sent by mobsters?
Also, why was Baez so worried about lying to their suspects?
Detectives lie all the time to coerce confessions. That's just part of the job. It feels as though the show subtly makes Baez less of a detective at times as a means of boosting up Danny, and that bugs me. 
Finally, why would Victor Lugo go after Alonzo when he knew that the man never saw his face because he wore the ski mask the entire time?
Either it was a plot hole or Victor was just that dumb.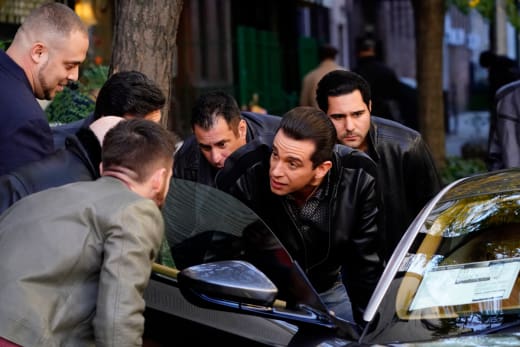 I'm willing to go with Victor was just that dumb. 
On the upside, the Aston Martin was hot. I almost felt sorry about Danny eating the donut in it -- one with sprinkles no less. 
Finally, we had Abigail's transfer which started off with a conversation that turned out to be one of my favorite Blue Bloods quotes...
Abigail: What do you think I should do?
Garrett: Go back in time and not tell us about it.
Abigail: I promise I will not tell him that we spoke about this.
Sid: Actually you won't have to, he'll just know.
Abigail: Not if you don't tell him.
Garrett: He'll just know in that way that he just knows stuff.
Frank has a certain spidey sense when it comes to his people, and it was tingling when it came to Baker. 
I can only imagine how frustrating it must be to be a trained detective and sit behind that desk for so long. I'm sure it has its perks too, or else Abigail wouldn't have kept the job for nine years, but I could understand her feeling the need to get back in the game. 
It was one thing to lose Baker to a Captain who respected her talents, but when Bowman threw her under the bus to cover his own ass and save face with the Commissioner, I was livid for her. 
It certainly put Frank in a tight spot, although I don't necessarily agree with how he handled it. 
Was it really better to let Baker think he was blocking her transfer for his own selfish reasons? Couldn't he have asked her to reconsider or offered to look at ways for her to find more job satisfaction? 
Frank is quick to fall on his sword instead of bringing down his own people, and it's hard not to respect that. 
That said, I was thrilled when Baker dusted herself off and went into detective mode to figure out what was going on, and then confronted Frank with the information. 
Detective Abigail Baker can be just as straightforward as her boss, and I thought their compromise of having them both consider the case closed was a sound one. 
Best of all, we get to keep Baker at 1PP. Frank's team would undoubtedly suffer without her. 
Check back in for my review of Blue Bloods Season 8 Episode 11 when the season continues, and until then, you can watch Blue Bloods online here at TV Fanatic. 
C. Orlando is a TV Fanatic Staff Writer. Follow her on Twitter.