The Brave Season 1 Episode 7 Review: It's All Personal

Lisa Babick at .
Can we just talk about how amazing Hadi Tabbal is?
He brought Amir to life in unexpected ways on The Brave Season 1 Episode 7, and it totally blew my mind. Who knew that Amir would turn out to be the new badass of the team?
And a badass who cooks? Be still my fluttering heart.
It's always the quiet ones that surprise us.
Over the course of the season, Amir has become more comfortable with his role on Dalton's team, and the team has become more comfortable with him. But a team is more than just about the mission.
Bonding on and off the field is an important part of team dynamics, and we've witnessed how much this team has grown since Amir first entered the fold.
It hasn't been easy for him, but he's persevered. And credit has to go to Dalton who knew all along that eventually everyone would gel together perfectly even if they didn't know the entirety of Amir's background.
They're a family now which was evidenced at the beginning and end of the hour as they gathered around the table for a meal. It was a powerful way to show us how far they've come as a whole since The Brave Season 1 Episode 1.
Amir making Saturday morning breakfast and the ease with which he took the teasing for having a full household staff when he was a growing up was a stark contrast to the Amir who later knifed a terrorist.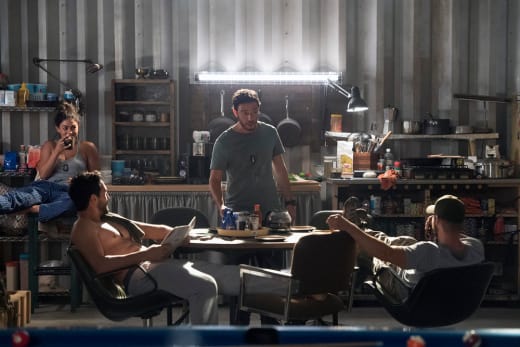 Going undercover and infiltrating a terrorist cell was second nature to him. It was his job before joining Dalton's team, and he had no problems slipping back into that mode in order to save Mina's brother from making a horrible mistake.
But he did more than just save Mina's brother. He saved the lives of countless others at the Paris market because he was so well-versed in the language of the terrorists he had infiltrated before.
He didn't even break a sweat at the hookah bar. He just sat down with Omar like he was the boss. I don't know how long it was between his undercover stint and his joining Dalton's team, but he was a smooth operator which is probably why he was so successful at what he did, and why Dalton wanted him on his team.
Amir was in control of the mission from the beginning, and he was doing things his way whether the rest of the team agreed with him or not. But the team was built on trust, and both Dalton and Patricia trusted his decisions, and so did the rest of the team.
Jaz didn't quite understand why Amir had left Mina's brother behind at first, but she took a different perspective after Dalton told her about Amir's sister. Everything that Amir had done and was doing up to that point made complete sense. 
And the revelation added an extra layer of intensity to Amir twisting the knife in Omar's gut. His anger and determination to rid the world of scum like Omar was palpable.
Yes, I'm the traitor. I have devoted my life to bringing down men like you, and I'm not going to sleep until all of you are in the hell you deserve.

Amir
As jarring as it was, it was my favorite scene of the hour because of Amir's controlled emotion. It showed an unexpected side to him. He's a nice and charming guy, but he's also a force to be reckoned with. There's a reason he's on this team, and he just showed everyone why.
Amir also gained a new respect from Jaz. She was the one team member who was the most distant from him so her sharing the story about the soldier he replaced showed how impressed she was with what he had done and what he had gone through.
The wall between them had been broken, and a new friendship had been forged.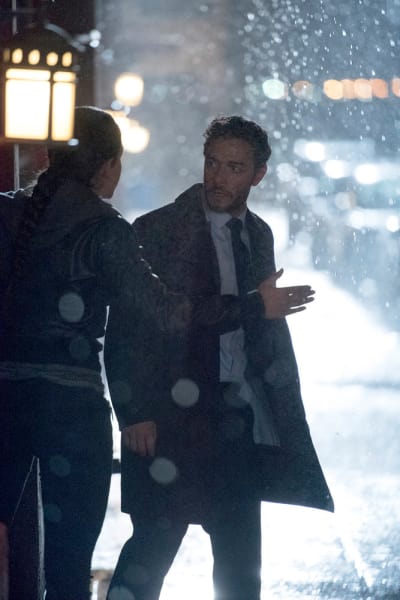 As incredible as it sounds, "It's All Personal" was the best episode of the season yet, but don't I say that every week? We're seven episodes in and each new hour is more outstanding than the last. How many television shows can say that?
One thing that especially stood out was the depth of Amir's backstory. We've been learning about individual characters each week, but Amir's story seemed much richer than the others. I feel that out of all the team members both in D.C. and in the field, I know Amir the best with Patricia a close second.
What about you guys?
What did you think of "It's All Personal"? Were you surprised at Amir's badass persona?
What was your favorite part of the episode?
Hit the comments and share your thoughts.
If you need to catch up, you can watch The Brave online or read our The Brave reviews right here via TV Fanatic!
Lisa Babick is a staff writer for TV Fanatic. Follow her on Twitter.