Good Behavior: First Look at Guest Star Holland Taylor!

Jasmine Blu at .
How exactly did Letty Raines become Letty Raines?
Good Behavior's first season was spent introducing us to this fantastic, multi-faceted woman with a good heart, but it would be amazing if we had some better insight into how Letty became a world-class grifter.
We're only three episodes into the season, but thankfully, we have our first look at Holland Taylor guest starring on Good Behavior Season 2 Episode 6.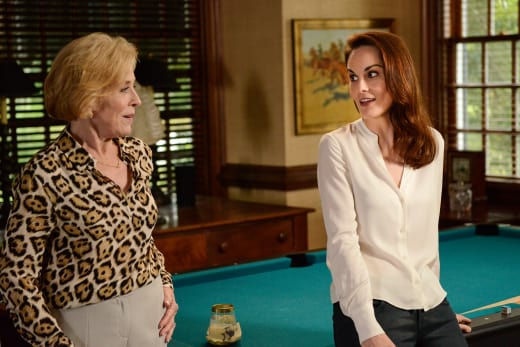 Maybe, with her appearance, we may finally get some answers!
The Mr. Mercedes star is slated to guest star as Alice, Letty's grandmother. But make no mistake, she is not your standard, cookie baking, sweater knitting grandmother. Alice is a con-artist in her own right.
Letty's gift for grift runs in the family, and Alice may very well be the original master of the craft. The woman looks spunky, badass, and mischievous too.
Oh yes, this grandma knows how to have a good time, and a good time requires being a little bit bad.
Good Behavior Season 2 has Letty Lindsay and Javier Emile attempting to be on their best behavior and trying their hand at normalcy but not quite being able to pull it off.
They are trying to have a fresh start while running from their demons, but their pasts are coming back to haunt them in more ways than one (Right, Estelle?).
Family is an important theme this season.
Letty and Javier both become estranged from their family members while desperately trying to maintain and protect the little family that they have created.
It' s no wonder Letty will take Javier and Jacob to visit her grandmother. When Letty seeks help from Alice, she finds out that even with family, everything comes for a price.
If Letty expects Alice's help, she's going to have to earn her keep. When her grandmother is a con-artist too, well, why not put both their skills to good use for a high-class con?
Alice may be the one to remind Letty that "normal" is just a setting on a washing machine and that Letty can't fight her true nature.
Their relationship certainly sounds interesting and may end up being one of the highlights of the season. Plus, it's Holland Taylor, you guys!
What's your impression of this first look at Letty's grandmother? Does she sound and look interesting to you? Sound off below!
Holland Taylor will guest star on "It's No Fun if It's Easy" which airs on November 19.
You can watch Good Behavior Sundays at 10 p.m. on TNT.
Jasmine Blu is a senior staff writer for TV Fanatic. Follow her on Twitter.