Netflix Cancels House of Cards After Kevin Spacey Scandal
Paul Dailly at .
Netflix is gearing up to say goodbye to one of its most successful original dramas. 
The streaming giant has announced it will be saying goodbye to House of Cards after Season 6 which is slated to debut in 2018. 
The news comes just hours after Anthony Rapp went public about unwanted sexual advances from series star Kevin Spacey that dated as far back as 1986 when Rapp was 14. 
"He picked me up like a groom picks up the bride over the threshold," Rapp told BuzzFeed, adding: "But I don't, like, squirm away initially, because I'm like, 'What's going on?' And then he lays down on top of me."
"He was trying to seduce me," Rapp continued. "I don't know if I would have used that language. But I was aware that he was trying to get with me sexually."
Rapp noted that he was coming forward after seeing the stories women have been sharing about their unwanted encounters with Harvey Weinstein.
Rapp also confirmed that he shoved Spacey off of him when the alleged incident occurred. 
"I was like, 'What is happening?' I saw on the counter next to the sink a picture of him having his arm around a man," the actor says.
"So I think on some level I was like, 'Oh. He's gay. I guess.' Then I opened the door, and I was like, 'OK, I'm going to go home now.'"
"He followed me to the front door of the apartment, and as I opened the door to leave, he was leaning on the front door[frame]."
"And he was like, 'Are you sure you wanna go?' "I said, 'Yes, good night,' and then I did leave."
In response to Rapp going public, Spacey released a statement claiming to not remember the alleged incident and even came out as gay. 
"I have a lot of respect and admiration for Anthony Rapp as an actor," Spacey wrote on Twitter.
"I'm beyond horrified to hear his story. I honestly do not remember the encounter, it would have been over 30 years ago."
"But if I did behave as he described, I owe him the sincerest apology for what would have been deeply inappropriate drunken behavior, and I am sorry for the feelings he describes having carried with him all these years."
The star then went on to confirm that he was living as a gay man. 
"This story has encouraged me to address other things about my life," Spacey added.
"I know that there are other stories out there about me and that some have been fueled by the fact that I have been so protective of my privacy."
"As those closest to me know, in my life I have had romantic relationships with both men and women. I have loved and had romantic encounters with men throughout my life, and I choose now to live as a gay man."
"I want to deal with this honestly and openly and that starts with examining my own behavior."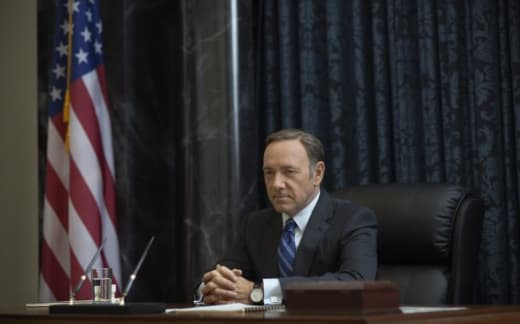 It is believed that House of Cards has been in production on Season 6 for around two weeks. It is unclear at this stage how this will affect the conclusion. 
House of Cards helped bring Netflix to a broader audience as one of its first original series. 
It has been critically acclaimed since its inception and has focused on Frank Underwood's thirst for power as he tries to become the most powerful man in the world. 
Over to you, House of Cards Fanatics. What do you think about all of this?
Sound off below!
Paul Dailly is the Associate Editor for TV Fanatic. Follow him on Twitter.