The best day of Phoebe's life was also one of Cora's worst.
As we learned on The Sinner Season 1 Episode 7, the date we've been teased with all along, July 3rd, was also Phoebe's birthday. In this case, her 19th. As a young woman, she'd never had any friends or been out of the house for a good time, instead living vicariously through her sister.
She was done with that. It was time to act her age.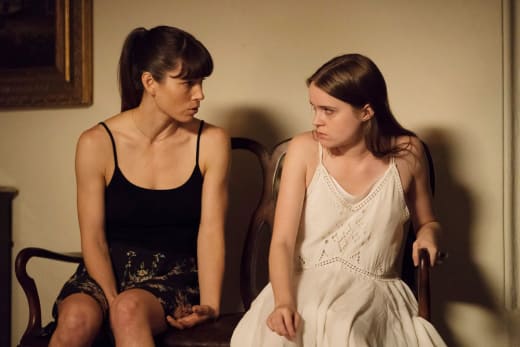 Everything we thought we knew about the night in question was wrong. Everything Cora thought she knew about the night in question was hidden from her memory.
Her parents, assumably, aren't quite the ogres we thought them to be, or they might have pressed charges against their older daughter.
Most of what Cora remembers about growing up in that house is probably skewed memories from a young girl and her sister who were given one of the most terrible lots in life.
Living her life for her sister was awful, but I wouldn't have been able to say no to her on that birthday, either. 
The biggest surprise was that Phoebe died happy, and up until the moment of her death, at least, Frankie was a good guy. I don't doubt for one second what he was telling Phoebe was true. 
I feel like I've always known you. I look at you, and it feels right.

Frankie
Do I think Phoebe got a raw deal losing her virginity on a couch in front of others? Yes. But she didn't seem to mind, and in fact, she manipulated the situation so the sexual antics would take the turn they did, even persuading Cora to kiss Frankie and get down with JD right there on the floor.
And even if Frankie wasn't 100% truthful, would it matter in the long run to a girl who didn't have long to live? Making her happy short term doesn't seem too difficult.
Until Phoebe suggested she was never going home again, Cora was going to leave. She didn't much care for the turn of events with Todd rubbing her leg and the reveal Maddie was THE pregnant ex who also dashed out into the street to rid herself of the baby.
JD was a real piece of work, though. 
What were his motives? Why was there an odd man (not Todd nor JD) pumping into Cora while they were having sex down there? Was that another figment of Cora's imagination, or did JD just have business partners lined up waiting for a piece of whatever girl he happened to have at the club?
JD obviously wanted Todd to get in on the Cora action. Maddie must have been a part of it for a long time. Maybe her baby belonged to some mysterious third party. Why would JD have any interest in a child that might not have been his? 
If there's one thing I know, the less someone thinks of themselves, the less a potential partner thinks of them. Maddie might have done what JD wanted, but in doing so, she only pushed him away.
Because JD had a ridiculous ego, Cora begging for sex in the way she did wasn't doing her any favors either. In a normal, healthy sexual relationship that kind of behavior would be fun and turn on both partners. But there was something else at play for JD.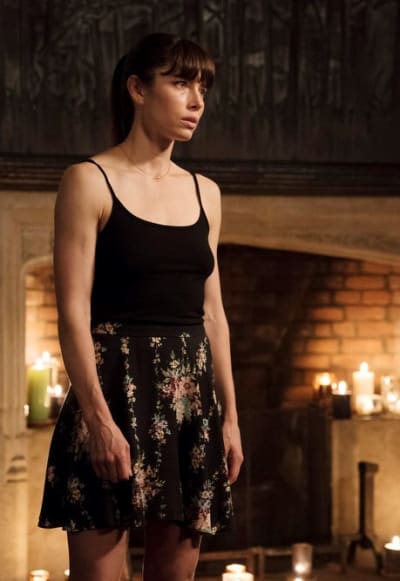 Cora beating on Frankie moments after her sister died was hardly a tragedy that required JD punching her in the face, either.
What kind of a man has such fear of a woman's emotions his only recourse when a woman is emoting is to get physical? Weak. Very weak. 
No, listen. You are waiting for him to ride up and choose you. That's not your game because you're a giant. You could, you could fuck up anybody you wanted. You could have anything you wanted. Do you even know that?

Phoebe
Phoebe saw in Cora strength Cora didn't know she had. Cora was afraid to use it. But something will keep her alive for two months after the death of her sister under what must be hellish circumstances.
If the men got physical during one of the worst moments of Cora's life, imagine how God-awful they will be they have some control over her, and she's cowering under the bed whimpering like an animal.
I'm eager to know the rest of the story but also disappointed that The Sinner Season 1 Episode 8 appears to focus on the trial. 
If you watch The Sinner online, you know we want to know about Cora's parents and if they're truly as miserable as they've been made out to be. We also want answers about Ambrose and why he's so intent on punishing himself.
Now that we've met him, I'd be interested in knowing if Frankie was the real deal. Was he being honest with Phoebe in the last hours of her life? The conversation he had with his ex-girlfriend led me to believe he was sincere.
What was JD up to, anyway? What kind of business dealing required the things he was doing? Was it Phoebe buried by the bus? Why didn't her parents' press charges on anybody? 
How will two months worth of answers (or a potential lifetime in the case of Ambrose) fit into a one-hour season finale?
I know there are a lot of questions in this review. You have them too, right? Do you have any potential answers? (Look...more questions!!) Pop your theories and reactions in the comments below. 
Carissa Pavlica is the managing editor and a staff writer for TV Fanatic. She's a member of the Broadcast Television Journalists Association (BTJA), enjoys mentoring writers, wine, and passionately discussing the nuances of television. Follow her on Twitter and email her here at TV Fanatic.