There really should be a plan for a group of people to try to survive in their every day lives by just repeating back the last word they hear in a conversation being held with them.
Or otherwise known as, Cooper was living an actual life by parroting back a single word during each conversation, but then he really just had to plunge his dessert knife into the wall outlet during Twin Peaks Season 1 Episode 15.
Meanwhile, a tragedy struck the people of Twin Peaks and Evil Cooper went on a little bit of an adventure with a past face. He also managed to run into Richard, who confirmed that he knew what Cooper looked like because of Audrey.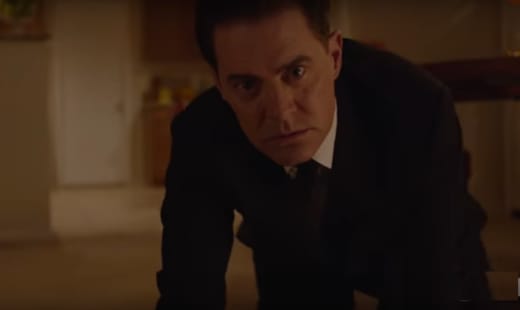 Cooper might remember everything, or he might have just turned off all the lights in Dougie's home. Either way, something is happening and it was all because of the name Gordon Cole being mentioned on Sunset Boulevard.
I doubt anyone needs to be reminded about how late in the game all of this seems to be. There is literally almost no time left and Cooper is just maybe going to connect all the dots and start to get a move on it to Twin Peaks.
Regardless, at least he had some chocolate cake before he tried to really injury himself and scare Janey-E out of her mind.
It was great to see electricity play a big part again, it probably will continue to do so in the next few episodes when the actual meeting between the two doppelgangers will occur. 
I'm still left wondering though what it means for Dougie's family and his life if Cooper just picks everything up that he now knows again and leaves. He has pressing matters to attend to, and these people aren't actually his family.
I've been a selfish bitch all these years.

Nadine
Twin Peaks dealt with a serious loss this time around, the Log Lady calling Hawk to predict her death. I can't even imagine the energy there considering the actress who played the Log Lady passed away, and her illness was written into her character from the beginning of the revival.
It was a beautiful last moment between Hawk and her, and all I ask now is that her hints actually get used in the final round of trying to match the puzzle pieces.
The Log Lady was a wonderful and amazing addition to the team even if she wasn't with them in the room, she tried a whole lot so she could help everyone figure it all out. 
Twin Peaks as a whole had a lot of weird things going on, and one great thing with Ed and Norma finally getting their chance at a happily ever after. 
All I know there is that it is never too late for a shot at happiness, and that Shelley might be understanding that she should give Bobby another shot. I know I know, but somehow those two just made it seem like they shouldn't be apart now that Bobby has made something of himself. 
Don't ever threaten me again.

Evil Cooper
Evil Cooper got to have a nice and cryptic conversation about someone named Judy.
Does anyone else actually have any theories about where all of this is going? So far I've got nothing. 
He also came face to face with Richard, and I still swear by the fact that this could be his son. And if it is, he must know that.
Richard mentioned Audrey's name and Evil Cooper did get in the car with him so I'm almost expecting to see him break the news.
There isn't any other way to explain how disgusting Richard is as a human being, unless he is rotton from his father's side. 
With any luck for us, those two will ride off into some fatal car crash because there is too much darkness in that moving car right now. 
And what does it say about me if I found myself more interested in the locations that Twin Peaks provided us with?
That spooky and abandoned gas station was a highlight for me, it set a mood that may not always match the characters or the scenes but the area itself is always a great part of it. 
Oh Dougie, it's like all our dreams are coming true.

Janey-E
Steven killed himself and no one actually cared.
Or maybe it was just me that was more worried about Becky and where all this would lead her, rather than focusing on him and why all this went down.
I don't know, it just doesn't feel like he brought anything important to the table. And if there is a need to focus on someone that concludes the current issues at hand, Steven and his drug addiction and strained marriage isn't it. 
Becky snapping off the handle very well might be, I wonder how she will react finding out that he died and can't harm her any more. 
So far Becky has been very back and forth, but all I hope is that she finds some good out of this situation, especially moving forward. 
You know about death. That it is just a change, not an end.

Margaret
Where do you see things going from here? What did you enjoy the most about this episode? What could you have done without? What are some theories you have about everything coming together? Who else needs another cup of coffee and slice of cherry pie? Let us know below.
While you're at it, go back and experience Twin Peaks once more, which you can do when you 
watch Twin Peaks online
, right here at TV Fanatic!
Yana Grebenyuk is a staff writer for TV Fanatic. Follow her on Twitter.