Manhunt: UNABOMBER Season 1 Episode 4 Review: Publish or Perish
Carissa Pavlica at . Updated at .
I'm getting the feeling there is an agenda to this series, but I'm not quite sure what it is.
On Manhunt: UNABOMBER Season 1 Episode 4, not only did the FBI continue to look like jerks, but historically polarizing figure Janet Reno was a sweetheart in comparison.
If the entirety of the UNABOM case was run like we're seeing in the series, it's no wonder Ted Kaczynski successfully sent as many package bombs as he ultimately did.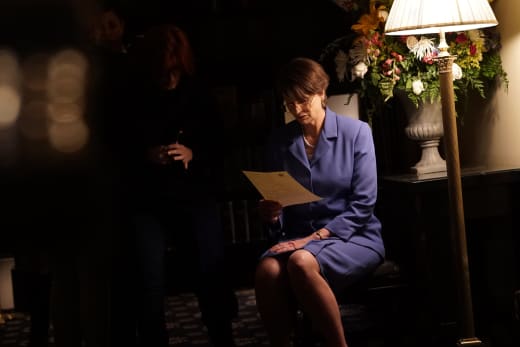 It doesn't seem like the person making the most sense should be the Unabomber, right? 
But listening to snippets of his manifesto makes more sense than most of what comes out of the mouths of the FBI personnel working with Jim Fitzgerald. 
There are so many poor decisions made, it's kind of embarrassing.
And as if that's not enough, we had to suffer through the return of Fitz's wife.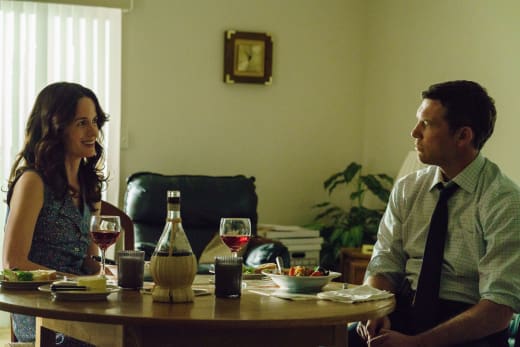 There isn't a storyline more unsympathetic than that of the wife who thinks she's been left behind for her husband's job when said husband's job is saving the lives of others.
I agree that it would be damned difficult to be with a man who had two wives, you and his work, but when someone is in law enforcement, they're on the job all the time.
They're going to work closely with specialists of all sorts, and they'll be male, female and anything in between. They'll be young and old, and if you don't have the stomach for it, you better not go to their place of work.
Ellie's sudden appearance, tagging along to the office and sizing up what she considered competition for Fitz's affections didn't make an already stressful time any easier for anyone. She merely embarrassed herself.
Fitz's confidence is already shaken. He doesn't have the support for his work from his superiors. When the phone rang and Ackerman told him to find a plausible theory to take into the office for his discussion with Janet Reno, I wouldn't have blamed him if Fitz had told Ackerman to pound salt.
It's hard to understand why Fitz was under pressure for Cole's mistake. Cole was the one pushing the Nathan R. angle when he had absolutely no proof it was even a solid clue. 
Additionally, he was bound and determined to link that non-clue to everything Fitz provided as his way to show superiority over the young man. Ackerman should have been browbeating Cole on the phone, not Fitz.
If the two men had given honest support to Fitz, he might have been able to do a lot more with his forensic linguistics option than he had already done. As it was, it was what would put away Ted Kaczynski.
Ackerman decided to use a two-pronged approach of his own making, using a fly-by-night theory they came up with in less than 29 minutes because of Cole. What did they think was going to happen?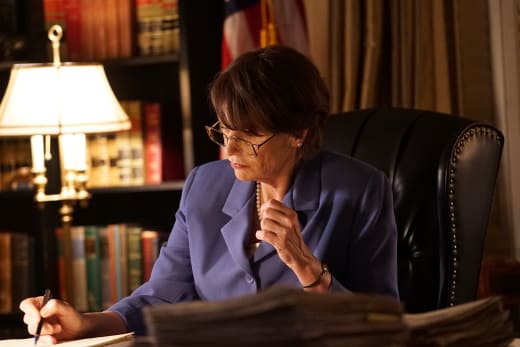 And why did Janet Reno have her desk full of all of the dud reports so soon after learning the UNABOM surveillance was a failure? Talk about piling on the propaganda a little too thickly.
Equally as thick (but using a different definition of the word) was sending Fitz home before phase two of the two pronged approach even had time to materialize.
What was the point of allowing for the manifesto to be published or the linguistics to be used if Fitz was being punished before anyone had time to call into the hotline?
Surely, these ridiculous plot points are going to stop popping up like weeds once we get to the good stuff with Kaczynski, right?
I can't believe this is how the case unfolded. Every fiber of my being says the drama has been written for the series terribly, and a beautiful opportunity was missed to make this something very special. 
Am I the only one who is spotting these indiscretions? What feels like character assassination across the FBI, a purpose beyond the mere sharing of case details and perhaps a propping up of characters and theories that might not have otherwise been expected. 
Poor Fitz made a call about publishing the manifesto and was right AGAIN. It worked. It wasn't going to be an overnight solution. I'm reading the manifesto, and you can't do it in one sitting. Kudos to Linda for recognizing it so quickly and calling who I assume is her husband to give him the head's up.
I'm looking forward to seeing Mark Duplass. He's always a bright spot. I hope they didn't edit most of him out.
I'm ready for the next phase of this to begin. Let's get moving on Kaczynski and get talking already!
What about you? Is this dragging out too long?
Did you expect more of the man behind the bombing than we're getting so far from an eight-episode production?
Hit the comments and remember, you can watch Manhunt: UNABOMBER online anytime right here via TV Fanatic.
Carissa Pavlica is the managing editor and a staff writer for TV Fanatic. She's a member of the (), enjoys mentoring writers, cats, and passionately discussing the nuances of television and film. Follow her on Twitter and email her here at TV Fanatic.