The Night Shift Season 4 Episode 2 Review: Off the Rails

Stacy Glanzman at . Updated at .
Topher is dead?!?
Was that really necessary? 
We knew the actor didn't plan to return, but they couldn't just say he accepted another position somewhere else? Instead, we had to learn at the end of The Night Shift Season 4 Episode 2 that he died in a tragic accident.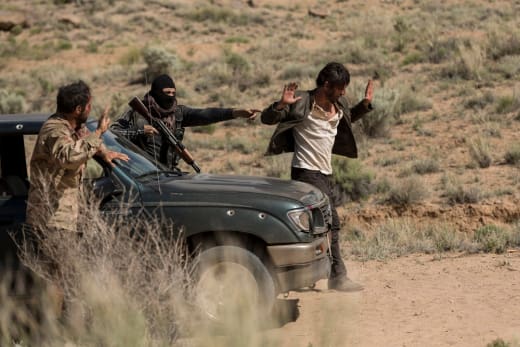 That sucks. 
Now there's no chance of him ever returning for a guest spot or the series finale, which is unfortunate. I was definitely confused when Jordan said he was coming back, so I probably should have seen it coming, but I figured we'd learn he changed his mind. 
RIP Topher. You will be missed. 
TC: My life back home was a trainwreck. And even though this place is a mess, it kind of makes sense to me. Everyone wants to hashtag "save Allepo" like it does something, but I can make things better.
Syd: You can do that in San Antonio.
TC: Anyone can do it in San Antonio, but not many people can do it here.
How do you guys feel about TC staying in Syria? It's surprising that he hasn't made his way back to San Antonio yet, and at this point, it looks like he may not at all this season. With Syd heading home, he'll be alone over there, completely separate from the rest of the cast. 
How long can they make that interesting? 
So far it has only been a couple of episodes, and the story has been compelling enough, but the idea of him having a separate story line for the entire season feels daunting. If that really is the plan, here's hoping the writers have plenty of tricks up their sleeves. It could get boring fast. 
Plus, it would be disappointing if he doesn't share at least one scene with Jordan. The phone call was not enough. Maybe he'll return home for Topher's funeral?
If he does, will Jordan and the rest of the group convince him to stay, or will he be on the next plane back? We will have to see.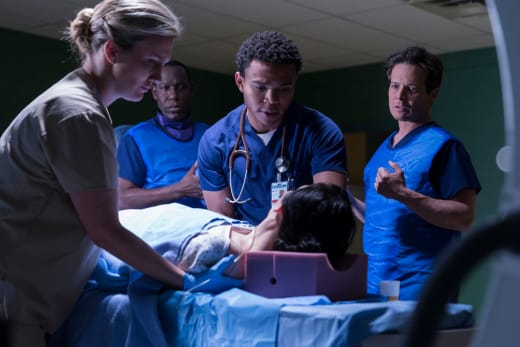 The thing is, something is brewing again between Jordan and Scott. There is still plenty of chemistry between them, and they couldn't be hinting more at the possibility of the two of them getting back together. With TC on the other side of the world, the possibility is even stronger. 
But if he returns? Who knows. 
Jordan has a history with both men, but the last thing we need is a love triangle. 
Kids hate to disappoint their parents. Trust me, I know. But, I would gladly have my daughter hurt me instead of hurting herself. Same with your mom, Abby. I'm telling you, you'll feel better. You will.

Drew
How adorable is Daddy Drew? 
He's embracing fatherhood, and it's an absolute joy to watch. It's starting to hit him that there is someone out there now who is counting on him to come home every morning. It's one thing for Rick to worry about him, but it's something completely different when it's Brianna. 
The phone was a sweet gesture, even if it was a bit outdated.  
It didn't take long to discover what Cain was hiding. It was super obvious something was going on with him. It all makes sense now. 
Well, sort of. 
It makes sense that he's a doctor, but he still overstepped his bounds on more than one occasion. Jordan had every right to fire him. Bringing him back on as a resident could be interesting. 
I think I liked the idea of him butting heads with Kenny as a fellow nurse more, but now the tables have turned, and he gets to boss Kenny around instead. Maybe I just need time for Cain to grow on me. 
The whole dynamic between Scott and Julian is fun, but Julian is still the villain. 
Jordan: You're going to need an operation to remove your lips from that man's butt.
Scott: Look, I don't like him either, but he's a necessary evil.
Jordan: So, what? Pucker up, buttercup?
Scott makes good points about him being preferred to a stranger boss, but that doesn't mean he's not also an ambitious kiss ass. Jordan certainly won't hesitate to call him out on it. 
Scott is basically the bridge between Julian and everyone else since no one else wants anything to do with the new owner. Even Paul just wants to be treated like any other doctor on staff, and who can blame him?
He came to San Antonio to get away from his father and to be his own man. He still wants the latter, even if the former is no longer an option. The real question is, can they actually work together?
With Scott being Paul's boss rather than Julian, it's possible. My guess is it doesn't last long before stuff hits the fan though. 
Julian is always going to want to be involved in Paul's career. He can't work at the same hospital and just be his father, no matter how hard he may try. 
What did you guys think? Were you surprised to learn Cain is a doctor? Are you upset they killed Topher off screen for no good reason? Do you want TC to come back to San Antonio? 
If you missed anything, you can always watch The Night Shift online!
Stacy Glanzman was a staff writer for TV Fanatic. She retired in March, 2019.