Law & Order: SVU Season 18 Episode 17 Review: Real Fake News

Jack Ori at . Updated at .
The era of fake news is scary.
Law & Order: SVU Season 18 Episode 17 showed exactly how terrifying it is when people refuse to stop believing something despite a ton of evidence disproving it.
Lives were ruined, and a Congressman ended up dead, all because of lies disguised as journalism.
It was lucky for the victims of a real sex trafficking ring that SVU was able to find and rescue them, but that still doesn't make up for all the damage EndlessTruth.com, and its constant barrage of fake news did.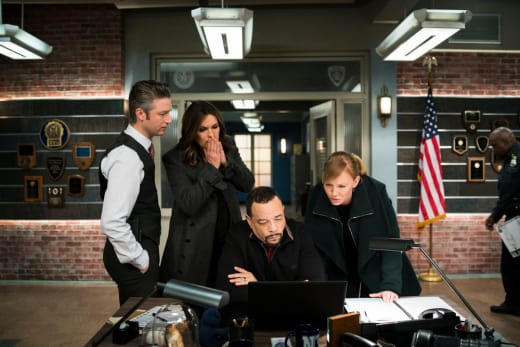 One of the scariest – and most effective – moments came near the beginning of the hour, right after SVU caught a gunman about to open fire in the crowded restaurant.
SVU thought the case was closed when Mr. Lee showed the gunman that his "basement full of underage girls" was only a broom closet and Fin proved that there were no false walls in the closet.
But EndlessTruth.com's owner had no interest in reality, and neither did his readers. They just expanded their already-bizarre conspiracy theory to include SVU itself covering up a sex trafficking ring.
Benson: [reading] Thank you for exposing this evil. It has to be stopped.
Fin: Endless truth.com has to be stopped.
Benson: If idiots with guns are shooting up restaurants because of them, they do.
The case touched briefly on the question of whether fake news sites are covered under the First Amendment before moving on to a real sex trafficking ring that was coincidentally uncovered as the result of the conspiracy theorists' determination to make their beliefs into reality.
Fin thought EndlessTruth.com should be shut down, and Benson thought he had a point because the site was inciting violence. This argument never really advanced, however, because the focus shifted to Endless Truth spreading rumors and lies about Benson.
Duka: I need to protect my sources or I won't be able to continue my political and personal activities.
Attorney: Mr. Duka is hardly a journalist.
I was wondering if there was a way to shut down this craziness using libel laws, but it seemed like the site used just enough speculative language to get away with it. 
What was truly scary was that Benson and Rollins had to send their children away and had no idea anyone had been stalking them. I kept waiting for news that the babysitter was in on it or that something had happened to the kids as a result of one of Duka's crazed readers deciding to take action based on his lies.
I also wondered about the site's obsession with kids not having two parents.
The whole thing was based on lies and delusions and making connections that were completely illogical, but this seemed like the most egregious error in logic. Somehow, in these people's minds, if a child only had one parent, that parent must be a pedophile who had kidnapped him or her.
Congressman: If you could just send someone to the basement where this sex crime supposedly took place...
Olivia: Would anyone believe it?
Congressman: One would hope the NYPD is still a respected institution.
Olivia: One would hope.
Congressman: You investigate alleged sex crimes. This is an alleged sex crime.
It also was interesting how much more seriously Benson took the case when she was personally affected. She usually has empathy for everybody, but she seemed to think that disproving this rumor about a sex ring was wasting time that could be spent on real crimes until her son was stalked and she was accused of kidnapping him in exchange for covering up the sex ring.
Carisi: Hey Lieutenant. Endless Truth just posted some new accusations.
Benson: Against who?
Carisi: You and Rollins. You gotta see this.
[Rollins and Benson look]
Benson: These pictures were taken yesterday.
Carisi: You notice anyone following you?
Benson: I wasn't looking.
Rollins: [reading] Detectives Benson and Rollins of SVU both have fatherless babies. Could this be what's behind the cover-up of the sex ring? A pound of flesh in exchange for their silence? What do you think?
Fin: I think this guy needs his computer shoved down his throat.
Of course, the insanity took a back seat once a real sex trafficking ring was discovered. I  loved the interrogation scenes. They were dramatic and realistic.
I found it odd that both the trafficked girl and the driver were so insistent that they didn't know where the girls were being housed. It felt almost as if they had been coached to say that if they were ever arrested.
The driver probably legitimately didn't know, but I thought maybe the girl was just too scared to reveal the location.
Thank God for technology, though. I couldn't help thinking that it must be a lot easier to solve cases nowadays than 20 years ago. Without being able to look at streets online, how would the detectives ever have found the house?
The arrest scene was also tense, and when the girls weren't immediately visible, I was afraid that this was going to turn out to be another hoax. I was grateful to be wrong and glad the girls were rescued. 
I did think it was a little unrealistic that the girls were all getting counseling before being sent home considering the current political climate, but it was a feel good moment that I badly needed, so I was willing to overlook that.
Benson: Sergeant Tutuola. That's not so bad, right?
Fin: I hate tests.
Benson: Even when you pass.
Fin: I hate them a little less then.
Let's talk about Fin's possible promotion and/or reassignment!
Fin's attempt to take the sergeant's exam has been mentioned sporadically all season long. It seems like he's finally passed the exam, or at least that's what I got out of Benson's comments.
I hope it's not true that he's going to be reassigned to patrol unless we're getting a spinoff. SVU has been suffering from there being far too little of Fin in recent months, and I don't want to lose him altogether.
On the other hand, it's great to hear that he took and passed the exam, and I hope this slow build-up of his potential promotion is going to lead somewhere.
What did you think of "Real Fake News"? Were you as creeped out by this apparently undefeatable website as I was? Do you think Fin will get a real story now that he's passed his exam?
Weigh in below, and don't forget that if you missed anything you can always watch Law & Order: SVU online to catch up.
Jack Ori is a senior staff writer for TV Fanatic. His debut young adult novel, Reinventing Hannah, is available on Amazon. Follow him on Twitter.