Arrow Season 5 Episode 21 Review: Honor Thy Fathers
Paul Dailly at .
The Queen family sure has a lot of secrets. 
On Arrow Season 5 Episode 21, a mummified corpse appeared at Oliver's office, and it immediately set the stage for a fast-paced hour of this hit CW series.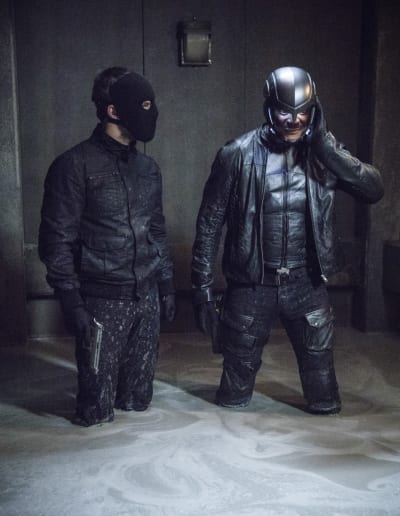 Going into the episode, I had no clue it was going to feature Robert Queen, but I'm glad it did. With a string of past characters set to appear on Arrow Season 5 Episode 23, it made sense to start off the Lian Yu plot again. 
Having Thea along for the ride to find out all of the twists was welcome. Adrian has been a pain in the ass for the characters. There was no way he was not going out guns blazing. 
His plan all along has been to prove that Oliver is not the man the city thinks he is, so what better way to get to him than by making his father look crappy in public? I have to give it to Oliver, the way he handled the press conference at the close of the hour was well played.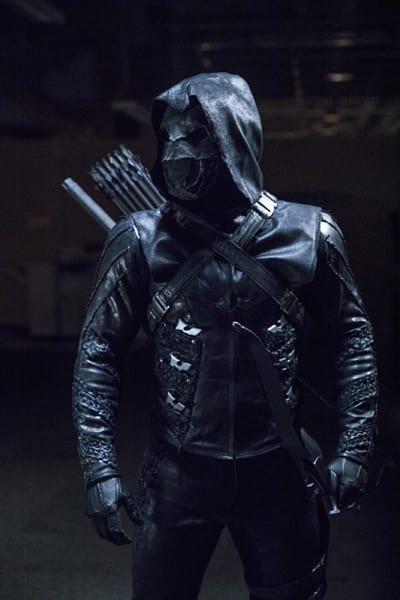 He knew there was no way he was going to calm down the rumors, so he opted to admit his father's part in the death. Now, I watched the video, and it looked like there was a scuffle. 
Robert obviously thought there were no cameras and that's why he ran off without a second thought. However, we don't know whether it was something that ate away at him. Did he consider coming clean, or did he just oust the thought from his mind?
I don't know why, but I thought Prometheus was going to be unmasked as Robert during that fight scene between Oliver. It would have been convoluted, for sure, but it would have been fun to watch. 
That said, the fight between Oliver and Chase was breathtaking. I would have loved if Oliver took the shot and took Chase out of the equation, but that would have gone against what he and Thea were talking about sporadically through the episode.
Thea coming to the conclusion that she became a monster because of having Robert, Moira, and Malcolm as parents over the years was pretty great. The sibling bond between Oliver and Thea is also great, but I found Oliver hiding the video from Thea a bit awful. 
I understand what he was saying about it being a burden, but it may have been something to ease Thea's pain when Robert died, when she still thought he was her biological father. 
Thea would have had every right to be mad at Oliver, but instead, the video showed her how far she and her brother have come over the years since the loss of their parents. 
It was a good way to bring the show back to its roots. 
But something really needs to be done about Chase. It was too easy to capture Chase and have him hauled to ARGUS. There was always going to be an ulterior motive, and I'm getting the feeling it will be tied to Black Siren's return on Arrow Season 5 Episode 22. 
Unless I missed something, there was no mention of William, and that makes me equally concerned for his mother. If she has not turned to Oliver for help in locating their son, then what the heck has Chase done to both of them?
I expected Chase to open up about William being captured during the big fight, but he kept quiet when Oliver opened up about Claybourne wanting to disown him. That was enough to send Chase into despair, but was it all a ruse? You can never really tell with that dude.
"Honor Thy Fathers" was one of my favorite episodes of the season. It had excitement all round for the characters. 
Other tidbits from the episode:
I have mixed emotions about Rene after this installment. On the one hand, he's thinking about the bigger picture and thinks his daughter will be safe without him. On the other, that's his daughter, and he should be fighting tooth and nail to get her back. 
The flashbacks were awesome. I cannot wait to see what happens next with Kovar and his crazy henchmen. 
Derek Sampson showing back up was hardly surprising, what with all of the inmates being released. However, trying to get the tuberculosis virus out there was predictable. 
Is anyone else excited to see Dinah and Black Siren face off? I can just picture Black Siren's reaction to a new Canary in town. 
Remember you can watch Arrow online right here on TV Fanatic. Get caught up now!
Over to you, Arrow Fanatics. What did you think of the twists? Hit the comments below!
Note: Arrow Season 5 Episode 22 airs May 17 on The CW!
Paul Dailly is the Associate Editor for TV Fanatic. Follow him on Twitter.