Arrow Season 5 Episode 20 Review: Underneath
Paul Dailly at . Updated at .
Who knew being trapped in a life or death situation would prove to be a therapeutic affair for Oliver and Felicity?
That's exactly what happened on Arrow Season 5 Episode 20, and it resulted in a decent hour of this CW hit.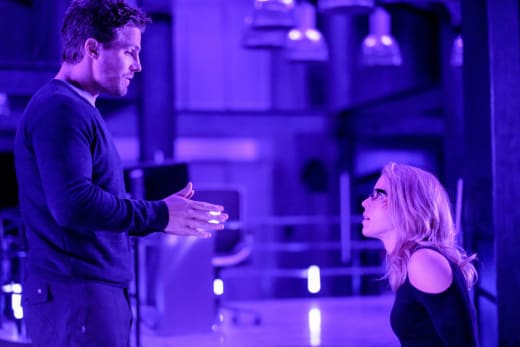 Having Oliver and Felicity trapped in the bunker provided some insight into how they felt about one another. Now, I don't see them getting back together anytime soon, but it brought them closer together. 
I felt horrible for Felicity being rendered immobile by the EMP, but she was still thinking of ways out of the situation. Felicity has always been one of the smarter characters on the show. 
I'm one of those viewers who felt like there was no way the characters would get back together again, but the flashbacks proved there were still strong feelings between the pair. I still don't see them reuniting until the end of the series.
Felicity openly admitting going with Helix was wrong seemed like a bit of a stretch. I know I'm in the minority, but I loved seeing that side of her. Emily Bett Rickards owned it and it made a change from her sitting behind a desk handing out orders. 
I do agree that she was probably driven by the death of Malone. Even though Oliver was the one who ultimately carried out the murder, she knew very well that he would not have gone through with it if he knew who was behind the mask. 
It was a difficult situation, but you need to give props to Felicity for not holding it against Oliver. Everyone reacts to death differently, but Felicity's actions were natural. 
It's obvious that some of their conversation was in part down to the very real possibility that they could have died in the bunker. How would that have been for a twist? 
All of the stuff with the methane gas was so melodramatic, but the scene with Oliver almost dropping Felicity into the blades of the fan made me gasp. It would have been a ballsy move to take her out like that. 
Could you imagine the outrage if she was killed off? There would be riots.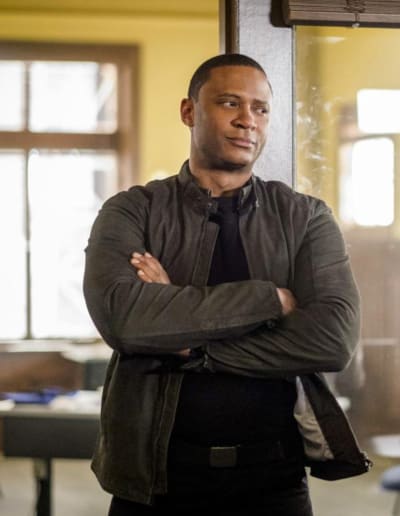 Aside from the Oliver/Felicity drama, Diggle and Lyla continued to struggle in the aftermath of what went down on Arrow Season 5 Episode 19. Diggle felt like he did not know Lyla because of the way she was acting. 
It certainly seemed like her job went a bit to her head. However, she came through for Team Arrow during the bunker ordeal, so she's nowhere near as bad as one would think. I was ecstatic the relationship drama was resolved before the end of the hour. 
This is a superhero show. Leave the relationship drama for off-screen, you guys. 
It seemed a little too good to be true that ARGUS would just steal that silly invention Curtis made. You would think they would have asked him or offered him some money to buy the product from him. 
Poor Curtis. He has good ideas, but he's just not that much of an engaging character. His jokes are becoming predictable, and now his ideas are being stolen. That said, it was great we did not get to witness his horrible superhero costume this week. 
I would be able to take him more seriously if he got a beautiful new costume that was not a colossal failure.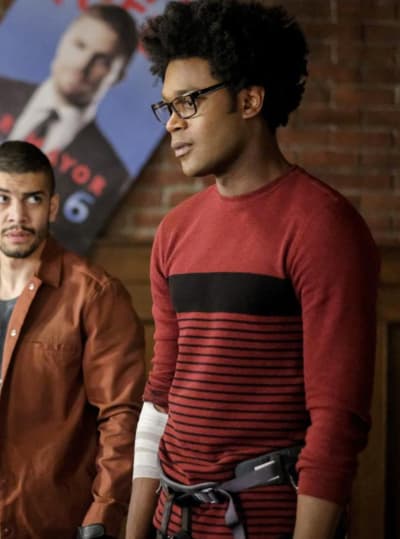 We do need to thank Curtis, however, for Olicity's steamy night of passion between Arrow Season 4 and Arrow Season 5. He hated the very thought of the couple being apart, so he got them some Chinese food and wine to help them find their way back to each other. 
It did, however, come down to the trust issues plaguing the couple. Yes, they totally slept together, but they knew trust was going to come up again down the line. Maybe the whole trust thing has been sorted. 
It only took 11 months. 
Sheesh.
Adrian going after Oliver's son was expected. Adrian is doing everything he can to get to Oliver, so kidnapping his kid was always going to be part of the agenda. It's what Oliver does next that will be the most interesting. 
"Underneath" was an exciting episode that had a lot of good one-liners and some decent character development. There were a lot of eye-roll moments, but it was still good to see a different set-up for the series. 
Over to you, Arrow Fanatics! What did you think of the episode?
Remember you can watch Arrow online right here via TV Fanatic. Get caught up now!
Note: Arrow Season 5 Episode 21 airs May 10 on The CW!
Paul Dailly is the Associate Editor for TV Fanatic. Follow him on Twitter.