Quantico Season 2 Episode 16 Review: MKTOPAZ

Allison Nichols at . Updated at .
Keeping secrets for a living and a healthy, happy relationship don't exactly go hand in hand.
On Quantico Season 2 Episode 16, most of the team struggled with the fact that there's no place in their lives for any meaningful connections. It's all work, all secrets, all the time. It's not an easy pill to swallow.
This is how the personal drama should be done. Everyone's side storyline was connected through this unfortunate side effect of their job. Everyone's drama was entertaining and not soap opera-like. It was enjoyable.
Clay's struggle to lie to his fiancé Maxine helped remind us that he's not like everyone else on the task force. Up until this assignment, Clay did not keep secrets for a living. He led a normal life.
A life that has completely changed since becoming the (sort of) leader of a top-secret task force. 
His big protest at involving Maxine in the mission would have been a lot better if he wasn't the one to super-obviously give himself away.
He power walked away from her to dig through Rebecca's computer. Naturally, Maxine was going to follow him. 
It would have been nice if Alex somehow tipped her off that there was an ulterior motive behind this meeting with Rebecca, or if Clay was shady during the whole thing, but not trying to hack into Rebecca's computer in front of Maxine shady. Did this bother anyone else?
Speaking of bothersome things, why didn't Alex text Clay that Rebecca was coming upstairs, you know since she was texting him password possibilities not even a minute ago?!
The team needed to get caught to segue into Rebecca's cry for help, but we shouldn't be able to point out a super obvious way that would have lead to Clay not getting caught.
Rebecca: A woman bright, brave, and selfless enough to save our country from crisis, not only once but twice? That woman doesn't belong to any man or agency or bureau. She belongs to history.
Alex: What if my place in history costs me everyone that I love along the way?
Rebecca: You have to choose. Do you need them more than the world needs you?
Rebecca, the random character/collaborator of the week, was even entertaining, especially with her scenes with Alex.
It was so great to have someone read Alex like that. Rebecca was able to offer an outsider's perspective of Alex, and she gave Alex some food for thought.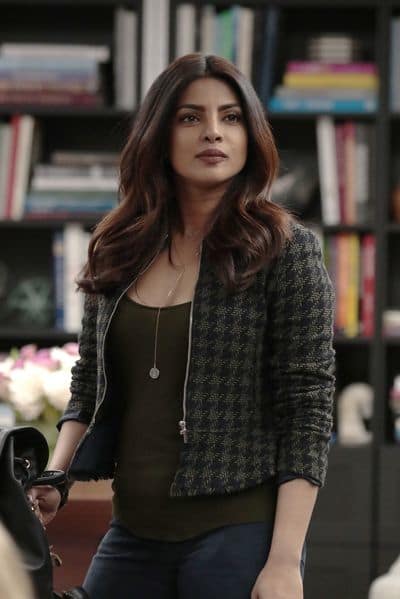 Has anyone else noticed that Clay has a thing for benching people? On Quantico Season 2 Episode 15, it was Nimah, and now it's Harry.
You would think that Clay would have learned his lesson after benching Nimah proved to be a dumb move.
There's honestly no real reason to bench Harry.
All it does is give Harry a reason to throw a tantrum and walk out, which later helps his phone call to Alex not raise any red flags on her end.
Alex: I thought you might want to be a part of something with me.
Harry: Yeah, so did I.
WE COULD'VE HAD IT ALLLLLLLLLLLLLLLL. Listen, I'm fine. Really. That exchange did not break my heart in any way, shape, or form.
Okay, let's get to the Sebastian aspect of it all.
Him being the sniper is a great twist. It's unexpected, and your jaw drops (at least mine did).
But, this means that we're back to the Harry and Sebastian drama, which most of you know I'm not a fan of. Still, the twist is fresh, so hopefully some good comes out of this.
It's nice to finally see a face of the AIC. Sure, we're slowly uncovering collaborators, but they aren't the face of the AIC we know from the first half of the season.
There's no connection to Thomas Roth aka we don't either hate him, love him, want to kill him, etc.
I mean if Rebecca met with Lydia (I know, she's in jail but bear with me), we would all be like, "YOU!!!!" There's that emotional response to seeing Sebastian again. 
Sebastian represents the AIC that we know. Well, okay, we knew Sebastian's wife was AIC.
I honestly can't remember if he was...it certainly looks like he is a card carrying member now, though. It's hard to keep all the twists and fake-outs straight.
Nimah and Ryan have one of my favorite friendships on the entire show. She knows when he is bullshitting everyone, and she doesn't put up with it.
Nimah makes Ryan a lot more fun to watch.
Nimah: Well, she is beautiful.
Ryan: She's all right.
Nimah: No, don't tell me you compromised yourself for someone who is just all right.
Ryan: Okay, she's beautiful.
It's so nice that the Sasha thing didn't stay a secret for long.
Sure, the rest of the team doesn't know that Ryan was the leak, but Nimah does, and she's going to make sure Ryan fixes the situation. Nimah confronting Ryan is the one good thing about the Sasha storyline so far.
What did you think of the episode? Leave your thoughts and conspiracy theories in the comments.
Remember you can watch Quantico online anytime via TV Fanatic.