The Arrangement Season 1 Episode 3 Review: The Leak

Lisa Babick at .
Sometimes getting drunk makes you do stupid things.
Megan's life got turned upside down on The Arrangement Season 1 Episode 3 when naked photos of her were leaked online.
She wasn't prepared for the backlash that hit her, but will she be prepared when she finally finds out who leaked them in the first place?
I was completely prepared to blame Terence for the leaked photos. He's been anti-Megan from the very beginning, and finding something to use against Megan's good girl image is totally up his alley.
If there was an opportunity to get her out of the way, he'd take advantage of it.
At least that's what I believed.
I was completely surprised that Hope did the dirty deed. But then again jealousy is the dirty green monster.
Plus, she got incredibly drunk and made a complete fool of herself. Megan opened up a door for her and she slammed it shut with stupidity.
And the worst part of it all was that after she admitted what she did to Shaun, she had no regrets. Her excuse was that she did it for Megan's own good because she thinks Megan is in way over her head.
But that's just jealous talk, right?
Megan and Kyle's story is almost too good to be true. Let's back that up. Kyle is almost too good to be true. 
Maybe it's because he's been deep in the business for so long, but he wasn't too phased by the photos. At least that's the initial vibe he gave Megan.
He saw how upset she was about the photos, and like the good and sensitive soul he is, he whisked her away from the madness taking her to a secluded cabin in the woods.
He claimed the photos didn't bother him, but they did and it caused them to have the briefest of arguments before they became wrapped up in each other once again.
I really want to believe that he loves Megan, but it still seems too good to be true.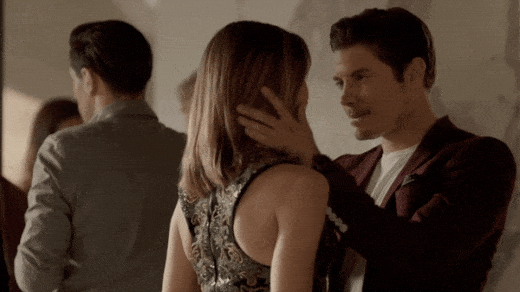 If she isn't just a business deal, why didn't he just stand up for her and let her be in the movie?
Why take advantage of a situation when it presented itself?
How could he just flip a switch so quickly unless she doesn't really mean anything to him all? But I guess business is business, right?
It hit Megan hard when she found out she was being replaced in the movie. Kudos to her for going on with the interview, but you have to wonder if deep down she wishes the contract would just go away.
She had her fun. She had her moments of fame. She's still a talented actress and she met a lot of people. Doors are going to open for her, so why not just move on?
Why continue to torture herself? It's obvious she can't handle life with Kyle. She likes all of the good things, but the moment there's a bump in the road, she completely loses it.
What is it going to take for her to open her eyes?
Hope may have leaked those photos out of spite, but she may actually have done Megan a favor. 
The only thing is that Megan won't see it that way when she finally finds out what Hope did.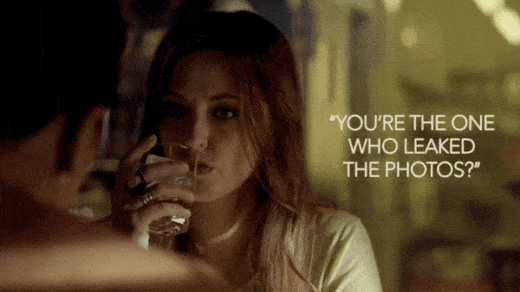 And we can't really expect that Megan is going to walk away from Kyle that easily. She's too into him right now, and eventually, she's going to run back into his arms.
But Hope isn't just going to lose a friend. Kyle was very clear with his veiled threat before kicking her out of the party, and if Sophie's disappearance is any indication, Hope has got a lot more to worry about than just losing Megan as a friend.
What did you think of "The Leak"?
Were you surprised that Hope was the one who leaked the photos? What do you think Megan's reaction will be? Will Megan forgive Kyle for replacing her in the film?
Hit the comments and share your thoughts!
If you need to catch up, you can watch The Arrangement online right here via TV Fanatic!