Well, at least Taken sticks with what it does best.
Once again, it's Bryan Mills to the rescue on Taken Season 1 Episode 4.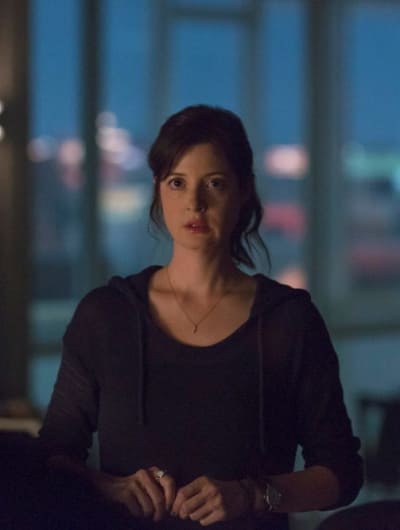 So, to recap for those who may have missed earlier installments, Bryan is an action hero, so a good three-quarters of each episode focuses on Bryan doing improbable things in pursuit of saving the victim of the week.
The person needing rescuing this time is a tween girl, who, frankly, gets into the action more than Bryan's super-spy teammates, which is a definite flaw in what is supposed to be a series featuring a team.
More on that problem later.
The series continues its tour of television's stock villains. Following a drug lord, a sex-trafficking businessman and coup-plotting government officials, it's Big Pharma this time around.
So, as I understand it, an evil pharmaceutical company has been selling a drug to the military which is supposed to help with blood clotting but instead has dangerous side effects such as strokes and death, which it never bothered to explain to the government.
You would think that the military brass would try to determine why soldiers are dropping from unnatural causes.
But no. Instead, Riley's mother died from the drug, so she developed an informant, Dan, inside the pharmaceutical company to get Christina's unit the incriminating data they need.
Dan: I just want this to be over, Riley.
Riley: Me too, and for no more of our soldiers to die from this drug. Ingersoll Pharmaceuticals has to be stopped, Dan.
Which put him, and consequently his daughter, Mattie, in danger from the thugs the company's security team employs in their attempt to get the data back.
Fortunately, Dan has Bryan on his side, so Mattie is as good as freed.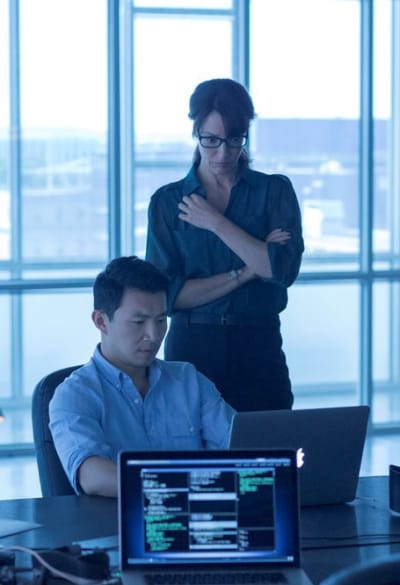 Christina and her unit wanted it both ways: keep the data and rescue the girl.
You'd better believe we're going to do all we can to get your daughter back, and to shut down Ingersoll Pharmaceuticals.

Bryan [to Dan]
That meant Bryan once again got turned loose to do his own thing, which generally counters the way teams work.
Bryan seemed to be fitting in with Christina's squad. But comments such as "Where's Bryan?" from a befuddled Riley would suggest otherwise.
Christina specifically told Bryan to exchange the laptop for Mattie and do nothing more. Instead he did more, like proceeding to disable or kill a half-dozen thugs before rescuing Mattie, who managed to free herself once Bryan distracted her keepers.
Christina must be more interested in results that having her orders followed.
That's not to say it isn't fun watching Bryan come up with interesting ways to create mayhem. The lit cigarette teetering on the lip of the SUV's gas tank was especially entrancing.
Still, Mattie may need a little counseling not just because of being kidnapped, but also because she witnessed her kidnapper being roasted alive.
Bryan's most imposing weapon so far has been his look of bemusement. Asha told to get off the path of vengeance; he looked bemused. A thug held a gun on him; he looked bemused.
It's his all-purpose weapon.
One positive this time around was a team member other than Christina finally getting the spotlight; in this case, Riley the all-purpose tech nerd got her moment in the sun.
Riley was a good choice, since she's the only member of Christina's team who seems to have a personality.
The case was emotionally important to her, leaving her in agony every time something went wrong.
Remember what I told you about over-investing emotionally.

Christina [to Riley]
It seems like the supporting cast is contracting and will fluctuate. Marzoki seemed to have disappeared after Taken Season 1 Episode 1. The rest seem to be in and out, although Riley, Scott, Rem and John appear to be the core group.
Hell, Bryan's dead sister Cali has appeared in several episodes and she started out on the wrong foot.
That's to be expected, as any new show goes through a shakeout period when producers determine which characters do and don't work well together. But until that happens, I suppose you can't expect to have many stories invested in them.
One pairing that does work is Bryan and Asha, and the inevitable happened.
Asha: And now you're mad.
Bryan: No!
Asha: What then?
Bryan: Nervous.
Asha: Me too.
Asha even made a new friend. Too bad Elena turned out to be one of drug-lord Mejia's people.
This is why covert agents shouldn't have social lives.
To follow Bryan and Asha's relationship, watch Taken online.
How did you like the spotlight on Riley? Will Asha and Bryan work as a couple? Will Bryan ever stop free-lancing?
Comment below.
Dale McGarrigle is a staff writer for TV Fanatic. Follow him on Twitter.