Nashville Season 5 Episode 11 Review: Fire and Rain

Tiffany Staton at . Updated at .
I waited all episode for the song and I was disappointed.
Despite the title, "Fire and Ice" did not play during this hour.
Nonetheless, Nashville Season 5 Episode 11 got a lot of action.
Deacon continues to struggle with Rayna's death, Juliette tries to guide Maddie and Scarlett searches for her new role.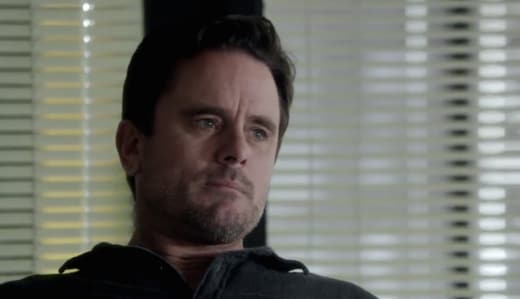 To start off, Deacon doesn't want to release the album. He doesn't have much motivation to finish it either.
Instead, he's just crying a lot and watching old home videos.
He misses Rayna so much. He clearly doesn't know who he is without her.
We all write about heart break for a living and now that it's staring us in the face, it's like we're afraid of it. We judge it like it's strange or weird. This man just lost the love of his life. How's he supposed to act? We need to be there for him, not ask things of him.

Avery
Can I just say, I'm SO GLAD he didn't automatically turn to drinking.
Deacon has come so far from that and I'm glad the show didn't go back there.
Luckily, he realizes, although he lost Rayna, he still has Daphne and Maddie. Two girls who are struggling more than him right now.
They both lost their mother. Aside from losing your child, that's everyone's worst nightmare.
I loved that Daphne only wanted to sing with Maddie.
When Scarlett asked her to sing an old Rayna song, she said no thanks but then she asked Maddie to sing.
It's like Juliette said last week, the only people who should be singing Rayna's songs are her daughters.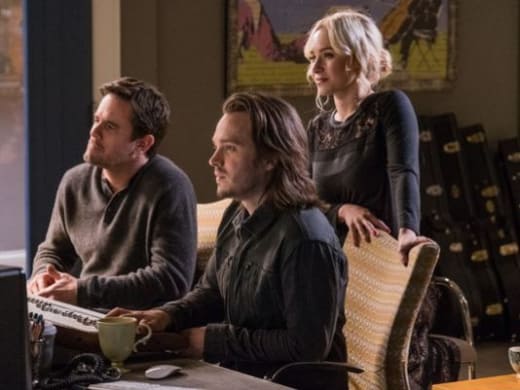 Daphne and Maddie are each other's most important person now. They have Deacon, but first and foremost, they have each other.
Nothing should come between sisters.
As the group watches Deacon and the girls struggle, they realize they need to find a way to finish Rayna's album.
At first, Scarlett and Juliette argue. They both think they know what's best.
Juliette and Maddie have always had a special connection and Juliette is ready to step up. Even agreeing to be her manager, despite the fact that that's not her normal role.
Scarlett wants to protect Maddie so the idea of having her to jet off to NYC and start an album just sounds preposterous right now.
Juliette reminds her that these times don't always come around but when they do you don't ask why.
One of the most amazing things in this world is when you get your shot. And it doesn't come when you want it to, and it never comes again.

Juliette
Maddie is confused. She misses her mom, but wants to move forward in her career. She's 17, what does anyone expect of this girl?
Eventually they all get together in the studio and finish Rayna's album.
Juliette, Avery, Will, Scarlett, Gunnar, Maddie, Daphne and finally Deacon.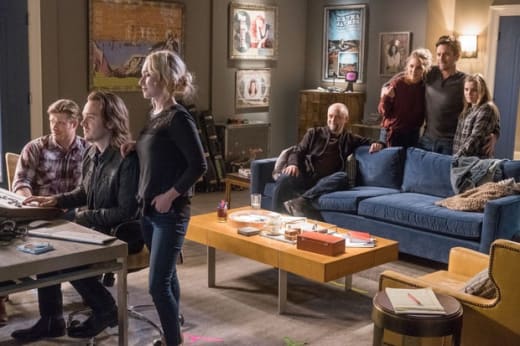 He does what he thinks is impossible -- he takes the mic and finishes the album he started with the love of his life and was forced to finish without her.
The only person I owe anything to is Rayna.

Deacon
Side notes:
Scarlett is pregnant! WTF? Please please please tell me it's Gunnar's and not Damien's. BTW -- didn't we just have this storyline with Juliette, Avery and Jeff? I'm sure this sort of thing happens all the time now but geeez.
Zack and Will are a thing now? Do we like this?
I loved how affectionate Juliette and Avery were. Was he wearing his wedding ring again? There's just something about watching someone lose the person they love that makes you re-evaluate things.
Is Zack good? Bad? Discuss.
If you missed any episodes from the first half of season 5, you can watch Nashville online via TV Fanatic.
Tiffany Staton is a staff writer for TV Fanatic. Follow her on Twitter.