Designated Survivor Season 1 Episode 13 Review: Backfire

Lisa Babick at .
Nobody ever said being President was going to be easy.
On Designated Survivor Season 1 Episode 13, Tom had to make some tough choices as he dealt with the aftermath of the MacLeish tragedy.
It's hard to believe that Tom has only been President for only weeks. It seems like a lifetime, doesn't it?
So much has happened in such a short time and none of it has been easy.
The one constant in his life has been his wife and kids, but because of the nature of the job, he's barely had any time to spend with wife, let alone his kids.
It's truly a sad state of affairs, but Tom has to do what he has to do. He has the most important job in the world. Having cute little family moments like he did in the beginning of the series, just doesn't really fit anymore.
So it's actually quite fitting that Alex and the kids are going away. 
Alex has been his backbone from the start, but after Designated Survivor Season 1 Episode 12, he was told he needed to tighten his circle and that meant cutting Alex out.
It's too bad. I actually like Alex, but having her know every part of everything that was going on in the White House didn't seem very realistic.
Still, she was important because Tom relied on her so much. She was his reminder of who he really was. That he never aspired to be the president of anything, much less the President of the United States.
Alex kept Tom Kirkman grounded.
Putting more bars on the prison is not the answer.

Alex
Now that she and kids have gone to live at Camp David, what will that mean for Tom? How will he stay grounded? Will phone calls be enough to keep him sane?
Everything seems to be falling apart at the seams for Tom. Everybody is so exhausted!
And exhaustion causes people to make mistakes. 
Just ask Aaron who made the unfortunate mistake of trusting Hookstraten with that information about MacLeish. It didn't take much to twist his arm, actually. 
It's not surprising that she opened her big mouth. I'm on a seesaw when it comes to her. One minute I think she's on the dark side, the next I think she might be good.
Now I'm back to thinking she's part of the conspiracy. 
Why would she tell a reporter about MacLeish's decision to kill Catalan? What was in it for her?
It wasn't the first time she's leaked stuff to the press either, so there has to be an end game to what she's doing.
And now that MacLeish is gone, she's one step closer to the presidency, something she's made clear in the past that she desperately wants.
It's kind of a strange road she's taken to get there if she's part of the conspiracy. But maybe that's part of the plan.
No matter what is up Hookstraten's rotten sleeves (this week), she pretty much screwed Aaron out of his job.
At least Kirkman didn't fire him which I thought for sure he was going to do. 
But Aaron getting some time off gives him the opportunity to get deeper into the mess.
How convenient was it that Langdon decided to make contact with him after such a long time? And I loved that Hannah was right there to see it all. 
What's going to happen to Aaron when Kirkman finds out he's working with Langdon? Or just talking to him?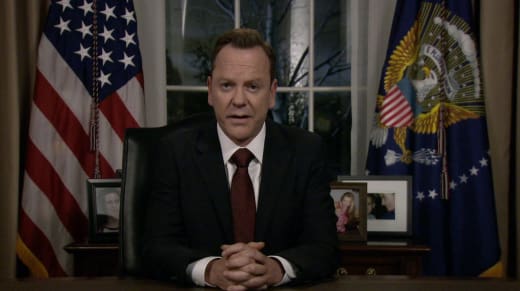 Was Aaron surprised to see Langdon? It seemed like he might have been, but not completely. So what does it mean, and why did Langdon reach out to Aaron? Why now?
Questions. Questions. And even more questions.
Like what did Leonard mean when he made the comment about Seth choosing his name? Is Seth Wright not really Seth Wright? His question did cause Seth to stop for a moment, but Seth played it off differently.
Still, it was something that thrown out there, so do we need to add a question mark next to Seth?
I would hate for him to be part of anything that's not the good side, but anything is possible.
This reporter Leonard seems like he's going to be digging in his heels, so it's going to be interesting to see how far things go. The only thing about this guy is that his relationship with Hookstraten is suspect. Who's using who in that relationship?
What did you think of "Backfire"? Is Seth part of the conspiracy? Is Aaron? Who can we trust? Hit the comments and share your thoughts!
If you need to catch up, you can watch Designated Survivor online right here via TV Fanatic!
Lisa Babick is a staff writer for TV Fanatic. Follow her on Twitter.